New L.A. laws clear the path for homeless housing projects and motel conversions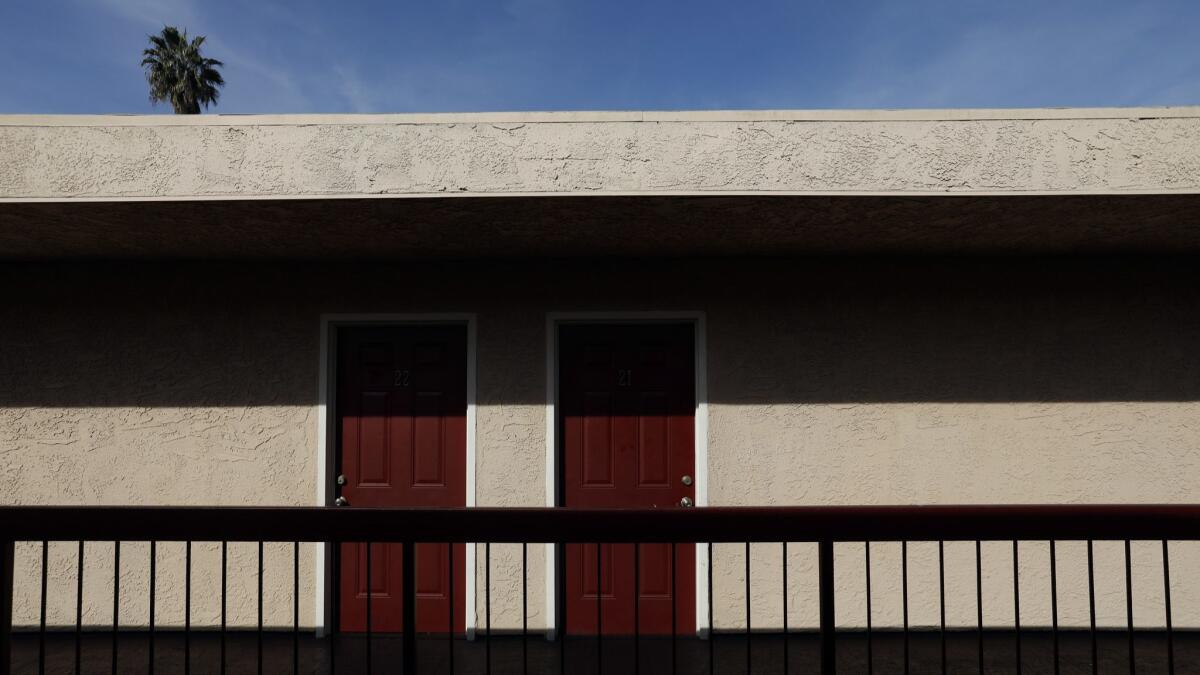 The Los Angeles City Council unanimously voted Wednesday to approve two new laws meant to smooth the way for housing homeless people.
Under one of the new laws, homeless housing projects that meet a list of requirements will be able to avoid a lengthy process at City Hall that includes environmental review and can trigger a public hearing. The new ordinance will also slash parking requirements and allow "permanent supportive housing" projects to be built taller or denser than otherwise allowed.
The law will allow homeless housing projects to "go through our planning process a lot faster and for less cost," Councilman Jose Huizar said before the Wednesday vote. "That's really what this comes down to."
Planning officials estimate that those rules will ultimately make it possible to build up to an additional 200 units of homeless housing annually with government funds. Homeless advocates say it will help bolster the city goal of building 10,000 new units for homeless residents in a decade.
The other law approved Wednesday will make it easier for motels to be converted temporarily into housing, providing another way to get people off the streets while new buildings are under construction.
"Motels are infrastructure that already exist. They're often underutilized. And they could hold the key to creating housing right now for people," City Atty. Mike Feuer said before the vote.
Mayor Eric Garcetti said he plans to sign both ordinances into law this week. "This crisis demands that we look at using every available resource — and cut as much time as we can out of the construction timeline — for housing that we need now," Garcetti said in a statement.
Some neighborhood groups have raised concerns about the new laws. Members of the community group Venice Vision have argued that the city is eliminating crucial protections for neighbors by allowing more homeless housing projects to proceed without environmental review or public hearings.
"This is an important problem we need to solve," their attorney Jamie Hall told the council Wednesday. "But we need to make sure that we're thoughtful about this and that we're not removing all of the protections that we have embodied into our law."
"People are going to be shocked" when they realize what has happened, Hall said after the meeting.
The Lincoln Heights Neighborhood Council also opposed the permanent supportive housing ordinance amid concerns about proposed projects in its area, saying the law lacks rules to prevent new developments from creating "an unfair burden for one community."
And in the San Fernando Valley, the Sylmar Neighborhood Council opposed the ordinance that would ease the way for converting motels, arguing that before approving a motel conversion, the city needs to provide more police presence, cleanups and other services to improve the surrounding areas.
But numerous other neighborhood groups have thrown their support behind the new laws, citing the swelling number of people who bed down on city streets, in canyons and in cars. Business and nonprofit groups also urged the city to pass the ordinances.
Tommy Newman, director of public affairs for the United Way of Greater Los Angeles, said the laws had gotten through City Hall with little controversy because "the silent majority wants this supportive housing now."
"These two ordinances are critical to effectuating the will of the voters," Newman said.
The new laws are being ushered in as Los Angeles politicians are under pressure to address a crisis that extends from Chatsworth to San Pedro. More than a year has passed since voters approved a $1.2-billion homeless housing bond and — months later — a county tax for homeless services.
The same morning that lawmakers passed the new ordinances, a group of activists charged that the city had lagged in building homeless housing and publicly called on city leaders to turn the shuttered Parker Center, which served as the headquarters for the Los Angeles Police Department for more than five decades, into homeless housing.
The council backed a $480-million plan last year to build a new 27-story office tower for city workers on the Parker Center site.
At the time, officials said it would be more expensive to preserve the structure and build an office tower next to it than to knock it down and erect a new tower. Officials also said that the building, designed by architect Welton Becket, is seismically unsafe.
The Coalition to Preserve L.A., which has been critical of how the city handles development and planning issues, argued that Parker Center could be renovated and ultimately house more than 700 homeless people.
Its executive director, Jill Stewart, acknowledged it would take "serious work" to turn the building into housing, but said that the homeless crisis had provided "a new urgency for saving Parker Center" from demolition.
In reaction, Garcetti spokeswoman Anna Bahr said that "we too are anxious to get homeless Angelenos into housing as quickly as possible — but we are looking for places that are not filled with asbestos, can withstand an earthquake, and would not cost so much to rehabilitate that we have no funds left for other shelters or services."
Bahr added that the city is developing dozens of other city parcels for affordable and supportive housing.
Twitter: @AlpertReyes
Sign up for Essential California for news, features and recommendations from the L.A. Times and beyond in your inbox six days a week.
You may occasionally receive promotional content from the Los Angeles Times.