Homeless outreach teams ready to bring services to the streets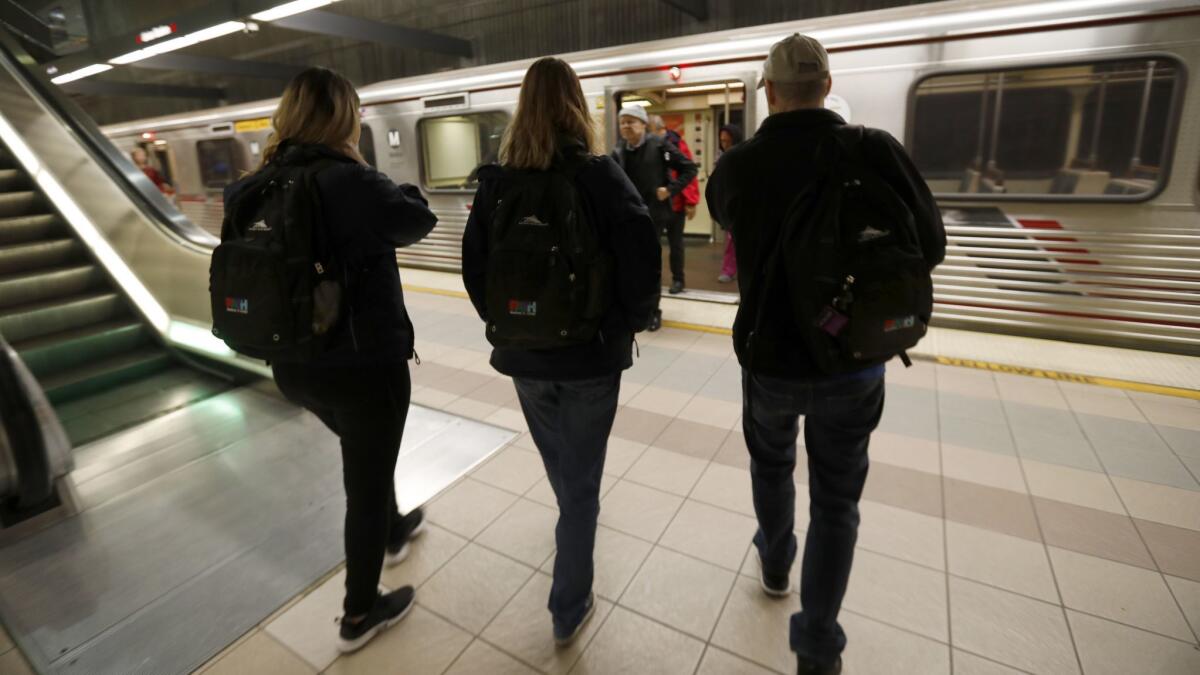 The eight outreach workers sat around a conference table in Long Beach wrestling with a dilemma involving one of their clients: a homeless man who needed to start dialysis immediately.
Placing him in short-term housing would get him off the streets, but it also might cost him a chance at a permanent apartment because he could then no longer be considered chronically homeless.
After reaching the inevitable conclusion — the man needed a roof to save his life — and sorting through half a dozen other tough cases, the outreach workers split up in teams to tackle their assignments in the field.
Sessions like that, where teams convene to devise strategies for their homeless clients, are becoming routine across Los Angeles County.
With nearly $20 million flowing in this year from the Measure H homeless sales tax, street outreach has become the most visible of the county's 21 homeless strategies and the first to show measurable effects.
By summer, at least 500 outreach workers will be in the field, more than doubling the force that existed last summer, said Colleen Murphy, supervisor of outreach coordination at the Los Angeles Homeless Services Authority.
Once the buildup is complete, 36 teams of social workers, mental health specialists, nurses and substance abuse counselors will be assigned to specific areas. They will be augmented by 50 two-person teams.
"No one has ever done the level of street outreach that L.A. is doing right now," Murphy said. "There is no model for this. We're building it."
The new system must reshape a patchwork of outreach workers deployed by a variety of public and private organizations into an organized network of teams with responsibilities covering every corner of the county.
"Some of it is high-tech, some of it is low-tech," Murphy said. "It's just getting the teams together that were in silos, getting them to the conference table, especially in areas that are hot spot areas like Hollywood, Venice to sit down and say, 'OK, how are we going to slice and dice this area up? Why don't you take this encampment, you take that encampment?' "
The backbone of the high-tech part is an online tracking system, scheduled to be available to the public by June, that will allow anyone in the county to report a homeless person needing services.
Requests for service, which can be made via smartphone or computer, will be sent to a regional coordinator in one of eight homeless service areas, then relayed to a team leader in the field. The leader, overseeing several outreach teams, will assign the request to specific workers based on the location and nature of the request.
In the service area covering the South Bay and Long Beach, regional coordinator Breanna Jaijairam works in a small office in the Harbor Interfaith Council's homeless access center in San Pedro.
Until the portal opens, Jaijairam is still working the old way, receiving referrals from service organizations, police or city officials. She relays them by phone or email to a team leader, such as Laurie Ramey, who supervises several outreach teams under contract with Mental Health America, a national nonprofit.
Ramey, who has been hiring for months, expects to be fully staffed by summer. She'll supervise 16 outreach workers.
Her teams will coordinate with others fielded by the city of Long Beach, the county Department of Mental Health and the social services agency PATH, covering an area stretching from Inglewood to Long Beach.
With 63 outreach workers for that area, there also will be more time for the low-tech part — sessions where teams hash out the toughest cases and strategize how to get their clients through the complex homeless bureaucracy.
Ramey's teams get together twice a week in Long Beach. During a recent conference, they discussed two men who were living in a park.
Both were registered sex offenders, making them ineligible for federal housing support, and one was suicidal. One was offered a housing placement through the probation department, but it was only for him. They refused to separate.
Their best option was a shelter in Los Angeles, one of the few that would accept sex offenders. Permanent housing could wait.
"They're pretty at risk," Ramey said. "We feel that getting them indoors will help a lot."
The conference also was a time to review the teams' performance.
Ramey went over the numbers for the fiscal year that started last July: 1,455 contacts at the end of March, already nearly 50% over the year's goal, but only 34 housed out of 200 linked to housing subsidies.
Those numbers dramatize the challenges ahead.
Even with the bulked-up resources, there won't be enough outreach to adequately serve all of the county's 43,000 unsheltered homeless people.
Murphy expects some to be helped by church or other outreach efforts that aren't yet part of the system. Others will be able to escape homelessness by their own means, she said.
For some, it will just take longer.
But Murphy expressed confidence that, at a minimum, contact will be swift and frequent. Still, its goal of getting people off the streets will be limited by the supply of shelter beds and housing units.
"I can't be successful in outreach if I don't have those things," Murphy said.
People "love the idea of outreach and going out and talking to people on the streets. But my biggest wish is to help people understand that it doesn't stop with outreach," she said.
What she does promise is that every person who enters a request will receive an email confirmation that a person in the field will respond.
"If you put it in, we're going to go out there," she said. "It may take a little while and that person may tell us to pound sand, but that's the messaging — that we will go."
Sign up for Essential California for news, features and recommendations from the L.A. Times and beyond in your inbox six days a week.
You may occasionally receive promotional content from the Los Angeles Times.