Build 1,000 units in 24 months? Citizens committee urges Garcetti to speed up homeless housing construction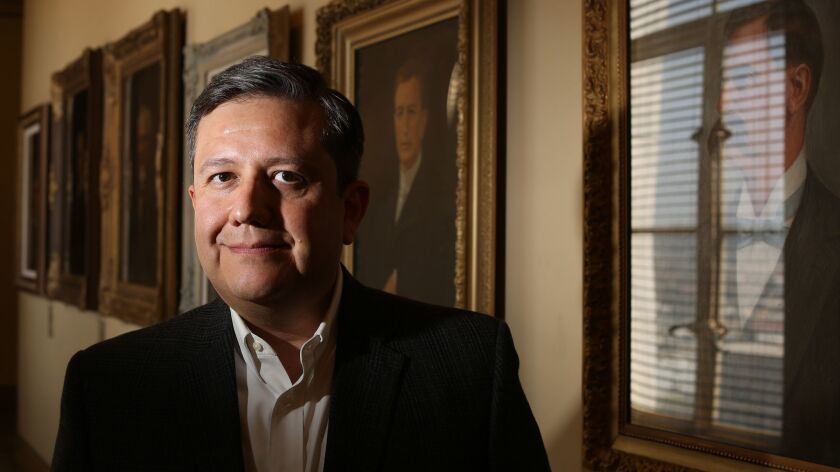 Reacting to the slow pace and rising costs of homeless housing construction, the citizens committee overseeing the city's $1.2-billion bond program urged officials Friday to find innovative ways to complete 1,000 units in 24 months.
In a sweeping challenge to Mayor Eric Garcetti and city staff, the committee approved an 11-point plan calling for relaxed rules and other incentives to fast-track the 1,000 units.
The committee asked Garcetti to declare a state of emergency and set up a "red team" to keep the pilot program on track.
It said the city should experiment with new technologies such as modular construction, and also urged officials to speed up approvals, offer low-interest loans and scrap procedures that currently restrict bond funds to a small pool of specialty developers.
Garcetti spokesman Alex Comisar issued a statement praising the recommendations as "a great example of the creative thinking we need. This crisis demands that we use every tool available to build housing as quickly as possible."
Without commenting on any specific point, the statement said the mayor "looks forward to working with the committee to deliver the high-quality, long-lasting units and services that Los Angeles needs."
The committee has been wrestling with how to speed up the three- to five-year development time and rising cost of supportive housing projects that Proposition HHH was designed to fund.
The vote followed several meetings in which committee members grilled Housing and Community Investment Department staffers over projects that have fallen behind schedule and gone over budget because of setbacks in piecing together the complicated subsidy packages required for tax-credit financing.
Among the recommendations, the committee asked the department to review its contracting guidelines to make Proposition HHH funds available to projects that do not rely on tax credits.
Rising costs topped $500,000 a unit in the most recent bundle of proposals, the housing department's general manager told the committee.
At that level, the bond funds would be exhausted long before the city reached the program's goal of 10,000 new units of supportive housing, unless other significant subsidies were obtained.
"That is not a sustainable number," committee chairman Miguel Santana said in an interview before the meeting.
The recommendations were drawn from suggestions by builders, architects and affordable housing advocates on ways to make the contracting process more nimble.
"One of the things we heard is that oftentimes the city's own policies and procedures and bureaucratic red tape plays a significant role in delaying the time," Santana said.
The purpose of an emergency declaration, Santana said, would be to get city official's attention focused on the 1,000-unit pilot program as their highest priority.
For the pilot program, the city's housing department should consider projects brought to it by any developer, rather than working only with those preapproved to respond to requests for proposals issued three times a year, the committee said.
It also proposed extending eligibility for Proposition HHH funds to what are called accessory dwelling units, second units built behind single-family homes.
These could be built and managed by a developer working on behalf of homeowners and protected as homeless housing by deed restrictions, said committee vice chairwoman Tunua Thrash-Ntuk.
For now, any procedural changes would apply only to the 1,000-unit pilot, Santana said.
"We're not proposing that the city stop the traditional model," Santana said. "We're proposing this be done concurrent to the traditional model."
The recommendations did not address two suggestions that developers had pressed on the committee: removing the prevailing wage requirement for projects receiving HHH funding and considering alternate living arrangements, such as two or more people per room.
Santana said that the prevailing wage requirement was not open to discussion because it comes from state law
Committee member Nicholas Halaris said that the distinction between units and people was discussed by the subcommittee that drew up the recommendations and might be revisited.
The committee vote asked the mayor and city administrative officer and housing department to review the proposals and return with written comments at its Dec. 14 meeting.
Santana said he hoped to have it before the full council for approval in January.
The recommendations drew qualified praise from representatives of United Way of Greater Los Angeles and the nonprofit Corporation for Supportive Housing.
"The current supportive housing production model is proven but there are limits to its capacity and we know we need thousands of more units now," said Tommy Newman, United Way's director of public affairs. He called the pilot proposal "smart."
---
UPDATES:
5:35 p.m.: This article was updated with remarks from the mayor's spokesman.This article was originally published at 6 a.m.
---
The stories shaping California
Get up to speed with our Essential California newsletter, sent six days a week.
You may occasionally receive promotional content from the Los Angeles Times.