As homelessness climbs in L.A., a search for solutions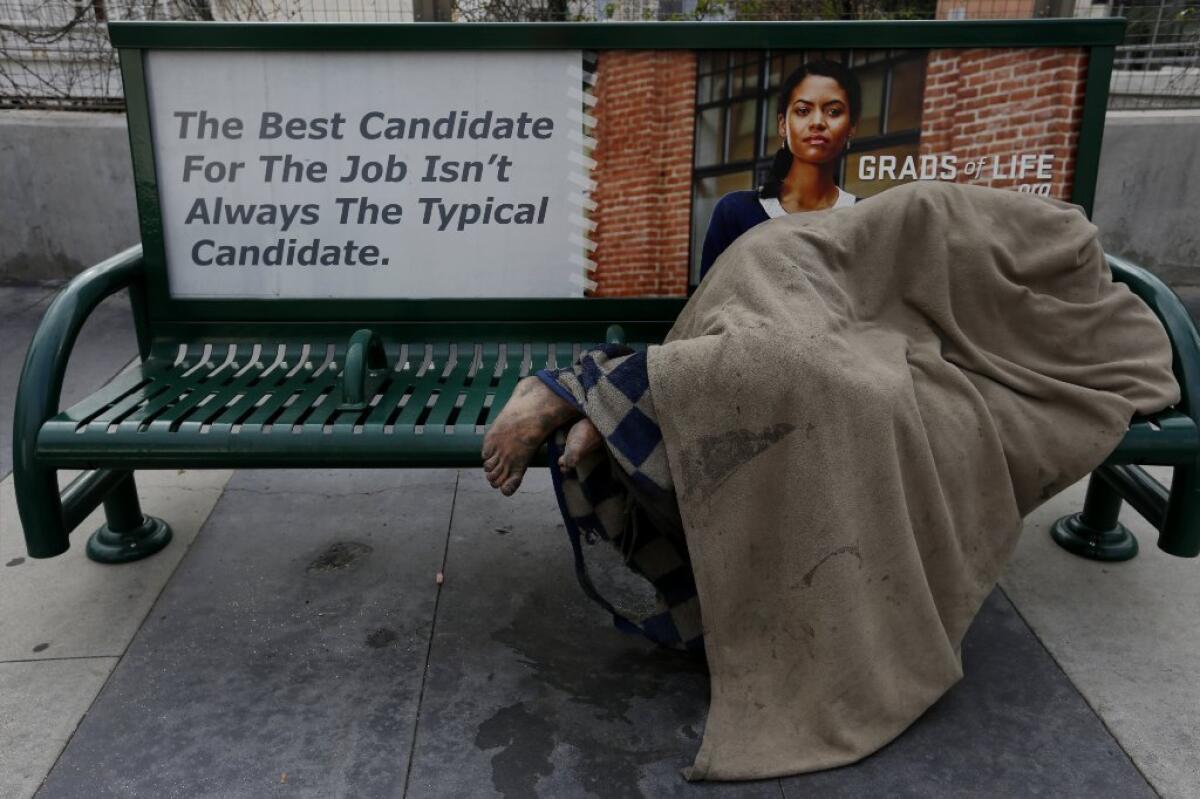 The findings released Monday that Los Angeles County's homeless population rose 12% since 2013 reflect a setback in the region's recently heightened efforts to stem homelessness.
But city and county officials had no shortage of ideas about how to fix the problem.
L.A. City Councilman Mike Bonin, who represents Venice, said he thinks there needs to be more shared and transitional housing to help keep people off the streets. He said he's supportive of using city money to buy or build more housing for the homeless.
"We need to find something," he said, "we can't just continue to allow people to be on the sidewalk."
Bonin said he also wants to figure out a way to make sure affordable units in new developments go to homeless people in need. He plans to begin these discussions, he said, when the city's new ad hoc committee on homelessness, of which he is vice chair, begins meeting next month.
Councilman Jose Huizar, chair of the committee, said in a statement that the findings amplify the need for action from the city and the county, and that one of the first things the committee will do is create a homelessness czar.
"We need a point person on homelessness in the city," he said.
The biennial report by the Los Angeles Homeless Services Authority found that well over half -- 25,686 -- of the county's homeless people were in the city of Los Angeles. Countywide, 44,359 homeless people were tallied in January, up from 39,461 in a 2013 survey.
Part of the problem, said L.A. County Supervisor Sheila Kuehl, is that people can't afford housing in the county. She said she thinks increasing the minimum wage -- which she has proposed with Supervisor Hilda Solis -- will help ease the mismatch between "the cost of housing going up and up and up and wages staying flat."
"I don't know that we're ever going to be able to stop [homelessness], but I do think we have a responsibility to look at causes," she said.
She added that she wants to reduce homelessness by making it easier for those formerly incarcerated to find jobs, as well as for foster children released from the system and veterans returning home to find a place to stay. She also supports building more permanent housing and increasing homeless services in her district, she said.
Christine Margiotta, vice president of community impact at United Way of greater Los Angeles, agreed the numbers show the need to address the causes of homelessness, like low wages, unemployment and increasing rental costs.
"The community of people working to end homelessness, they are focused on one piece of that, but we have to look at that in concert with the bigger picture," she said.
L.A. Mayor Garcetti said he thinks funding more affordable housing and his his proposed minimum wage increase will help reduce homelessness.
In a press release, he cited "significant progress" in housing veterans but said "we must do more to end homelessness." He called for a "regional approach to homelessness because this issue requires a strong partnership across all levels of government, the private sector, non-profits and the philanthropic community."
Former County Supervisor Zev Yaroslavsky said he thinks there's one clear way to reduce homelessness.
"The solution to the homeless problem is not rocket science," he said. The answer is permanent housing with supportive services for residents, he said -- and the county doesn't have enough.
He said he pushed for more such housing when he was on the board but failed to get sufficient support from fellow board members.
"That's been our collective failure as a region. You don't have to reinvent the wheel, the wheel has been invented," he said.
Alice Callaghan, a longtime advocate for the homeless on skid row, also said the fundamental problem was a lack of low-income housing, especially in downtown L.A., where gentrification has reduced the number of inexpensive places for people to stay.
The report found that the number of tents, makeshift encampments and vehicles with people living in them in the county soared 85%.
"Not only are the [homelessness] numbers up, but they'll continue to go up and stay up for decades," she said. "People keep talking about solving the homeless problem, but if you remove low-income housing in the city ... you're talking about leaving people on the sidewalk for decades."
Times staff writer Gale Holland contributed to this report.
Follow @skarlamangla on Twitter for more L.A. politics news.
Sign up for Essential California for news, features and recommendations from the L.A. Times and beyond in your inbox six days a week.
You may occasionally receive promotional content from the Los Angeles Times.