Dozens of victims rescued and hundreds arrested in human-trafficking sting in California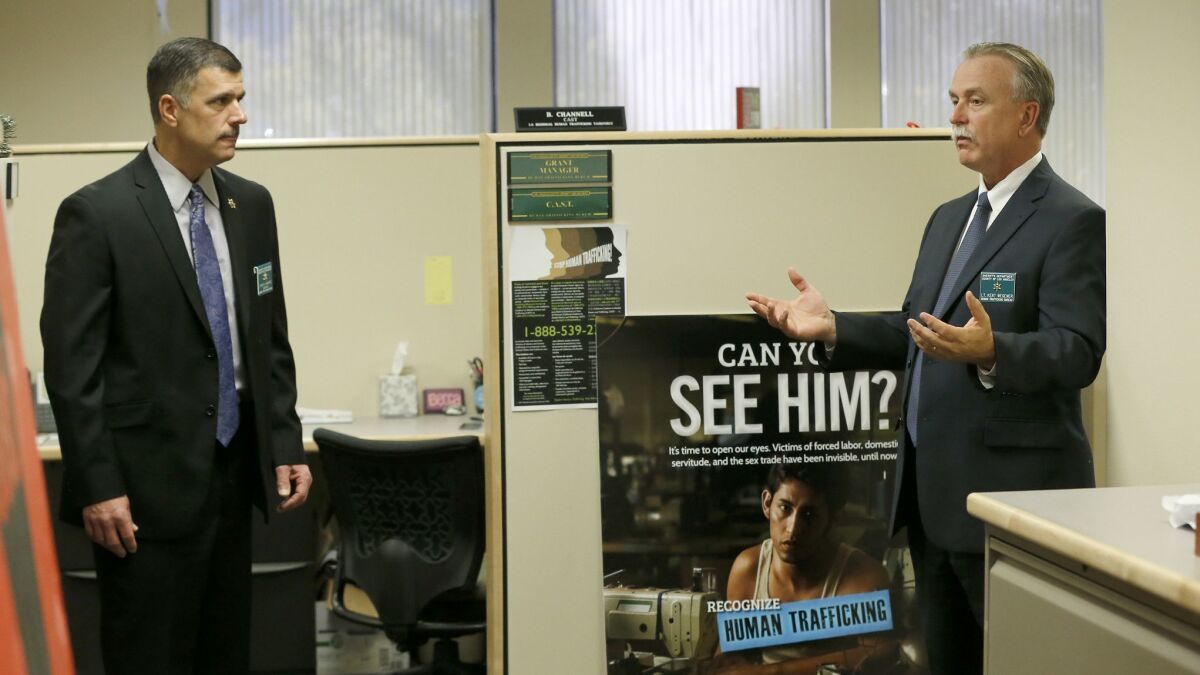 Nearly 50 victims of human trafficking, including 14 minors, were rescued during a three-day sting operation across California last week, law enforcement officials announced Tuesday.
State and federal agencies arrested 339 people, including 156 men on suspicion of solicitation, during the coordinated effort, which involved cyber detectives posing as teenagers.
At a downtown Los Angeles news conference, Los Angeles County Assistant Sheriff Maria Gutierrez urged all parents to monitor their children's internet use.
"Predators," she said, "operate freely in cyberspace."
In Los Angeles County, Gutierrez said, sheriff's detectives arrested a 30-year-old man in connection with child pornography after finding several video clips showing the assault of a 6-year-old.
When San Bernardino County sheriff's officials arrested a man at a motel in Ontario, she said, the suspect, who responded to a decoy message from law enforcement, had a loaded pistol and meth in his pocket. In his vehicle, officials found seven other firearms, including assault weapons.
In Contra Costa County, a 54-year-old man used a social media site to "groom and entice" what he thought was a 14-year-old boy, she said. The man sent the boy photos of $100 bills and told the child to meet him at a park. When the man arrived, Gutierrez said, he was arrested by members of the task force, including the undercover officer who had posed as the boy online.
Police in Fresno rescued two sisters — one 17, the other 14 — who were sold from one pimp to another for $6,000, Gutierrez said. The first pimp, she added, threatened the sisters with violence and forced them into prostitution.
It often takes several positive interactions before trafficking survivors begin to trust authorities, said Kay Buck, chief executive of the Coalition to Abolish Slavery and Trafficking.
Some of those key breakthroughs, she said, happened during this operation. A 19-year-old woman forced by two men to prostitute herself in Los Angeles said she could hardly believe her interaction with a sheriff's detective, Buck said.
"In her words, 'the detective told me he wanted to help me, not arrest me. I've never been told that before by police,' " Buck said. "In those simple but powerful words, that detective … made the difference in that young woman's decision to go to a shelter that evening or instead go back to the streets."
The woman, Buck said, chose a shelter.
Since its creation in 2015, members of the L.A. Regional Human Trafficking Task Force have rescued more than 300 victims — 220 of whom were minors. The task force has arrested more than 1,500 people, including about 460 men on suspicion of buying sex and more than 320 suspected pimps. The arrests, officials said, have led to the filing of 11 cases in federal court.
Last week's sting operation, which ended Saturday, was a collaborative effort of the L.A. task force and more than 90 other agencies across the state.
The stories shaping California
Get up to speed with our Essential California newsletter, sent six days a week.
You may occasionally receive promotional content from the Los Angeles Times.