The Forum's owners want to know if Inglewood's mayor has a romantic relationship with his aide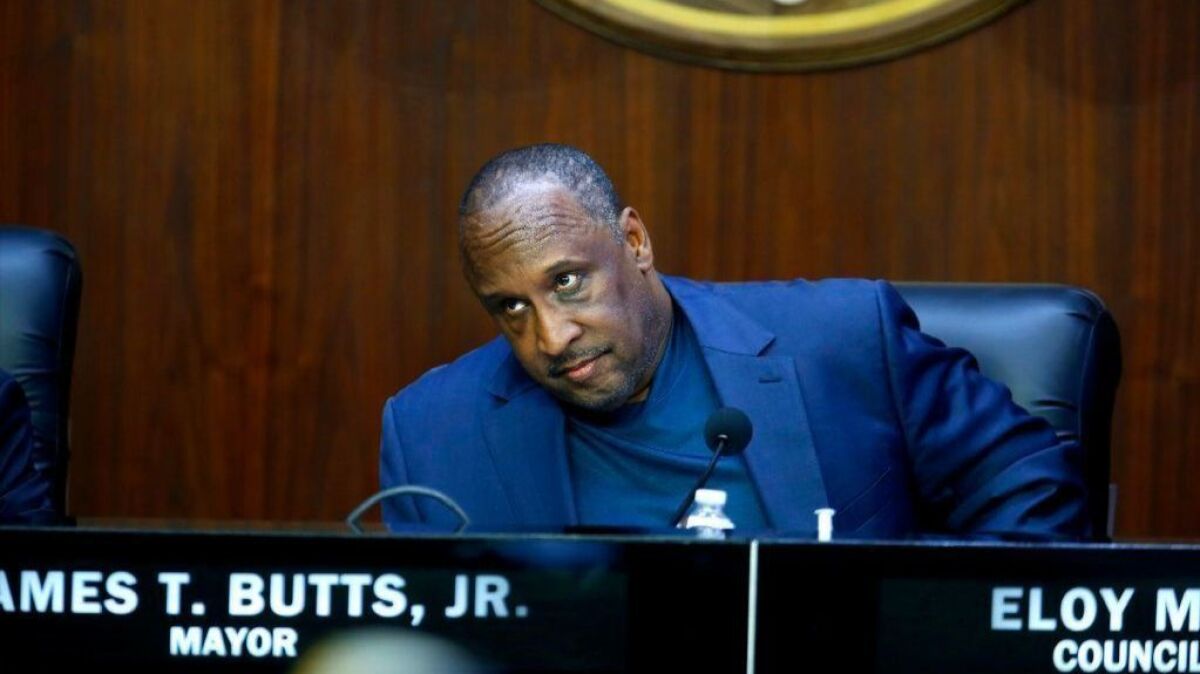 Plans for a new L.A. Clippers arena in Inglewood have sparked a contentious legal battle between the owners of the famed Forum entertainment venue and top city leaders.
The dispute, which played a central role in the city's recent mayoral election, has triggered accusations of fraud, harassment and dirty dealings.
Now, it has become personal.
Lawyers for the Forum's owners — who are fighting the Clippers arena proposal — have asked in court proceedings whether Inglewood Mayor James T. Butts was in a romantic relationship with a highly paid aide.
An attorney representing Madison Square Garden Co. questioned Butts about Melanie McDade-Dickens, who works as executive assistant to the mayor and city manager, during a five-hour deposition in August, according to court records.
The lawyer complained in a letter filed in court that Butts refused to answer on the advice of attorney Louis "Skip" Miller, who represents the city. In response, Miller described the question as "harassing, inappropriate and an obvious attempt to malign good people."
MSG has argued in court that whether the mayor and his assistant "are involved in a personal relationship is highly relevant to Mayor Butts' and Ms. McDade-Dickens' credibility and bias as witnesses in this litigation." The company has provided no evidence that there is a romantic relationship.
The dispute is part of a wave of litigation over the planned arena for the Clippers, which has spilled into the city's politics. Butts handily won re-election last fall with extensive financial support from Clippers owner Steve Ballmer. MSG spent more than $700,000 to back an opponent.
In its lawsuit, MSG alleges that Butts tricked the company into terminating its lease to use 15 acres of city-owned land for overflow parking by saying the land was needed for a technology park. That land is part of the area now under consideration for the Clippers' project, which MSG says would directly compete with the Forum.
Butts and the city have denied the allegations.
The firm filed court papers last week alleging that newly obtained documents show Butts lied when he insisted in his deposition that he had not begun discussions with the Clippers until after MSG terminated its lease.
MSG asked a judge to order Butts and McDade-Dickens to answer additional questions under oath, including about the nature of their relationship. A hearing on the request is scheduled for July 9.
In interviews with The Times, Miller disputed MSG's claim that Butts lied in the deposition. He said he had no idea and wasn't interested in whether Butts and McDade-Dickens were in a romantic relationship.
"I thought it was pure harassment and completely irrelevant to the case," he said.
MSG's attorneys declined to comment.
Butts said in an email to The Times that the lawsuit is "meritless" and "not worthy of commentary." He declined to answer questions about his relationship with McDade-Dickens, her salary and work for the city. He has previously said that he and his wife live separately.
McDade-Dickens declined to answer questions about Butts, her salary and her professional qualifications, calling them "harassing and misogynistic."
The executive assistant is among the most highly-paid employees in a city whose lucrative salaries have come under scrutiny in recent years. Last year, she was paid $215,856, according to City Manager Artie Fields.
In January, Butts and the rest of the council unanimously voted to give 10% bonuses to his assistant and 10 other city officials. Fields said McDade-Dickens' bonus was $22,447.
McDade-Dickens started on Butts' first mayoral campaign as a volunteer making $250 a week and was hired by the city as his part-time assistant soon after his inauguration in 2011, according to records from her divorce case. She became a full-time employee that summer, earning a salary of about $77,000 a year.
By 2017, her compensation had jumped to $245,436 including a bonus and other pay, according to Transparent California, a nonprofit organization that tracks government employee salaries.
That same year, Inglewood's police chief, Mark Fronterotta, made $357,856 — about the same as the chief of the Los Angeles Police Department, which has roughly 10,000 officers compared to fewer than 300 in Inglewood. Fields made $384,665 — around $12,000 more than San Jose's city manager, whose city has almost a million more people than Inglewood. They, too, were awarded bonuses in January.
"They have been getting those horrific bonuses for several years," said Diane Sambrano, a longtime resident who has clashed with Butts at council meetings. "We have community service needs that are going unmet."
Inglewood officials say that McDade-Dickens' salary was increased as the city expanded her job responsibilities. She now oversees the parking enterprise division, the emergency management department and the city's contract with the Los Angeles County Fire Department, among other duties, according to Fields.
"We need to attract top performers and educated people, like Melanie McDade, and we have to, and do, pay them accordingly," Fields said.
Fields declined to release a copy of McDade-Dickens' resume or any of her performance reviews.
In her deposition for the lawsuit, McDade-Dickens said she had previously worked as a merchant teller at Bank of America and then an account revenue supervisor at a property management firm, according to a transcript in the court file. She said she then worked as a stay-at-home mom for six years before the city hired her. Testifying in September, she said she had earned a bachelor's degree in administration from the University of Phoenix about two years earlier.
Her questioning lasted 90 minutes before an MSG lawyer cut the deposition short. The firm's lawyer, Jessica Stebbins Bina of Latham & Watkins, blamed another attorney representing the city for repeatedly advising McDade-Dickens not to answer questions.
Bina also complained that the city allowed McDade-Dickens to attend the mayor's deposition and listen to his answers weeks before she was questioned under oath.
Disputes over the questioning of witnesses are relatively common in complex litigation, and lawyers have broad latitude to ask about many subjects during depositions, said Loyola law professor Jessica Levinson, who specializes in ethics and governance issues. Since both McDade-Dickens and Butts are witnesses in the case, knowing whether or not they're romantically linked would help attorneys assess their credibility, she said.
Times staff writer Nathan Fenno contributed to this report.
The stories shaping California
Get up to speed with our Essential California newsletter, sent six days a week.
You may occasionally receive promotional content from the Los Angeles Times.