Isla Vista shooting: 3 bodies removed from alleged gunman's apartment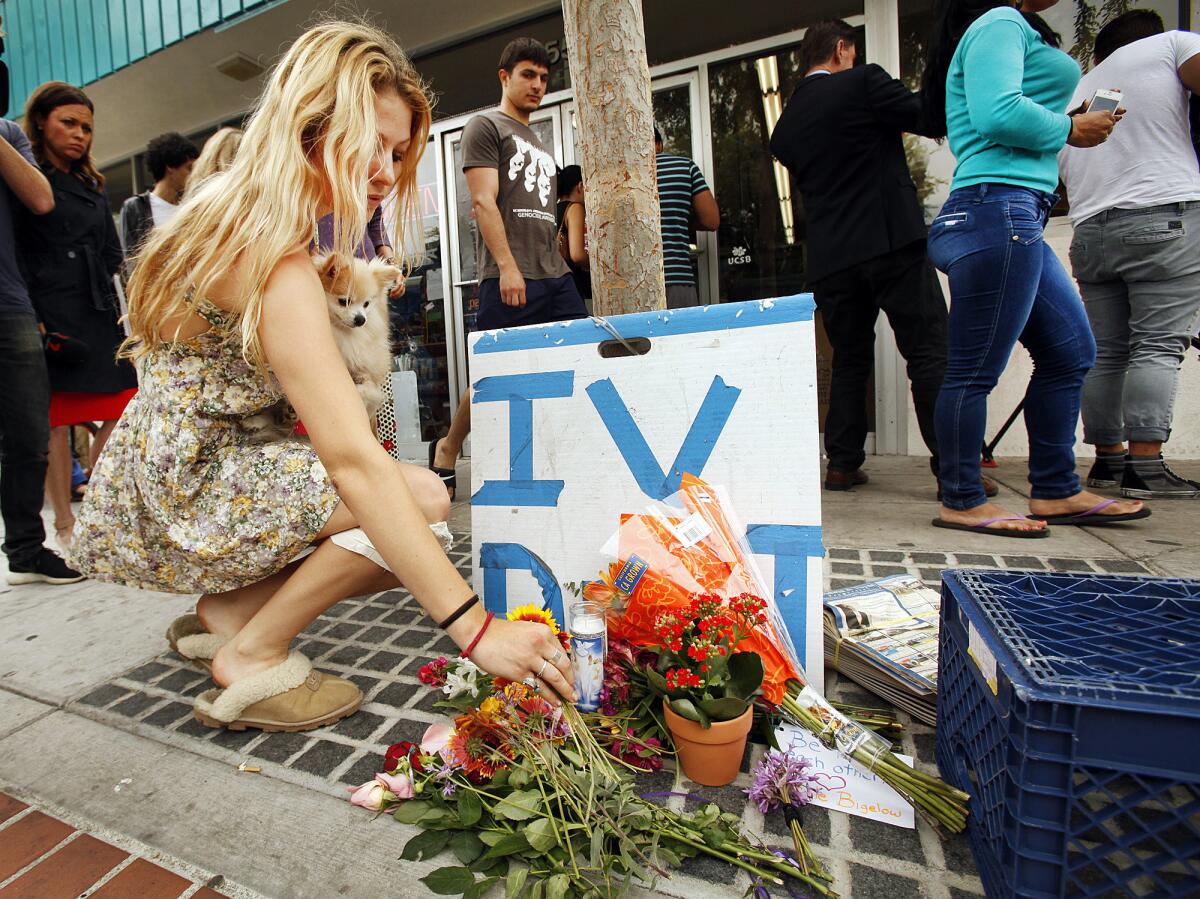 Reporting from Isla Vista, Calif. —
Authorities on Saturday afternoon removed three bodies from the apartment of the suspect in Friday night's shooting rampage that left seven people dead in Isla Vista, near UC Santa Barbara.
Witnesses told The Times the Santa Barbara County coroner's office and FBI were at the apartment just a few blocks from the university through the afternoon. It was unclear whether the bodies were new victims or part of the seven that police had announced Saturday morning.
The suspect, Elliot Rodger, a Santa Barbara City College student and son of a film director, had also apparently left a printed manifesto describing his anger and alienation.
Channel 3 in Santa Barbara obtained a copy of the 140-page document, which read in part: "On the day before the Day of Retribution, I will start the First Phase of my vengeance: Silently killing as many people as I can around Isla Vista by luring them into my apartment through some form of trickery."
The manifesto appears to be similar to YouTube videos Rodger made.
One of Rodger's parents called a law enforcement agency last month, warning them about disturbing videos he was posting online, according to a source close to the family. It was unclear which videos they saw.
In the last video posted on Friday night and titled "Elliot Rodger's retribution," Rodger described his anger toward women and men.
"I'm 22 years old and still a virgin, never even kissed a girl. And through college, 2 1/2 years, more than that actually, I'm still a virgin. It has been very torturous," he said. "The popular kids, you never accepted me and now you will all pay for it. Girls, all I ever wanted was to love you, be loved by you. I wanted a girlfriend. I wanted sex, love, affection, adoration."
""You forced me to suffer all my life, now I will make you all suffer," he said. "All you girls who rejected me, looked down upon me, you know, treated me like scum while you gave yourselves to other men. And all of you men for living a better life than me, all of you sexually active men. I hate you. I hate all of you. I can't wait to give you exactly what you deserve, annihilation."
Rodger's father, Peter, said through an attorney that he believes Elliot Rodger is the suspect. "I cannot confirm that, but we believe it," the attorney, Alan Shifman, told reporters gathered in front of the family's home in Woodland Hills.
The seven who died were either killed from gunshot wounds or by being struck by the suspect's BMW or both, Santa Barbara County Sheriff Bill Brown said.
The ordeal, from when the shots were first reported to when a deputy came upon the body of the suspect, lasted about 10 minutes, Brown said. It's unknown if he died of a self-inflicted gunshot or whether he was shot by a deputy.
The attacker was found with a semi-automatic handgun. At one point, he fired on a group of deputies who returned fire and forced him to flee, Brown said. Seconds later, he came across a lone deputy and the two exchanged gunfire, prompting the gunman to flee down Del Playa Drive and crash into a parked car.
Investigators are also reviewing video and written evidence that appears to have been produced by the shooter.
Brown described the drive-by slayings as "the work of a mad man."
In other videos posted to YouTube, Rodger laid out plans to enter "the hottest sorority house of UCSB" and kill the women inside.
"I'll take great pleasure in slaughtering all of you," he said. "You will finally see that I am the superior one, the true alpha male."
Rodger said he would then take to the streets and shoot everyone he sees because they've got to enjoy "hedonistic pleasures" that he did not have.
All he ever wanted was to love and have sex with a girl, Rodger said.
"But you think I'm unworthy of it, that's a crime that can never be forgiven," Rodger said. "If I had it in my power I would stop at nothing to reduce every single one of you to mountains of skulls and rivers of blood."
Times staff writers Stephen Ceasar, Matt Stevens and Rong-Gong Lin II contributed to this report.
Sign up for Essential California for news, features and recommendations from the L.A. Times and beyond in your inbox six days a week.
You may occasionally receive promotional content from the Los Angeles Times.