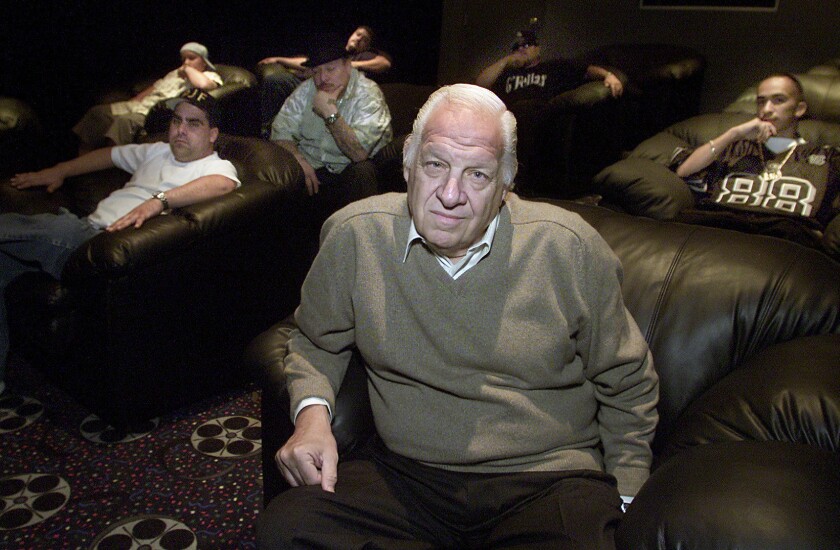 Former N.W.A manager Jerry Heller filed a $110-million libel lawsuit on Friday against Dr. Dre, Ice Cube, NBC Universal and a slew of others involved in the making of the rap group's recent biopic, "Straight Outta Compton."
The lawsuit, filed in Los Angeles County Superior Court, alleges that the film, in which Heller is portrayed by actor Paul Giamatti, is "littered" with factual inaccuracies and includes a host of defamatory statements that make Heller into the "bad guy" of the film.
Also named in the lawsuit are director F. Gary Gray, the estate of Eric "Eazy-E" Wright, and his widow Tomica Woods-Wright, among others.
FULL COVERAGE: 'Straight Outta Compton' and N.W.A's legacy
The lawsuit accuses the filmmakers of depicting Heller as a "sleazy manager" who takes advantage of the members of N.W.A, fraudulently induces them to sign unfavorable contracts and swindles them out of money that is rightfully theirs.
Heller, 74, helped the Compton rap group skyrocket in popularity nationwide in the 1980s after inking a business deal with Wright.
In the lawsuit, Heller claims he never consented to the use of his name and likeness in the film and alleges that the movie lifted content from Heller's own screenplays and book.
The massive success of the film -- it is the highest-grossing musical biopic ever -- further exacerbates the damage the film has done, according to the lawsuit.
"The larger the success of the film, the greater the damages," the lawsuit said.
An NBC Universal spokeswoman declined to comment on the lawsuit.
For more Los Angeles court news, follow @sjceasar on Twitter.
ALSO:
Malibu-based filmmaker sues Humane Society over $1-million pledge
Burbank man, 20, ejected from car lands on 5 Freeway sign in Glendale
Man smuggling protected orchids in Lego box and My Pillow Pets toy pleads guilty
---