In wake of noise complaints from Huntington Beach, JetBlue announces plans to retrofit jets to make them quieter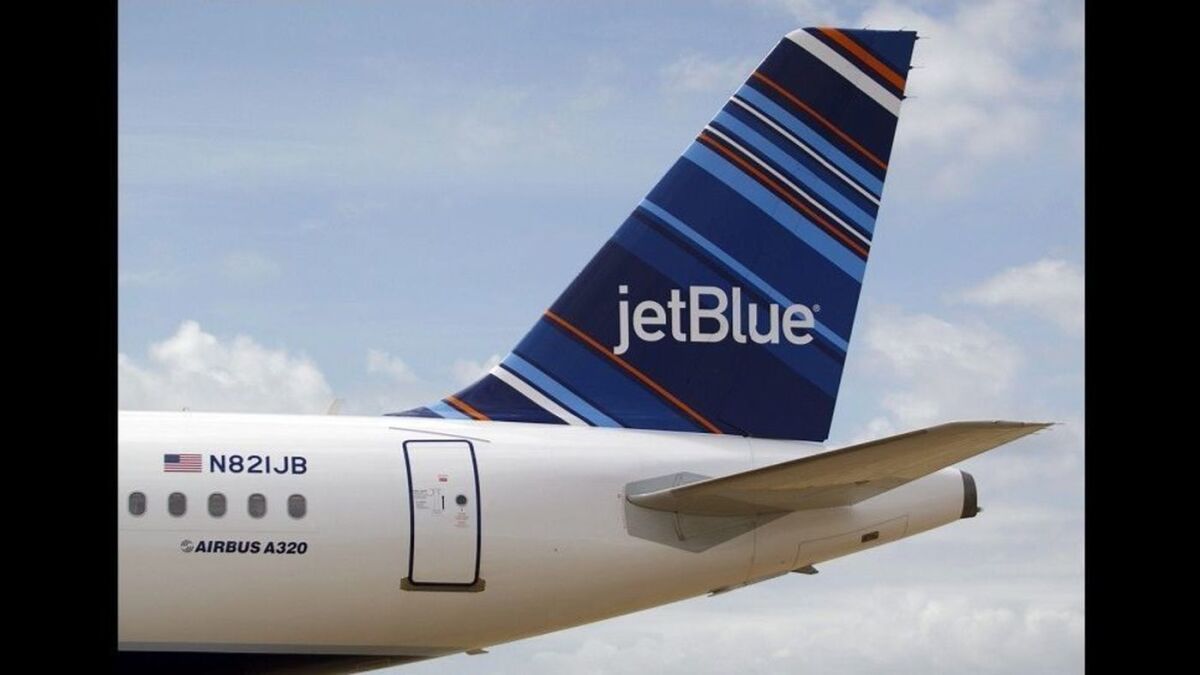 JetBlue announced this week that it plans to retrofit its entire Airbus fleet with noise-reducing vortex generators by 2021, marking a victory for Huntington Beach residents who say the airline's jet noise has harmed their quality of life.
Vortex generators, also known as air deflectors, interrupt wind passing over parts of a wing and causing what JetBlue describes as a "whistling" tone when a jet descends. The airline said Wednesday that it would finish installing the generators on 130 Airbus A320 aircraft and eight A321s by 2021.
The airline began receiving new aircraft deliveries with vortex generators in 2015, according to the announcement. All future Airbus orders will have vortex generators.
"While the airline industry has benefited from advances in technology and efficiency, leading to quieter planes and engines, the work is never done," Joe Bertapelle, JetBlue's director of strategic airspace programs, said in a statement. "We're pleased to incorporate this advancement across our Airbus fleet and contribute to our communities in a meaningful way as good corporate citizens."
Huntington Beach City Councilman Patrick Brenden, who serves as a liaison for the city's newly approved Jet Noise Commission, said JetBlue's announcement shows that the "growing chorus of people across the country that are impacted by the noise issues are having an impact."
But "this doesn't end their complaints," Brenden said. He called it "one step in a process of incremental improvements" that will be achieved through collaboration.
Huntington Beach Mayor Mike Posey asked county and federal representatives in April to address aviation noise related to the Federal Aviation Administration's regional air traffic system. He described Huntington as an "epicenter" for "heavily concentrated new landing and flyover patterns."
The FAA has said that more than two dozen air routes have historically passed over Huntington Beach.
About a week after Posey's letter, U.S. Rep. Dana Rohrabacher — a Costa Mesa Republican whose 48th Congressional District includes Huntington Beach and parts of Fountain Valley, Costa Mesa, Newport Beach and Laguna Beach — called on JetBlue to retrofit its planes and have them fly at the highest altitudes possible when approaching Long Beach Airport.
Residents and officials of Huntington Beach and other area cities have complained about airline noise in the past year, since the FAA implemented flight path alterations as part of its Southern California Metroplex project covering the region's airports, including Long Beach and Orange County's John Wayne Airport.
The agency said the changes would shore up inefficiencies, save fuel and reduce carbon emissions and flight delays. Newport Beach and Laguna Beach sued the FAA over the system in 2016, saying the project's environmental review, which determined there would be no significant effects, was inadequate. Both cities reached settlements earlier this year.
Huntington Beach also hoped for some noise relief after JetBlue announced in April that it would reduce its daily flights at Long Beach Airport from 35 to 23 this fall to "better meet the needs of the market."
In January, Huntington Beach created the Air Traffic Noise Working Group, a panel of community members, council members, city staff members and experts, to examine airplane traffic and noise and establish talks with aviation officials. The group presented its research and findings during a community meeting in June.
"Our top priority for the Air Traffic Noise Working Group was [for] inbound flights to Long Beach to fly higher in Huntington Beach, and it appears we're moving in a direction where the FAA will support that and implement that," said Brenden, a member of the group.
An announcement may be made in coming months, he added. Rohrabacher this year also proposed four amendments to the FAA's annual reauthorization bill that he said would ease aircraft noise in Orange County.
The amendments failed on a vote by the House of Representatives. Rohrabacher, who is seeking reelection in November, commended JetBlue on Thursday for "listening and taking action" to address the concerns of residents living under flight paths.
"Airport noise undermines the quality of life of too many Americans, especially in Orange County," Rohrabacher said in a statement. "JetBlue today has put itself on the side of people making reasonable requests."
Vega writes for Times Community News.
---
Life is stressful. Our weekly mental wellness newsletter can help.
You may occasionally receive promotional content from the Los Angeles Times.