Judge rejects plea deal in ex-NFL star Darren Sharper's rape case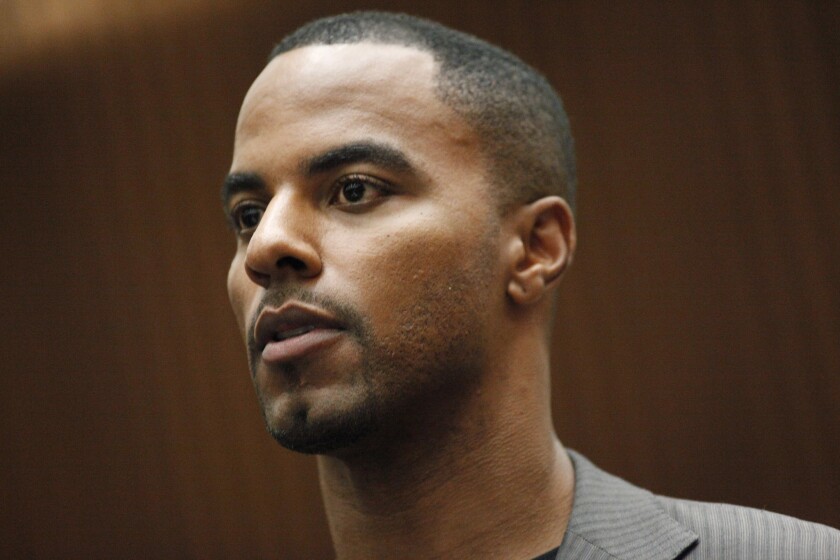 reporting from NEW ORLEANS —
A federal judge rejected a plea deal Thursday in the rape case against former NFL star Darren Sharper, saying the nine-year sentence doesn't reflect the seriousness of the alleged assaults against as many as 16 women.
"This court cannot accept this plea agreement," U.S. District Judge Jane Triche Milazzo told Sharper as he stood before her in orange prisoner coveralls and shackles. She gave Sharper and his lawyers until March 3 to decide whether to withdraw a guilty plea he entered last year.
Sharper had pleaded guilty as part of a deal involving charges in four states, including the rapes of two women in Los Angeles. He also has pleaded guilty or no contest to similar state charges in New Orleans, Las Vegas and Mesa, Ariz.
What do you think of a 9-year sentence? Weigh in on Facebook >>
His attorneys declined comment as they left the courtroom.
Sharper's federal plea deal called for a 108-month prison sentence if he were to comply with a lengthy list of requirements, including cooperation with authorities in the case against two co-defendants in Louisiana.
Milazzo noted a presentence report compiled by federal authorities called for a sentence of 15 to 20 years.
The federal indictment charged Sharper with distributing the drugs alprazolam, diazepam and zolpidem — more commonly known by the brand names Xanax, Valium and Ambien — with the intent to commit rape.
Two Louisiana state counts of aggravated rape against Sharper stemmed from accusations that he sexually assaulted two drug-impaired women at his apartment in September 2013.
ALSO:
Rams say more than 56,000 deposits for season tickets are received by deadline
USC will consider an athletic director without previous ties to school
---
For reporting and exclusive analysis from bureau chief John Myers, get our California Politics newsletter.
You may occasionally receive promotional content from the Los Angeles Times.