Andrew Friedman Q&A: Dodgers grand plan explained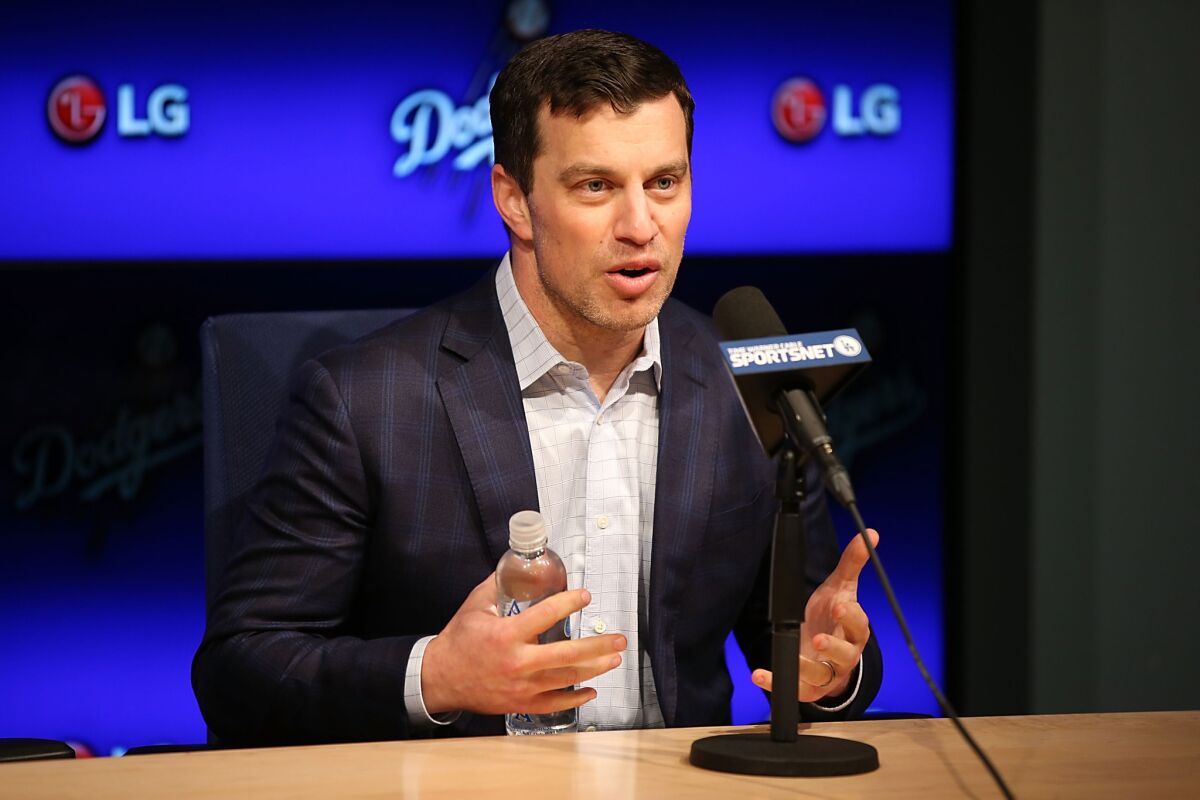 The Dodgers are a rebuilding team. The Dodgers spent more money on players last year than any team, in any year, in any sport.
Both true.
But the apparent contrast in game plans made for an uneasy winter in the executive offices at Dodger Stadium. Fans wondered when the urgency in the front office might match that of a fan base that has not seen its team in the World Series since 1988.
The Dodgers lavished millions on unproven Cuban prospects but were outbid by the Arizona Diamondbacks for Zack Greinke, who posted the lowest earned-run average of any major league starter in 20 years. The Dodgers then supplemented their starting rotation with Scott Kazmir, who can leave after one year, and Kenta Maeda, who cannot leave for eight years but might need elbow surgery before then.
See the most-read stories in Sports this hour>>
The Dodgers' strategy is not difficult to discern. Guggenheim Baseball ran bloated payrolls — about $300 million last year, about $275 million two years ago — to breathe life into a dormant major league team while buying time to revitalize a neglected player development system. So far, so good: The Dodgers won the National League West in each of the first three seasons under Guggenheim ownership, and Baseball America just ranked the Dodgers' minor league system as the best in baseball.
Over the next two years, as the Dodgers continue to shed big contracts, the team intends to sprinkle young players into the major league mix. By 2018, the Dodgers aspire to be a dominant force, with constant talent replenishment from a minor league pipeline and hundreds of millions of dollars freed for keeping their best players, adding stars from other teams, and keeping that pipeline humming so the team never gets old.
In the interim, the Dodgers urgently needed pitching last July. They made a three-way trade widely perceived as a disaster, since Mat Latos and Jim Johnson did not make the playoff roster and Alex Wood did not make the postseason rotation. The Dodgers lost the division series by one game — to the team that represented the National League in the World Series.
However, the Dodgers view the trade as a win. By paying the $28-million signing bonus to infielder Hector Olivera and including him in the trade, the Dodgers got Wood and infield prospect Jose Peraza. Wood is not yet eligible for salary arbitration, so he'll make just over $500,000 this year whereas a similar left-hander, J.A. Happ, cost the Toronto Blue Jays $36 million in free agency.
Peraza and two other prospects were packaged in another three-way trade, with the Dodgers choosing to take three more prospects rather than All-Star third baseman Todd Frazier, whose 35 home runs last year were more than any Dodgers player had hit since 2011.
In the winter of 2014-15, his first as the Dodgers' president of baseball operations, Andrew Friedman made the Dodgers $72 million in profit, according to Adam Guttridge and David Ogren of NEIFI Analytics, a company that licenses decision-making models and player evaluation techniques to major league teams.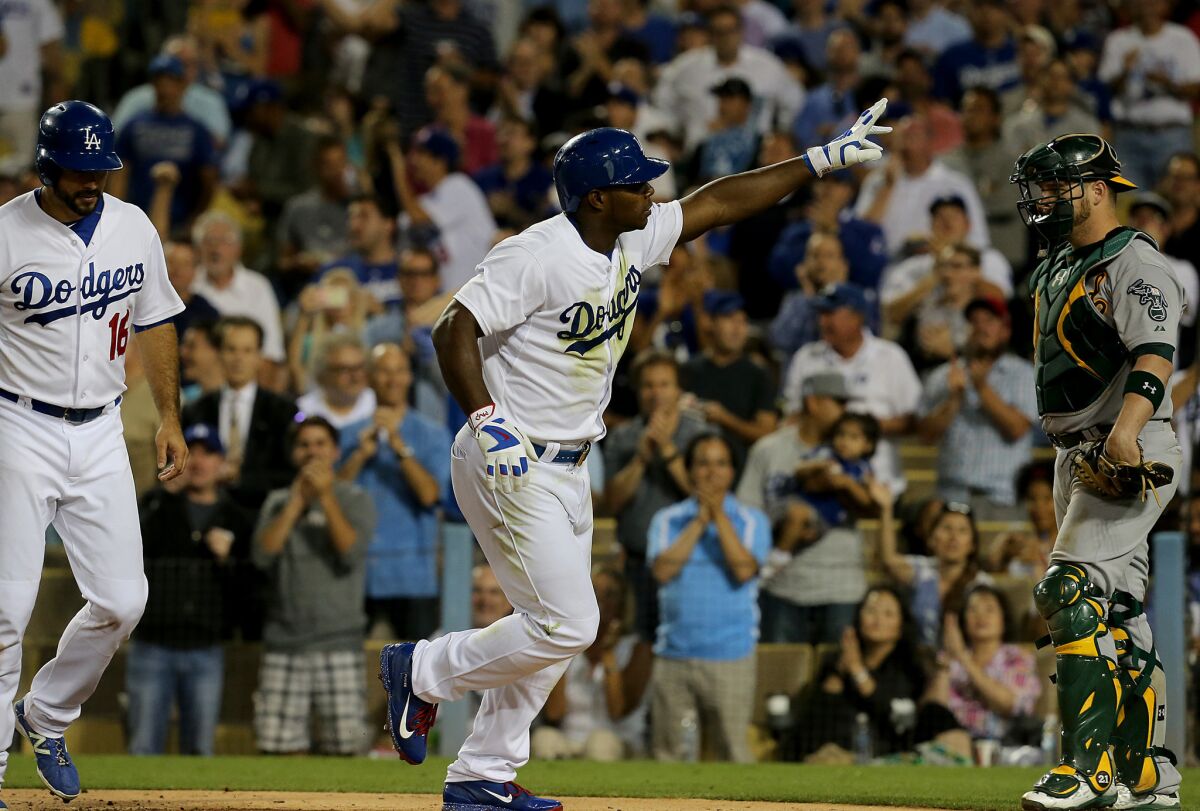 Friedman's transactions that winter included a three-way trade in which the Dodgers shed outfielder Matt Kemp — and $75 million of his contract — and acquired catcher Yasmani Grandal, who was not yet eligible for salary arbitration. The Dodgers also traded second baseman Dee Gordon and pitcher Dan Haren — and $12.5 million to cover their 2015 salaries — to the Miami Marlins for four players also ineligible for arbitration: pitchers Chris Hatcher and Andrew Heaney, catcher Austin Barnes and utility player Enrique Hernandez. The Dodgers then flipped Heaney to the Angels for veteran second baseman Howie Kendrick.
The $72 million profit was not literal. Rather, Guttridge said, the figure represented the equivalent of "either shedding $72 million in salary obligations without hurting the team, or acquiring a player for $72 million less than he'd receive on the free agent market today."
That seemed a good place to start a question-and-answer session with Friedman:
Can you explain to fans what the objective is? Is it to bring down the payroll? Is it to maximize this financial flexibility? What is the long-term view of what you are trying to do here?
I think, since Mark [Walter] assumed ownership and Stan Kasten and the rest of the group, there's been a very consistent message, which was: We're going to do everything we can to compete as quickly as we can, and all the while build up our farm system as quickly and aggressively as we can. This predates me.
But there were significant commitments made that were more obvious, in terms of additions to the major league roster, and a lot of things happening behind the scenes in terms of prospects — not only being added, but a reluctance to part with key prospects as well. And then I think the next phase, as I've heard [team president] Stan [Kasten] talk about often, has been to help nurture that farm system into our next core of players.
I think large-revenue teams can sometimes fall into a trap of focusing too much on the current, and that is something that we have tried to be extremely mindful of. We certainly understand and respect the fans' passion. It's one of the things I like most about my job.
We feel like our responsibility is to do everything we can to sustain a certain level of success -- as you look at it over a five-year period, a seven-year period, a 10-year period, we're able to play through that time period as an upper-echelon, elite-level team. And it's not as easy as people think it is, especially if you devote a large percentage of your focus and resources on just the now.
Fans hear about things like years of control, and financial flexibility, and diversifying risk, and the best bang you can get for your buck. And some of them, naturally, say, "I don't hear the words 'World Series' in there." How does winning a World Series play into all of that?
It's certainly the motivating factor for Mark Walter, our ownership group, Stan Kasten, myself, our baseball operations department, Dave Roberts, our new coaches. I think all of us are perfectly aligned in the sense of doing all that we can to bring a World Series back to Los Angeles. With that comes doing everything we can to not only put ourselves in a position to do that, but to be able to have a chance of doing it multiple times in future years.
Do you believe the playoffs are a crapshoot?
I don't know if I would characterize it that strongly, but there is certainly a large element of luck. Just think back to Game 5 of the National League division series last year, with us and the Mets. In the first inning, Curtis Granderson hits a ball 60 mph, that was topped, that we couldn't quite make the play on. He's safe, and he scores the first run of the game. Fast forward to the bottom of the first inning. Howie Kendrick hits a bullet about 110 mph that happens to be right where Lucas Duda is standing, and it's an out.
So Curtis Granderson didn't hit his ball hard enough and scored a run, and Howie Kendrick might have hit his ball too hard and made an out. When you talk about a five-game series or seven-game series, things like that can play out in ways that, over the course of 162 games, tend to even themselves out. In five or seven games, it's quite possible that could be the difference between winning a series and losing a series.
The reason I ask is because, if you believe that you can make a team much better for the postseason in any given year, then it strikes me that you make a better effort to get a David Price or a Cole Hamels or a Johnny Cueto last year, when you knew you needed a pitcher. But, if you don't believe the incremental difference is that great, then maybe you don't.
I don't think it's as black and white as that. I think it all gets back to acquisition cost. We were very much in play on a number of guys but deemed the acquisition cost to be too high, based on the fact that it certainly did not guarantee anything. Look at the teams that did acquire some of those guys. It does not guarantee that you are going to win a World Series. You have to appreciate what it means for your chances.
I think human emotion takes over when you're in July, and you're even willing to give more than what rationally makes sense. But there has to be a level where you have the discipline to not overstate that value.
Given how pressing the need was last year, and given there will always be a steep acquisition cost to get a player of that caliber, and given that such a trade never guarantees anything, why would you ever make one of those moves when you wouldn't make it last year?
Any player that we feel like fits us, whether in the free-agent market or trade front, we exhaust that possibility thoroughly and try to figure out ways to line up and get to a deal. Part of it is having the depth in your farm system to withstand a trade of that nature. We feel like we're finally getting to the point where we have the depth in prospects, either to help us in the form of trade currency or to continue to supplement our major league team.
Secondly, the easy decision would be just to say yes to something that helps you in the near term, but we're trying as hard as we can to have the discipline to be as good as we can be in the current year and to maintain it as far as we can see out.
There is a concern about extending any player into his late 30s, especially a pitcher. Given that, it would have been understandable – even if the fans might not have been too thrilled – if you would have said, 'Zack, you've got three years left on your deal, we'd love to keep you, but we're only comfortable with those three years.' That would have been consistent with that approach. So why would you go to five years but not six? [Greinke opted out of the final three years of his Dodgers contract. The Dodgers made a five-year offer; he signed with Arizona for six years and $206 million.]
That rationale extends to anything and everything. We made what was, in our minds, a significant offer to do all we could to get Zack back. We felt like we got close. Obviously, Arizona swooped in.
Why didn't it make sense to spend the extra $50 million to match the Diamondbacks' bid?
For the most part, almost any transaction we make at the major league level is not done in a vacuum. It has to be done within your current roster as well as future rosters. We're fortunate to have a number of guys on the higher end of the salary scale. It's important for large-revenue teams to space those out as much as you can. We're afforded the luxury of having a number of them. It's a great benefit. But, if you are too flippant about it, it can become a real liability. And I don't just mean this in the context of Zack, specifically.
Since Clayton Kershaw got his contract extension a little more than two years ago, the Dodgers haven't signed a guy for $100 million. Granted, you tried with Zack. Is part of the plan not signing a lot of guys to big-dollar contracts?
I wouldn't say that is the plan in a vacuum. But, when taken within the context of our existing team, it's just not as viable.
Given the choice of spending $100 million on a proven major league player who might be on the downside of his career by the time the contract is over, or spending it on many players from Latin America and diversifying the risk and hoping some of those guys pan out, why does the latter seem to be the preferred strategy?
I think it just gets into the current construct of our roster. With where our payroll level was in 2014 and 2015, it just wasn't at a level that was sustainable. We are introducing younger players to the existing core that we have in place. With that, your payrolls come down. But, more than just our payroll coming down, it allows us to integrate these young players onto our roster and give them experience early in their careers and ride through that performance roller-coaster with them, while maintaining a certain level of team performance.
In a couple years, there's going to be a monster free-agent class. There is speculation around baseball that, because of the spending that has happened here in the past, you guys will be in a position -- having cleared up some of those financial issues that you inherited -- to spend $400 million on a player, or $300 million on a player. Is that the kind of move you would be in favor of?
I think it's too difficult a question to answer right now. I think the world is going to look very different in two or three years. What that means, we don't know exactly. But having flexibility and optionality is critical. If you box yourself in, you lose a lot of flexibility. Conversely, maintaining that flexibility allows you to go a lot of different ways, in terms of constructing the type of roster that we're intent on building.
Wouldn't signing a guy for $300 million or $400 million deprive you of the flexibility you would have worked for years to develop?
It depends what the other 24 players on our team look like, what our farm system looks like, how good we can be with adding a certain player vs. not, whether we want to diversify in terms of how our spending or whether our roster is at a point where adding one player makes a significant difference because of how the other 24 fit together. There's just so many different factors that go into it that two, three, four, five years from now -- each of those winters is going to look very different.
One of the things your group has done is maximize assets that might not be high-profile, whether it's trades designed to get an extra draft pick or doing some roster manipulation. Once you got to a point last fall where you and Don Mattingly had mutually decided he was not going to come back as manager, why couldn't you trade him to the Marlins?
Through the conversations with Donnie, where we reached the point where parting ways was what made the most sense, we just felt like the cleanest thing for us and for him was to do it sooner rather than later.
There has been no shortage of resources applied here -- not just for players, but to everything off the field, whether it's front-office personnel or organic food or expanding the minor league coaching staffs. Given that everybody wants the best -- and no knock intended against anybody else -- why isn't Joe Maddon managing this team? [Friedman's departure from the Tampa Bay Rays to the Dodgers triggered an escape clause in Maddon's contract with the Rays. Maddon signed with the Chicago Cubs.]
Coming into a new organization, I solicited a lot of thoughts and opinions from a lot of the people who had been here. Obviously, the Dodgers were coming off back-to-back NL West titles, and everyone spoke really well of who Donnie is and of his intentions. As I talked to Donnie in the first few days after I got the job, it became clear to me what everyone was talking about, in the sense that he is a great man with a very distinguished career and a lot of very strong thoughts about how to put a championship team together. So we felt it was best to work together, either for a year or for the long haul, and play things out as they came.
If fans understand you weren't going to put all your eggs in one basket to try to win last year, that you weren't going to give up what it would take to get Price or Hamels, then how many years are they supposed to give you to win a World Series?
That's just not a decision that I get to make. Every day, our focus is on how to make the Dodgers better. I will continue to do that as long as I'm in this position. I feel like we've accomplished a lot in the past year but feel like there is a lot more to accomplish going forward.
If the Dodgers don't win a World Series in the next, say, three to five years, has the mission not been accomplished?
Certainly, my goals are to win as many championships as possible. I don't define a season a failure if you don't win a world championship. I just don't subscribe to the notion that there's one success story and 29 failures in any given season. That being said, every waking moment for us -- in terms of what we do for a living -- is focused on how to bring a world championship back to our incredibly passionate fans.
How do you define a successful season?
I think winning your division is a very successful regular season. I tend to try to look at it as two parts. It is more difficult to accomplish your ultimate goal without accomplishing your regular-season goal. So I think of winning your division as an accomplishment. I think it's incredibly difficult over 162 games to beat out the other four teams in your division. To do it three years in a row, I think, is a great accomplishment. That being said, our postseason goals have not been met, and we're doing everything we can to put ourselves in position to meet those goals as well.
Are you confident that the team you're taking to spring training is better than the team that ended last year?
We set out each off-season to construct the best team we can. Obviously, it's relative to the teams we're competing against. We feel like we have the talent in our clubhouse and the depth to withstand a very competitive National League West this year. We're confident in the group that we have. We feel like we have a real chance to do special things this year.
Yes, no or I don't know: Is this team better than the one we last saw in October?
We just haven't done a comparison to last year. It's much more about how we like our chances in the 2016 season compared to the teams that we're competing against.
One last question: Do you want a designated hitter in the National League?
I grew up a fan of the National League game. I like the strategy involved. I think the roster construction is more intellectually stimulating. Trying to factor in a pitcher's ability to hit, a pitcher's ability to bunt, and how that adds value or takes away value, is something I've never really thought about before last year. I just think the game is more entertaining. The more strategic it is, the more decisions that have to be made over the course of the game, I think it's more entertaining.
Follow @BillShaikin on Twitter
MORE DODGERS NEWS
These 23 things are guaranteed to happen during Dodgers spring training
Dodgers strike deal with Leiweke firm to bring concerts to stadium
Think Red? Justin Turner, an old-school Dodger, goes 'above and beyond' for others off the field
---
Get our Dodgers Dugout newsletter for insights, news and much more.
You may occasionally receive promotional content from the Los Angeles Times.