Southern California air pollution spikes amid the haze of July 4th fireworks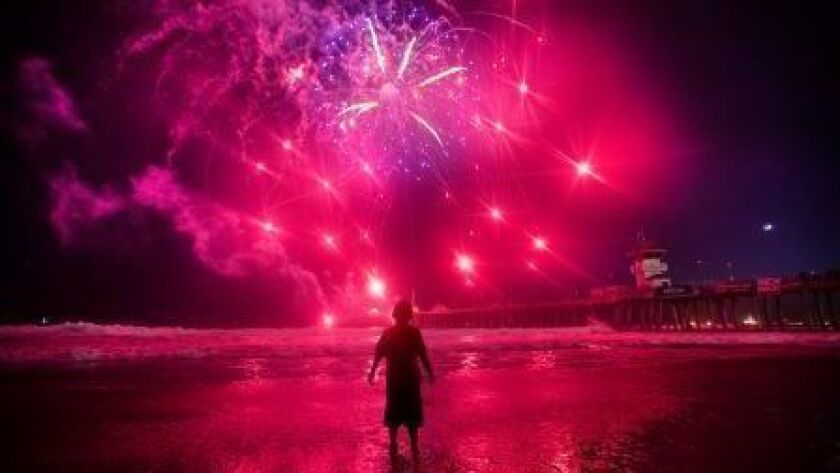 First came an earth-rattling temblor and then a massive display of July Fourth fireworks. Now, residents of Southern California are sharing yet another collective experience — bad air quality.
Along with the usual Independence Day-related injuries and hangovers, July 4 and 5 bring some of the worst air pollution of the year. Friday was no exception as officials issued an air quality advisory because of fireworks.
"When I woke up this morning to head for work, I immediately felt the difference," said bicycle courier Melvin Sosa, 20. "The air was way too warm, plus it felt a little harsher to breathe through the day. My eyes kept getting watery all morning even though I was wearing shades."
Fireworks release metal air pollutants and toxic particulate matter known as PM2.5 and PM10 that contribute to L.A.'s existing pollution, according to the South Coast Air Quality Management District. Thursday night's pyrotechnics translated to a spike in air pollution throughout Los Angeles County, with many areas reaching hazardous levels.
"People with heart or lung disease, older adults and children should avoid all physical activity outdoors," the Los Angeles County Department of Public Health said. "Everyone else should avoid prolonged or heavy exertion."
According to the health department, pollution within the San Gabriel Valley and East San Gabriel Valley are expected to reach levels hazardous to all residents. In downtown Los Angeles, southeast Los Angeles County, and Santa Clarita Valley, conditions would mostly affect "sensitive residents" — children, the elderly, and those with existing health conditions such as heart disease, asthma and respiratory complications.
"Poor air quality is always a concern, and fireworks smoke doesn't help that in any way," said Dave Clegern, public information officer at the California Air Resources Board. "That said, brief exposure to fireworks smoke by itself would be a relatively minor threat compared to the continuous emissions of pollutants from cars and trucks."
The California Air Resources Board predicts the fireworks haze will begin to clear out Saturday and Sunday, due to increasing winds. However, anticipated high-pressure conditions next week will set the stage for poor air conditions once again.
In the meantime, area residents had to make the best of a bad situation.
Stephanie Ortega, 28, the owner of PDQ Courier, said she and her employees were feeling the effects of dirty air. She noticed it while pedaling an order of sandwiches from Chinatown to Silver Lake on Friday.
"It felt harder to breathe," Ortega said. "I'm out here all the time, and we do get days that are more smoggy than others."
---
For reporting and exclusive analysis from bureau chief John Myers, get our California Politics newsletter.
You may occasionally receive promotional content from the Los Angeles Times.