K-pop group denied entry at LAX on suspicion of being sex workers, band says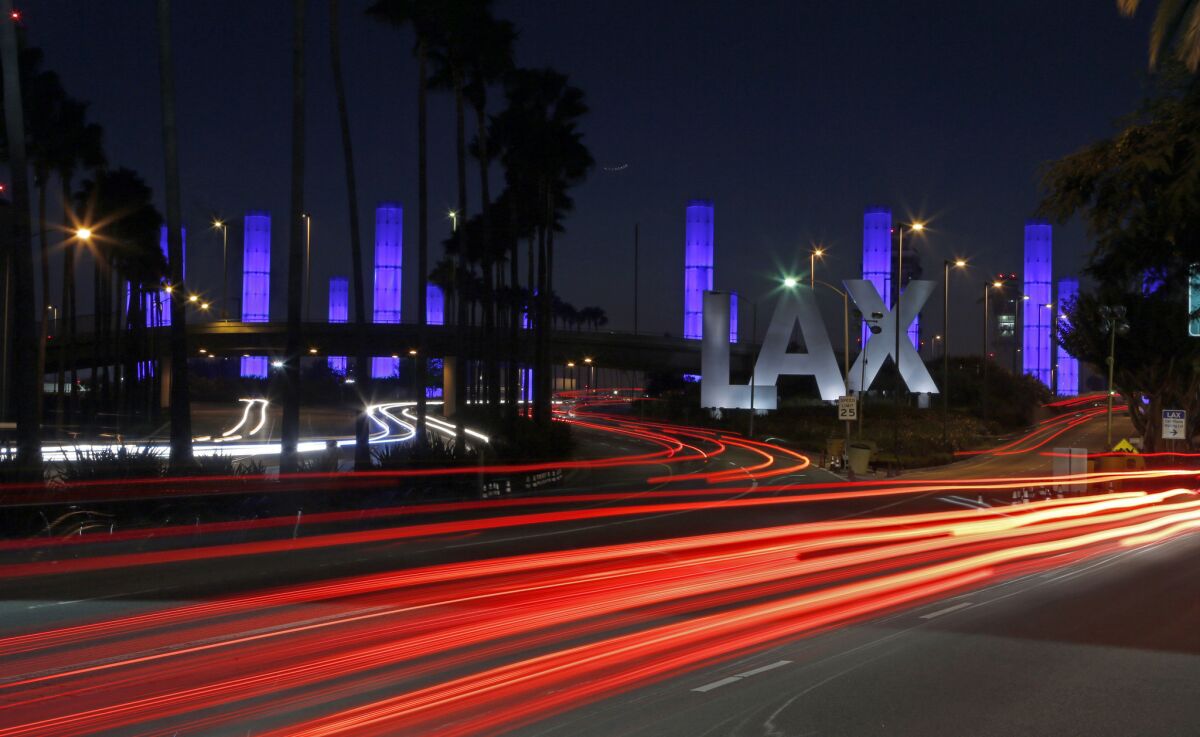 A K-pop group is alleging that U.S. authorities denied them entry at Los Angeles International Airport, suspecting they were sex workers.
"Oh My Girl," an eight-member South Korean girl band, was held at LAX for more than 15 hours on Wednesday while being questioned by officials with U.S. Customs and Border Protection, according to a statement released by the group's South Korean management company.
Representatives of WM Entertainment said in the statement that the group, which has several teenage members, was scheduled to perform at an event in Los Angeles and hold a photo shoot. Authorities appeared suspicious of the large amount of props and clothing the band and accompanying staff were traveling with, according to the statement.
Interested in the stories shaping California? Sign up for the free Essential California newsletter >>
"As young women, they were mistaken as 'working women' which has recently been a big issue in the U.S.," the company wrote in the Korean-language statement. Representatives also hinted at a visa problem, writing that the group "did not need a performance visa" because they were participating in a promotional event rather than holding a solo concert.
A spokesman for U.S. Customs and Border Protection said the agency could not confirm or deny the group's claims.
"Privacy Act prevents CBP from disclosing arrival/departure records of international travelers," spokesman Jaime Ruiz wrote in an e-mail.
The entertainment company said the band eventually gave up and flew back to South Korea. Representatives said they were consulting attorneys in the United States about the group's lengthy detention.
Korean-language media in Los Angeles have reported anecdotally that young South Korean women are increasingly facing scrutiny from immigration authorities based on the suspicion that they may be entering the country to illegally work in the Koreatown nightlife scene.
One problem local authorities have recently focused on are "doumi" girls at Koreatown karaoke clubs, for-hire party girls who are paid about $120 for two hours to encourage men to drink.
Operators of doumi girl businesses openly advertise on Korean websites, recruiting South Korean women to travel to the United States with the promise of quick cash for a couple months' work.
For more California news, follow @vicjkim on Twitter.
ALSO
Three convicted in crackdown on after-hours alcohol in Koreatown
A night of violence that shattered a South African's view of her white privilege
Brother of San Bernardino killer Tashfeen Malik says family in Saudi Arabia is devastated
The stories shaping California
Get up to speed with our Essential California newsletter, sent six days a week.
You may occasionally receive promotional content from the Los Angeles Times.