Killer laughed after decapitating Army veteran, court is told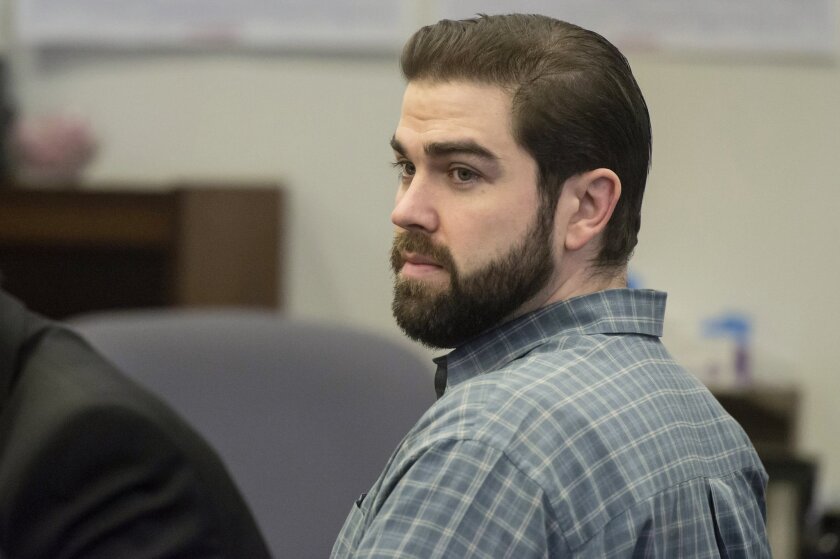 Daniel Wozniak told police that he laughed as he cut the head off the man he had shot to death a day earlier.
"I was actually smiling and laughing," Wozniak said in a videotaped interview with detectives that was shown last month in Orange County Superior Court.
When one investigator asked why he laughed, Wozniak replied: "I don't know. I reached a point where I couldn't even believe I was doing this."
Prosecutors highlighted that and other gruesome scenarios Thursday as they closed their case against Wozniak, a 31-year-old community theater actor from Costa Mesa.
Jurors convicted Wozniak on Dec. 16 of two counts of murder for the slayings of 26-year-old Army veteran Sam Herr and Herr's friend Juri "Julie" Kibuishi, 23, in 2010.
This week, the same jurors heard evidence in the penalty phase of the trial, in which prosecutors tried to convince them that Wozniak deserves a death sentence.
Wozniak's defense team is expected to finish presenting its closing argument Monday, after which jurors will start deliberating Wozniak's fate.
If they choose to spare him the death penalty, Wozniak would receive life in prison without parole.
Join the conversation on Facebook >>
Prosecutors last month presented evidence that Wozniak shot Herr to death in a Los Alamitos theater on May 21, 2010, and then tried to cover it up. Wozniak used Herr's phone to lure Kibuishi to Herr's apartment, where Wozniak shot her twice in the head. The next day, prosecutors said, Wozniak ripped the pants off Kibuishi's body and propped her remains against Herr's bed to make it seem as though Herr had raped and killed her and fled.
Wozniak then returned to the theater, where he dismembered Herr's body with an ax and a saw before tossing some of the pieces into a Long Beach park, according to detectives' testimony and Wozniak's videotaped confession.
"That's as ruthless as a murder gets," prosecutor Matt Murphy said Thursday. "It's as cold-blooded as a murder gets. It's as unnecessary as a murder gets."
According to Murphy, Wozniak killed Herr so he could steal Herr's ATM card and access about $62,000 Herr had saved from his Army service.
"This is the most base, vile motive of all. It's money," Murphy said. "And in our case, it gets even worse because the next question is, what does he need the money for?"
NEWSLETTER: Get the day's top headlines from Times Editor Davan Maharaj >>
Wozniak was scheduled to marry his fiancée, Rachel Buffett, about a week after the killings, but he was broke and needed cash to fund his honeymoon, Murphy said.
"This was as cold as cold gets for the worst reasons of the worst reasons," Murphy said. "Not just for money, but for money so he can go on a trip."
As defense attorneys began their closing argument Thursday, they raised the possibility that Buffett may bear some responsibility for the slayings.
"She's crafty. She just is," public defender Scott Sanders said.
Sanders reminded jurors of testimony from Costa Mesa police Lt. Ed Everett, who said he thinks Buffett should be on trial alongside Wozniak, even though police were unable to find evidence to support charging her with murder.
Buffett is facing a charge of accessory after the fact on allegations that she lied to police to try to help Wozniak. She has pleaded not guilty.
Dobruck writes for Times Community News.
ALSO
Record-high Powerball jackpot unleashes fever
More storms, lighter rain in Southern California's future
Arrests of 2 men from Iraq in U.S. puts new focus on refugee debate
---
Get breaking news, investigations, analysis and more signature journalism from the Los Angeles Times in your inbox.
You may occasionally receive promotional content from the Los Angeles Times.