Must Reads: Want to park in Koreatown? Get ready for a 'blood sport'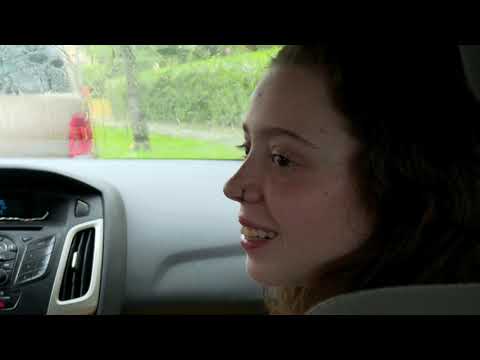 To secure a parking spot outside their apartment in Koreatown, Karyssa LaQuea and her fiance, Dorian Barry, wait in their car for two hours during street cleaning. LaQuea and Barry say that if they don't do this every Thursday, they cannot find park
On days she drives her car, Elizabeth Bell often pleads to the divine.
"Lord," she says, inching toward her Koreatown apartment, "please help your child. Universe, please give me a parking spot."
Curb space is so rare here, she said, that once she squeezes her midsize 1995 Buick into a spot, she often ditches it there for several days and takes the bus to work.
"Alllll day, eeeeveryday there's no parking," Bell said, each stretched syllable signaling her exasperation.
Here in Los Angeles County's densest area, with 40,000 people jammed into each square mile, the rhythms of daily life revolve around the scarcity of street parking.
Residents trade in trucks for tiny Smart cars and decline dinner invites, knowing that they'll likely have to circle the block for an hour if they get home after 5:30 p.m. To avoid losing a coveted spot, residents run errands on scooters and order take-out for dinner. ("Marijuana Delivered" signs are stapled to several phone poles.) On the worst days, residents surrender to a pricey garage two blocks south near Wilshire Boulevard, or try the guerrilla tactic (and criminal offense) of spray painting over red curbs with gray paint.
"Looking for parking here," said Gimante Nichols, a filmmaker who lives on Bell's block, "is like looking for Bigfoot."
It's not only that the neighborhood is dense, said Juan Matute, deputy director of the UCLA Institute of Transportation Studies, but also that its housing stock is old. The streets of Koreatown are lined with Art Deco-style apartment complexes, which were built before the city implemented strict regulations requiring off-street parking. (Although there are exceptions, Matute said the general rule of thumb today is that developers must include about 1.25 on-site parking spaces for a one-bedroom unit.)
And the neighborhood is on track to get even more crowded, as the swift construction of towering apartment and condo complexes, driven by gentrification, transforms the skyline in Koreatown.
For now, perhaps nowhere is as bad as Bell's block, the now-infamous intersection of 5th and Catalina streets, where last month two cars — one black, one silver — sparred for a spot during a recorded 90-minute standoff that made national news.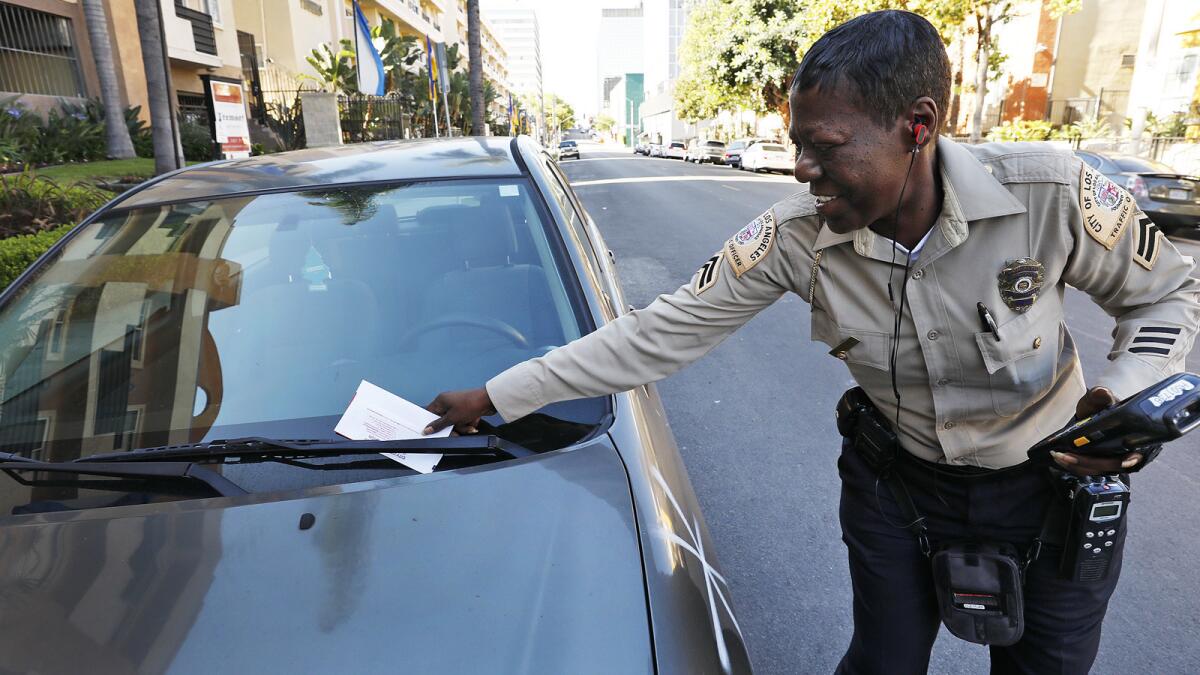 When Matute watched the viral video of the stubborn sedans sizing each other up like boxers entering from opposite sides of the ring, it looked to him like an act of "civil disobedience" by both drivers — a silent protest about a real problem.
"It's a signal that whatever exists now isn't working for people," Matute said. "Parking in Koreatown is broken."
Parking shortages — and the time wasted dealing with them — aren't as much of a factor in wealthier ZIP codes with more political capital, where people have their own garages and driveways or live in permit-parking districts where residents and guests with passes have their pick of spots.
Kevin Brunke of the Wilshire Center Koreatown Neighborhood Council said that, unlike many people in more moneyed areas, Koreatown residents often have long commutes, followed by circling the block, wasting gas and sacrificing time with their families.
"I do think it's unfair," Brunke said.
Hellacious parking is a longtime hallmark of life in a metropolis. Some cities rely on tacit parking traditions enforced by local custom, whereas others run on a more Darwinian those-who-circle-the-block-longest-eventually-win mentality.
Chicago has an unwritten ruleafter snowstorms — if you shovel a spot and call "dibs" by placing an item in the space, it's yours — and in New York City, a study of 15 blocks in Manhattan discovered that each year drivers cruised for 366,000 miles — farther than the distance to the moon — searching for metered parking.
In an episode of Seinfeld, titled "The Parking Space," George Costanza equates paying for a garage in New York City to "going to a prostitute."
"Why should I pay," he says, "when, if I apply myself, maybe I could get it for free?"
In Southern California, sparring over parking stretches back decades. In the Westlake neighborhood in the 1950s, an Army veteran shot a man in the groin during what police described at the time as "a heated argument" over a parking spot. In Anaheim in 1991, a man was stabbed to death with a butcher knife following what Orange County officials characterized as a "parking space dispute between two families." In 1994, a security guard told The Times that the parking battle between the owners of neighboring strip malls in the Valley was "like the Hatfields and the McCoys."
But in recent years, Koreatown has reigned as the king of parking wars.
A newcomer to the neighborhood asked for parking tips on Reddit. Someone replied: "pray, my friend." Another commenter suggested a more drastic option: Buy a forklift or monster truck and move cars intentionally taking up two spaces. Last month, comedian Jenny Yang described parking in Koreatown as a "blood sport."
"I will never again date a guy who lives there and doesn't have parking for me," she tweeted. "DEALBREAKER."
Matute said there were some things the city could do to alleviate the parking pressures, but they would likely require using cost as a disincentive. Officials could add more meters or create a parking district, he said, but since the number of residents so greatly exceeds available curb space, the permits would need to be sold at a premium.
And using price to allocate a public resource in Koreatown would have huge inequities, Matute noted, saying it would disproportionately affect lower-income residents and people of color.
"You end up forcing those people to go without a car," he said, adding that access to a vehicle expands people's job options.
Brunke, who doesn't own a car and until recently led the neighborhood council's committee for planning, land use, housing and transportation, agreed that a permit district that used high prices to control demand would be problematic. Over time, he said, he hopes more people will give up their cars and rely on public transportation.
But, Matute said, before that happens, the parking situation in Koreatown likely will get worse, as people with more money — and more cars — move into the neighborhood.
Just how hard is it to fight a parking ticket in L.A.? Here's one Angeleno's story »
Back on Bell's block, the roadside roulette resumed.
She pulled her Buick into a spot along 5th Street on a recent Wednesday morning. Her errands — grabbing coffee and putting $10 of gas in her tank — hadn't taken as long as she expected, and it was only 9:10 a.m. She wasn't technically allowed to park on the south side of the street for another 50 minutes, so she decided to dawdle in her car until street-sweeping hours were officially over.
"Now that I've got my spot, I'm set," Bell said, smiling. "Well, if the parking lady doesn't come back."
Bell, 54, who works at a furniture store not far from her home, moved into her Koreatown apartment a few months ago through a program that helps pay her rent. Even though she likes her new neighborhood, she intends to move back to the San Fernando Valley when her lease ends.
"This is not worth it," she said, of the parking. "I'm a Valley girl, I'm used to hopping in my car like nothing."
Out of the corner of her eye, Bell spotted a parking enforcement car coming up behind a white van that was idling on Catalina Street.
"She got him!" Bell said, laughing, as if enthralled by the opening scene of a police procedural.
The van pulled away, rounded the block and retreated to the same spot. When another officer rumbled up, the van made another loop. The same cat-and-mouse game plays out every Wednesday until 10 a.m., Bell said. On Thursdays, it repeats itself on the other side of the street. The owners of the white van, as well as a blue truck and a motorcycle, often share keys, Bell said, shuffling cars around for each other on street-sweeping days.
"It's like they run a valet," she said, adding that, although it bothers her that they monopolize spots, she sometimes wants in on their hustle.
Guillermo Cortez Moreno, 43, who drives the white van, said he and his friends sometimes moved cars for one another if one of them was stuck at work. Other times, he said, he positions his van between two spots, saving a space for his other car.
"We have to do it," he said, shrugging his shoulders. In the nine years he has lived in Koreatown, the parking situation has gotten much worse, Cortez said, adding that he has racked up $600 in tickets.
"It's always been a mess," he said, "but now it's even more serious."
Up the block, Karyssa LaQuea, 21, reclined in the passenger seat of her car to kill time. LaQuea and her fiancé moved into a nearby apartment a few weeks earlier and still couldn't believe the parking scarcity. They once circled the block for 45 minutes, she said, and sometimes they give up, park several blocks away, and take an Uber to their apartment.
"It's sad," she said, shaking her head.
Nichols, the filmmaker, overheard the conversation and asked if they were talking about parking. LaQuea nodded.
"Oh my God! It's impossible," Nichols said, adding that he's seen people put dressers and refrigerators in the street to save spots.
Moments later, two men walked into the street, blockading a space for someone else. One of the men made a phone call. "Come here," he told the person on the other line, "we got one."
"Parking lot pimping," Nichols said, as he watched.
A few weeks ago, Nichols — who has lived on Catalina Street for 11 years — started tweeting videos and photos of vehicles taking up multiple spots to the city and the neighborhood council.
"This selfishness needs to stop in our neighborhoods!!" he wrote. "We need to work together and find a better solution for parking."
Nichols said he's considering joining the neighborhood council and focusing on parking. The first step toward a solution, he believes, is for the city to paint lines on the street, barring people from hogging two spots.
Across the block, it was 9:40 a.m. — 20 minutes until Bell officially could claim her spot for the week. Just then, a parking officer turned right onto 5th Street.
"You gotta move," the officer said.
"OK, sweetie," Bell responded, "no problem."
Bell sighed, twisting her key in the ignition.
Time for another prayer.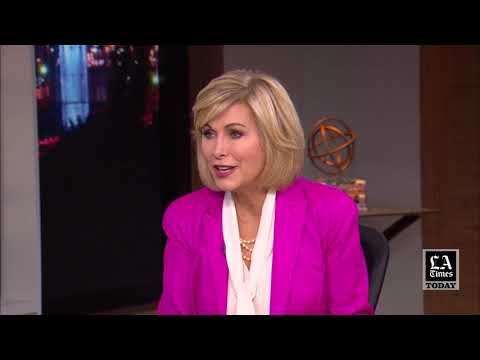 L.A. Times Today airs Monday through Friday at 7 p.m. and 10 p.m. on Spectrum News 1.
Sign up for Essential California for news, features and recommendations from the L.A. Times and beyond in your inbox six days a week.
You may occasionally receive promotional content from the Los Angeles Times.