L.A. County social workers to strike as contract negotiations stall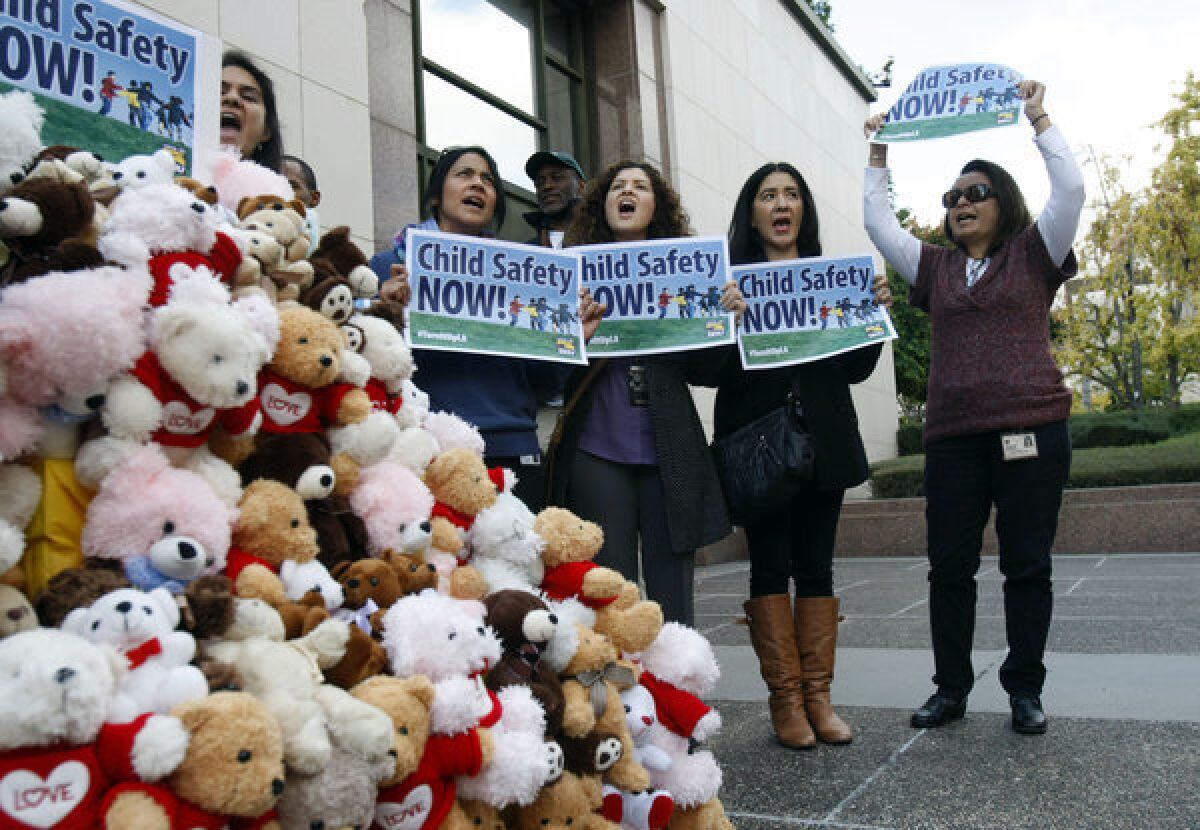 Los Angeles County social workers will strike Thursday, the first time county employees have taken to picket lines in more than a decade and a sharp escalation of a contract dispute between the county and its largest union.
The strike, which may include up to 3,600 social workers and their supervisors, was called Wednesday night by the Service Employees International Union, Local 721, which represents more than 55,000 county employees who have been working without a contract for more than two months.
The action could spread beyond social workers because all SEIU members are being urged to respect picket lines.
The two main obstacles are the timing of a pay raise and caseloads for social workers.
"We need a contract with language that protects the kids," said social worker Blanca Gomez. "Right now, we don't have that."
County Executive Officer William T Fujioka questioned the union making such a move when both sides were close to a settlement.
"It is disappointing that they are willing to take an action that will have such a serious impact on public services when we are so close to finalizing an agreement," he said.
The number and types of social workers who could take to picket lines were unknown, but if large numbers participated, "I would expect services to be impacted," said Armand Montiel, a spokesman for the county Department of Children and Family Services.
County officials had been preparing for such a move after the union declared an impasse late Tuesday.
Hundreds of administrators in the Department of Children and Family Services are prepared to fill in for striking workers. They will effectively perform triage, ensuring that the child-abuse hotline remains staffed, that emergency responders are available and that the agency could remain focused on "any service that might affect immediately the safety of a child," Montiel said.
Fujioka sent a memo to all department heads Wednesday reminding them about pay and discipline policies for employee strikes or sick-outs. Employees have legal protections to strike, but are not entitled to pay, said spokesman David Sommers.
Negotiators had expressed optimism in recent days. Marathon bargaining sessions have produced several agreements, including a 6% raise, the county covering most increasing health premiums and a $500 bonus in 2014.
But two main obstacles remain — the union's desire to reduce social worker caseloads and the timing of the raise.
Labor leaders would like to see the same amount of money in raises as if they had settled before their contract expired Sept. 30. County officials say this would violate long-held negotiating policy.
"Retroactivity … violates the county's bargaining practices, and would be unfair to other county bargaining units who negotiated in good faith and settled their contracts on time," Sommers said.
Union leaders, in an email to their members Tuesday night, accused the county of unfairly trying to deprive them of at least two months' salary increase.
Social worker caseloads have been a long-standing concern in the embattled child welfare agency that has seen persistent cases of abuse and deaths, and is a high-priority focus of a county blue ribbon panel tasked with improving child safety. Caseloads were also the subject of a union protest Tuesday afternoon outside the county Board of Supervisors' weekly meeting.
In negotiations, the union has proposed the county hire an additional 35 social workers per month for 17 months.
"We're asking the Board of Supervisors to do the right thing," said union Regional Director Michael Green, standing in front of a pile of stuffed teddy bears and scores of social workers holding signs that read "Child Safety Now!"
"Their voices have been ignored," Green said. "Now we're at a tipping point."
ALSO:
Sheriff Baca admits shortcomings in hiring problem officers
L.A. City Council moves to regulate sales and use of e-cigarettes
Paul Walker death: Star's friend was driving when Porsche crashed
Twitter: @LATSeema
---
The stories shaping California
Get up to speed with our Essential California newsletter, sent six days a week.
You may occasionally receive promotional content from the Los Angeles Times.