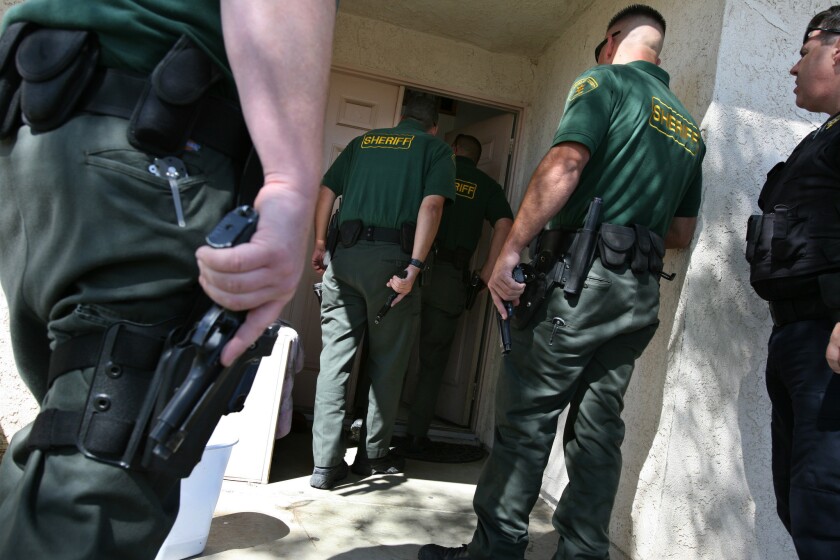 Antelope Valley residents who gathered at a special forum on Saturday offered a mixed assessment of how Los Angeles County sheriff's deputies are treating locals after the county approved a settlement with U.S. officials who concluded that the department systematically profiled and harassed racial minorities in the area.
While some community activists said the relationship between deputies and minority communities had improved, most of the roughly 30 people who spoke raised concerns about issues that included racial profiling, the seizure of cars during traffic stops and the shooting of a black man last year in Palmdale.
The forum in Lancaster, convened by the Los Angeles County Human Relations Commission, was the first of six that will be held throughout the county as part of a review of police and community relations launched last year on the 50th anniversary of the Watts riots.
The agreement between the county and federal officials was approved a year and a half ago and requires the department to collect more data on stops and searches to determine whether minorities are being disproportionately targeted. It also set new rules for deputies, including barring the practice of routinely detaining people in the back seat of patrol cars.
Ruth Sanchez, a Palmdale activist, said the practice of impounding cars of unlicensed drivers — often poor, undocumented immigrants — had decreased but not completely ended. Sanchez launched a campaign several years ago to stop the practice at DUI checkpoints, which often result in unlicensed drivers having to pay hefty fees to retrieve their vehicles.
"Things are not completely solved," Sanchez said. "However, they have changed drastically for the better."
Eddie Rivero, chief of the Sheriff's Department's north patrol division, said the current policy is to hold cars at checkpoints until a licensed driver can come pick them up, generally before the checkpoint is over. Impounds have drastically decreased as a result, he said.
Family members of Leroy Browning, a 30-year-old man killed in a deputy-involved shooting in Palmdale, said at the forum that the settlement had made little difference to them.
Deputies responded to a report about a car crashing into a Taco Bell restaurant on Dec. 20, 2015, and found Browning passed out in the vehicle's front seat. He was put in the back of a patrol car and given a sobriety test, which he failed. Sheriff's officials said Browning launched himself at a deputy who opened the back of the patrol car intending to handcuff him. Browning grabbed the deputy's gun, and another deputy opened fire, killing Browning.
Salena Coleman, whose daughter was Browning's girlfriend and the mother of his two young children, said Browning should have been taken away in an ambulance, not placed in the back of a patrol car.
She also said Browning could have been easily subdued without being shot. Browning, she said, was 5 feet-2 inches tall and 128 pounds, and had recently suffered a back injury.
"We should have been looking at a court trial," she said. "We shouldn't have had to go to a funeral."
Twitter: @sewella
ALSO
Man apparently takes his own life after overnight standoff with deputies in Paramount
Father of 8-year-old killed in Culver City crash as teen driver flees cops, police say
After a summer of deaths and arrests at rave concerts, solutions are hard to find
---