'They are damn lies': LAPD chief lashes out after captain accuses department of phony crime statistics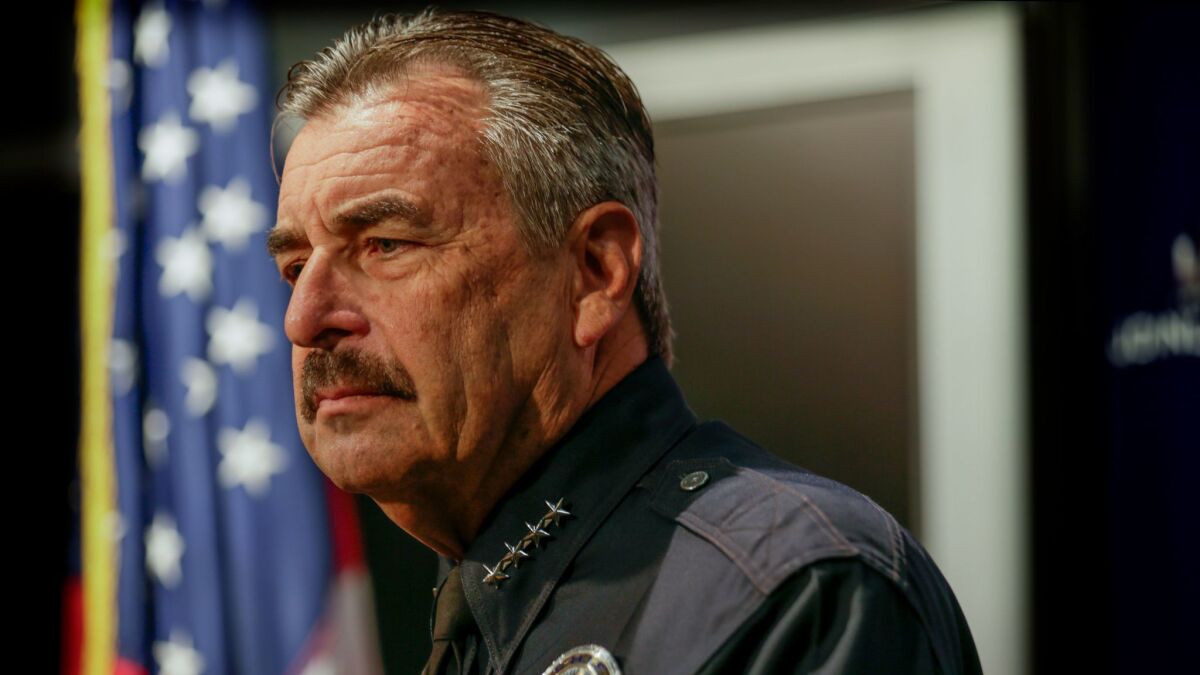 Los Angeles Police Chief Charlie Beck forcefully denied that his department has falsified violent crime statistics, dismissing allegations that the LAPD is misleading the public as "not only untrue, but outrageous."
"They are not only lies, but they are damn lies," Beck said Tuesday of the allegations.
"If I'm cooking the books, I'm not doing a good job," he said, pointing to a 4% increase in violent crime this year. In 2016, violent crime increased in Los Angeles for the third straight year, according to department statistics.
"I am confident that there is no purposeful misclassification," Beck said. "Believe me, the consequences are way too high."
The fiery rhetoric by Beck came in response to a claim filed a week ago by Capt. Lillian Carranza, who alleged that aggravated assaults were intentionally underreported in multiple police divisions across the city.
Carranza, who oversees the Van Nuys station, held a news conference Monday and accused LAPD leaders of operating a "highly complex and elaborate coverup" to support a false portrait of public safety in L.A.
Greg Smith, the attorney representing Carranza, said Tuesday that Beck's comments about his client were defamatory and showed desperation.
"We have absolute proof that the department has and continues to present false crime statistics to the Department of Justice. The [LAPD's Data] Integrity Unit has failed to stop the false reports," Smith said in a statement. "Chief Beck's comments about Capt. Carranza are false, malicious and slanderous."
The police officers union also rebuked Beck.
"Chief Beck doth protest too much," the Los Angeles Police Protective League said in a statement. "It's time for transparency and honesty to be the foundation of our department, not cooking the books to fool our elected officials and the public."
Carranza said in her claim that she began notifying superiors in 2014 about the underreporting of crime, and once installed at the Van Nuys station in 2015, she conducted her own analysis of violent crime reports stored in an LAPD database.
Aggravated assaults in 2016 were underreported by about 10% in the Pacific and Central divisions, according to the claim, which alleges that those cases were misclassified as less serious offenses.
The allegations followed a 2014 Los Angeles Times investigation that found that the LAPD misclassified nearly 1,200 violent crimes during a one-year span ending in September 2013. If recorded correctly, the figures for aggravated assaults in the period would have been nearly 14% higher, The Times found.
The newspaper also found that from 2005 to fall 2012, the Los Angeles Police Department misclassified an estimated 14,000 aggravated assaults as minor offenses, artificially lowering the city's violent crime rate. A 2015 audit by the LAPD's inspector general estimated that more than 25,000 aggravated assaults were misclassified from 2008 to 2014.
On Tuesday, Beck pointed to several reforms in recent years, including a series of internal audits of the LAPD's crime statistics, the training of more than 2,000 detectives to accurately categorize crimes, and the creation of the Data Integrity Unit — a small team of detectives and data analysts responsible for scrutinizing the statistics. Other police agencies, Beck said, view the LAPD as "zealots" because of the multiple checks to ensure accuracy.
Still, Carranza lodged multiple complaints about data errors and this year was told by a supervisor that she would not receive a promotion to commander because she was "meddling into others' business," according to the claim, which was filed against the city of Los Angeles and seeks damages for lost wages as well as for emotional distress and unspecified physical injuries.
Beck accused Carranza of being "very litigious" and said she had made previous complaints that were investigated and presented to the Police Commission, the department's civilian oversight panel. He said he had promoted Carranza and insisted that he had not retaliated against her.
"This is not grade school. You don't automatically graduate to fourth grade around here," Beck said. "Not everybody gets to be a commander."
Twitter: @katemather
Twitter: @MattHjourno
---
UPDATES:
6 p.m., Nov. 8: This article was updated with details about an increase in violent crime this year.
This article was originally published Nov. 7 at 9:05 p.m.
The stories shaping California
Get up to speed with our Essential California newsletter, sent six days a week.
You may occasionally receive promotional content from the Los Angeles Times.