An L.A. triple-murder suspect was tried in China, and his case could open the door for similar prosecutions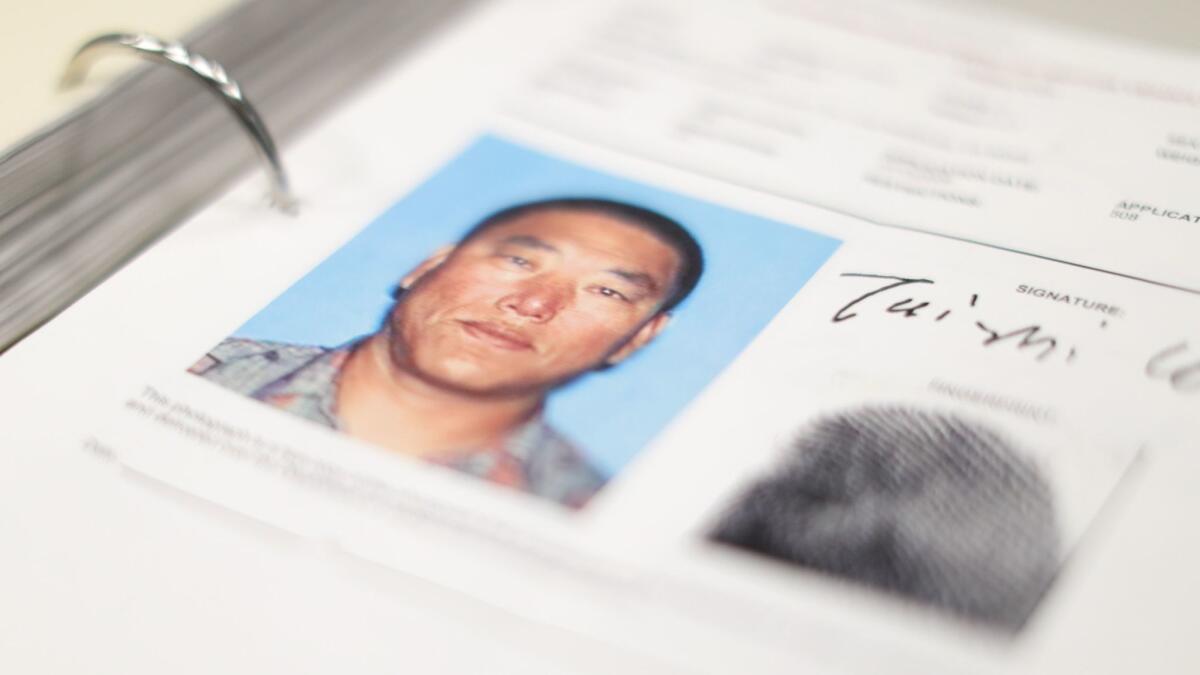 Walt Teague had given up hope of making an arrest in the Koreatown triple murder.
The suspect, Tai Zhi Cui, had fled Los Angeles for his native China, which has no extradition treaty with the United States.
If Chinese police would confirm that Cui was indeed in China, Teague could at least close the almost decade-old case. In a cavernous room off Tiananmen Square, he met with nearly two dozen Chinese police officials.
The highest-ranking officer then made an unexpected offer to Teague, a Los Angeles Police Department lieutenant: "We're very interested in trying him in our courts."
Late last year, Cui was found guilty by a panel of three Chinese judges. There has been no word from China on his punishment.
American crimes, Chinese trials: Here's how it works »
Teague and other American authorities said they would have preferred to prosecute Cui in the U.S. but believed that working with the Chinese was better than letting him go free. They believe he was treated fairly, they said.
The Chinese legal system, however, has a reputation for coerced confessions, speedy executions and politically motivated arrests. Many trials are not public, and court files are generally not available for public review. In the U.S., Cui's trial would have likely lasted weeks. In China, it took 90 minutes.
Chinese prosecutors appear to have made significant use of evidence the LAPD handed over. The cooperation was approved by L.A. County prosecutors, who weighed concerns about China's judicial system against the violent nature of Cui's crimes. It is unclear what role federal officials played in the decision.
The Times examined the Cui case and two others in which a defendant was prosecuted in China for a crime committed on American soil. The cases are among the first of their kind and could open the door for similar prosecutions, especially in Southern California, with its large Chinese immigrant population.
"The U.S. doesn't want to say, 'No way, no how, we never cooperate,' " said Margaret Lewis, a professor at Seton Hall Law School who researches China's criminal justice system. "But once we open the door for that … where do we draw the line?"
::
Investigators quickly zeroed in on Cui after a man walked into a Koreatown restaurant in October 2006 and blasted execution-style shots into the heads of three people: one of the restaurant's owners, an employee and the employee's boyfriend.
Cui had dated the employee, Kyung Hee Kang, in what was later described to police as a volatile relationship.
Hours before the murders, Cui argued with Kang and her new boyfriend, Seong Ung Kim. When Cui returned, he confronted the couple and the co-owner, Jae Woong Cho.
Investigators found the blood-spattered murder weapon in Cui's apartment. By then, Cui, then 55, had fled to Mexico. His trail went cold for two years, until a Koreatown businessman contacted the LAPD.
The man had recently been to Shenyang, Cui's hometown in China. He had read about the murders in the Koreatown press and thought Cui might have been the cab driver who picked him up from the airport.
It seemed plausible to Greg Stearns, lead investigator on the case. Detectives had long suspected that Cui might return to China. He had also driven a bandit cab in L.A.
The LAPD reached out to Chinese authorities, hoping to verify that Cui was in Shenyang. The LAPD asked the U.S. Marshals Service for help, then the FBI.
No response from China.
"It was radio silence for several years," Stearns said.
::
Teague, the lieutenant, had deep connections to China. He studied in Beijing in the mid-1980s and met his wife there, earning a master's degree in Chinese before becoming a cop.
He went to China once a year to see his in-laws. Why not try to meet with Chinese police and ask if Cui was there?
In 2014, using the FBI as a go-between, Teague made a last-ditch effort.
This time, the Chinese responded.
A few months after his first meeting in Beijing, Teague returned, along with Stearns and Joy Roberts, an L.A. County prosecutor who outlined the case to Chinese officials, much as if she were making a closing argument in an American courtroom.
The Americans described some of the evidence they had gathered: Cui's fingerprint and a victim's blood on the murder weapon, as well as casings from the same gun outside the restaurant.
After arresting Cui, the Chinese visited L.A., touring the murder scene and watching as LAPD detectives reinterviewed key witnesses. The Americans sent the gun, DNA and other physical evidence to China before returning themselves to observe Cui's interrogation by Chinese officers.
Cui initially admitted to the killings, then recanted and named other people he said actually pulled the trigger. Stearns spent weeks trying to find those people, he said, only to learn they didn't exist.
"This was no quick kangaroo court," Teague said.
In late October 2017, with only a few days' notice, the L.A team hurriedly returned to Shenyang for the trial.
Cui confessed to the killings, the officials said. His attorney argued that he was drunk and angry over a debt that his ex-girlfriend supposedly owed him.
::
The Chinese legal system draws on many traditions, including those of countries such as France and Germany, where trials are sometimes decided by a three-judge panel and the role of attorneys is less central than in the American system.
Experts on Chinese law say that reforms in recent decades have provided defendants with more protections. But the system still heavily favors the prosecution.
Judges answer to the Communist Party, making the process inherently political. Concerns about torture and coerced confessions remain, especially when the defendant is charged with a political crime. And the conviction rate is extraordinarily high — in recent years, fewer than 1% of defendants have been acquitted at trial.
The vast majority of Chinese defendants go to trial without a lawyer, though publicly funded lawyers are usually provided for defendants facing the most serious charges, including murder.
Cui had an attorney at his trial. But Times reporters in the U.S. and Beijing were not able to obtain the lawyer's name or documents related to the case — information that is readily accessible in U.S. courts.
The L.A. County district attorney's office considered the fact that the victims' families had no other recourse before greenlighting the collaboration, spokesman Greg Risling said.
"Our job is to pursue justice, no matter how much time has passed or how far the distance may be," Risling said. "Our office exhausted all possible remedies, and we felt this decision would ultimately result in a conviction."
Because of the multiple victims, Cui could have faced the death penalty had he been tried in the U.S., according to Roberts, the L.A. County prosecutor.
Officials from the U.S. Department of Justice and U.S. State Department declined to comment about whether their agencies were involved in the case.
Authorities in Shenyang either declined to discuss the case or did not return calls seeking comment. In a written statement, a spokesman for the Chinese Consulate in Los Angeles said that China has "complete judicial jurisdiction" over its citizens who are accused of committing crimes abroad.
::
Teague, whose Mandarin was good enough to understand the proceedings, watched Cui's trial from the courtroom. Stearns and Roberts were in another room with interpreters, keeping tabs through a live video feed.
The conclusion — and seeing Cui face-to-face — was satisfying for Teague, who once thought the case would end without a trial, he said.
"When he walked in, he saw me as a representative of justice here," Teague, who is now retired, said of Cui. "He didn't get away with it. You can't kill three people like that and get away with it."
Times staff writers Jessica Meyers and Nicole Liu in Beijing and Victoria Kim in Los Angeles contributed to this report.
For more LAPD news, follow us on Twitter: @katemather and @cindychangLA.
Sign up for Essential California for news, features and recommendations from the L.A. Times and beyond in your inbox six days a week.
You may occasionally receive promotional content from the Los Angeles Times.