LAPD says Robert Durst arrest not connected to HBO series 'The Jinx'
Robert Durst leaves federal court in an Orleans Parish sheriff's vehicle after his arraignment April 14 in New Orleans.
(Gerald Herbert / Associated Press)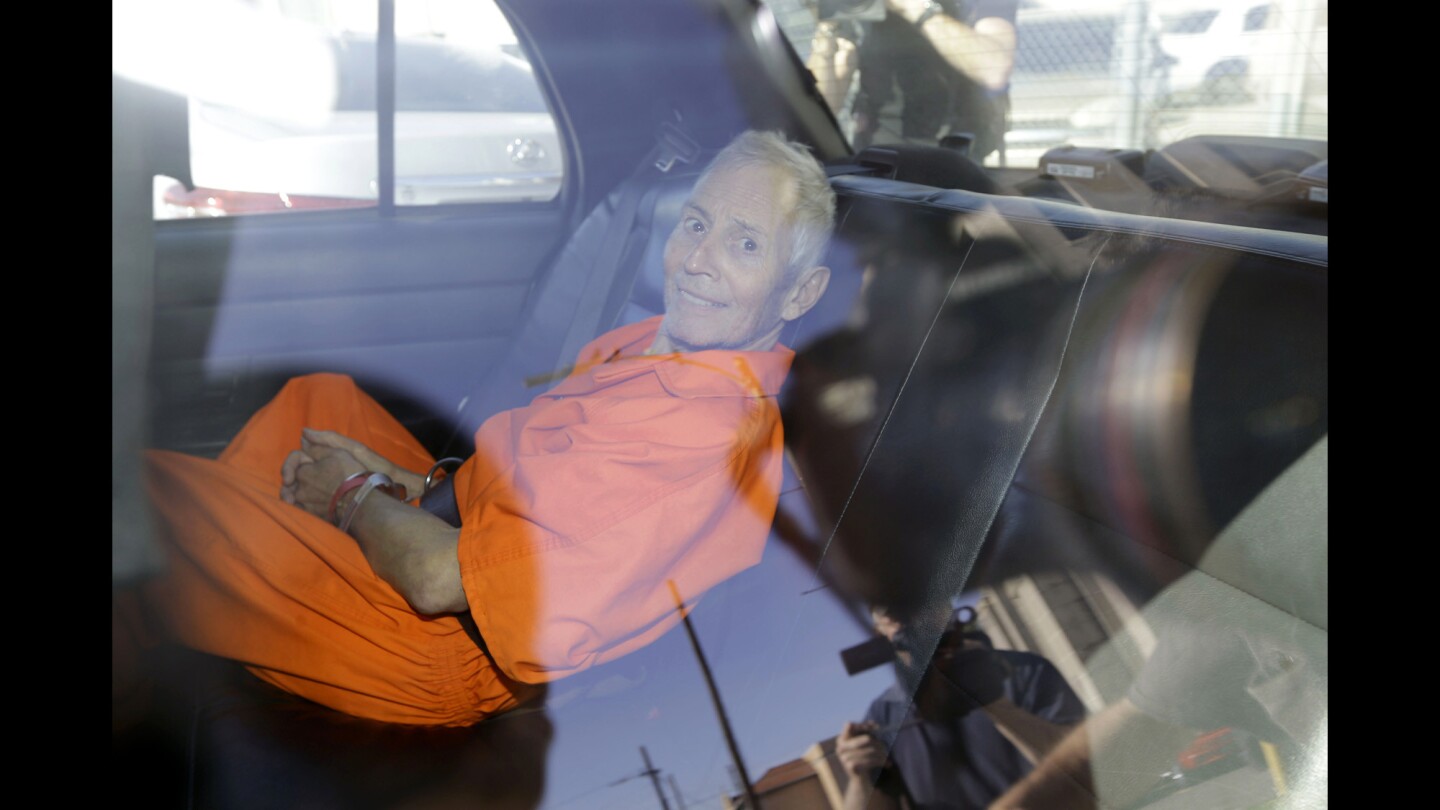 Robert Durst is transported from district court to prison after his arraignment in New Orleans on Tuesday.
(Gerald Herbert / Associated Press)
Robert Durst is escorted into prison after his arraignment in New Orleans on Tuesday.
(Gerald Herbert / Associated Press)
Writer Susan Berman was killed in her home in the Los Angeles neighborhood of Benedict Canyon.
(Francine Orr / Los Angeles Times)
Robert Durst, far right, photographed through fencing, is escorted into Orleans Parish Criminal District Court through a tunnel entrance, in New Orleans. Durst waived extradition Monday and will be taken to Los Angeles to face a murder charge in the 2000 slaying of a writer and friend.
(Gerald Herbert / Associated Press)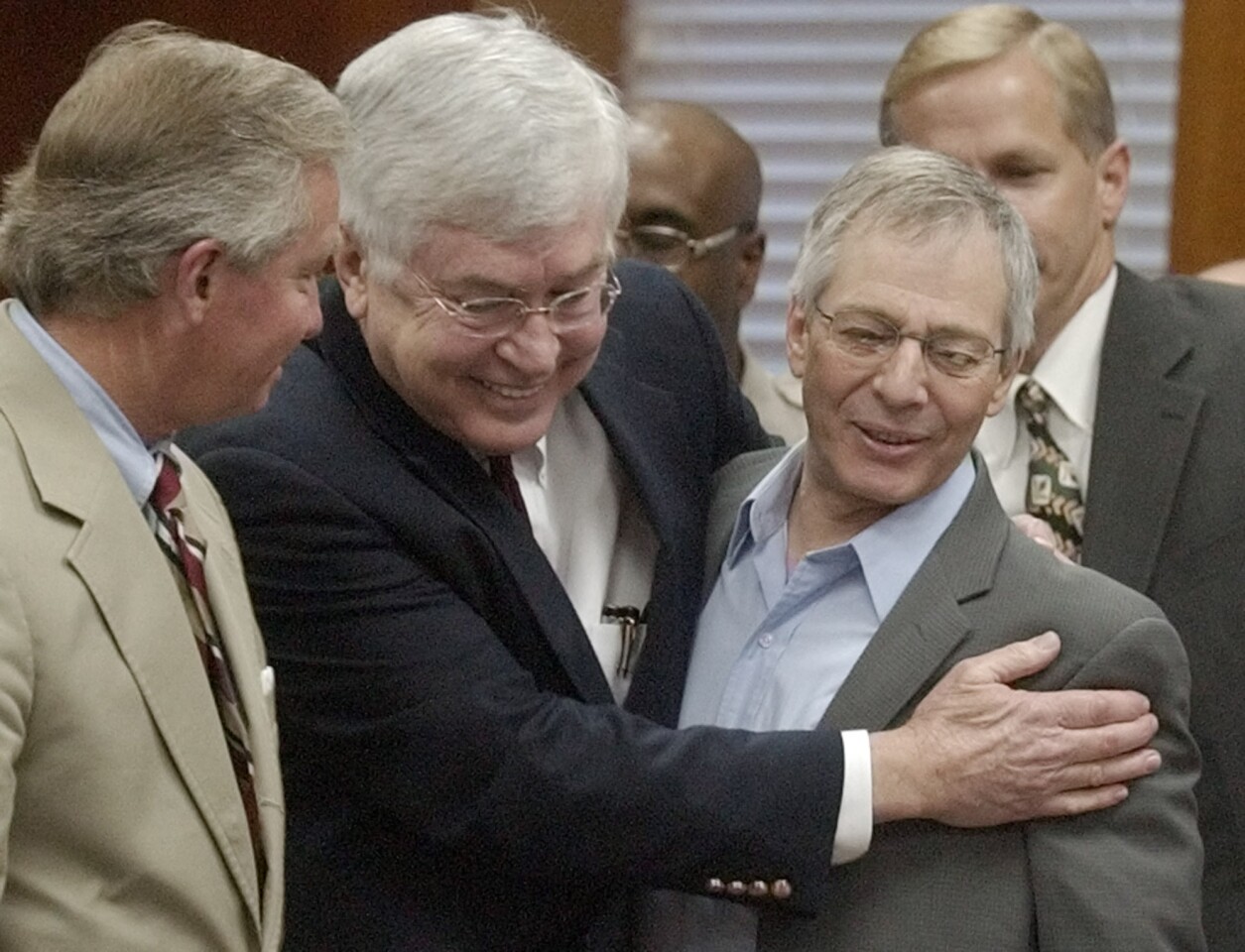 Multi-millionaire murder defendant Robert Durst, right, is congratulated by his attorneys Dick DeGuerin, left, and Mike Ramsey after receiving a verdict of not guilty Nov. 11, 2003, in Galveston, Texas.
(Pat Sullivan / Associated Press)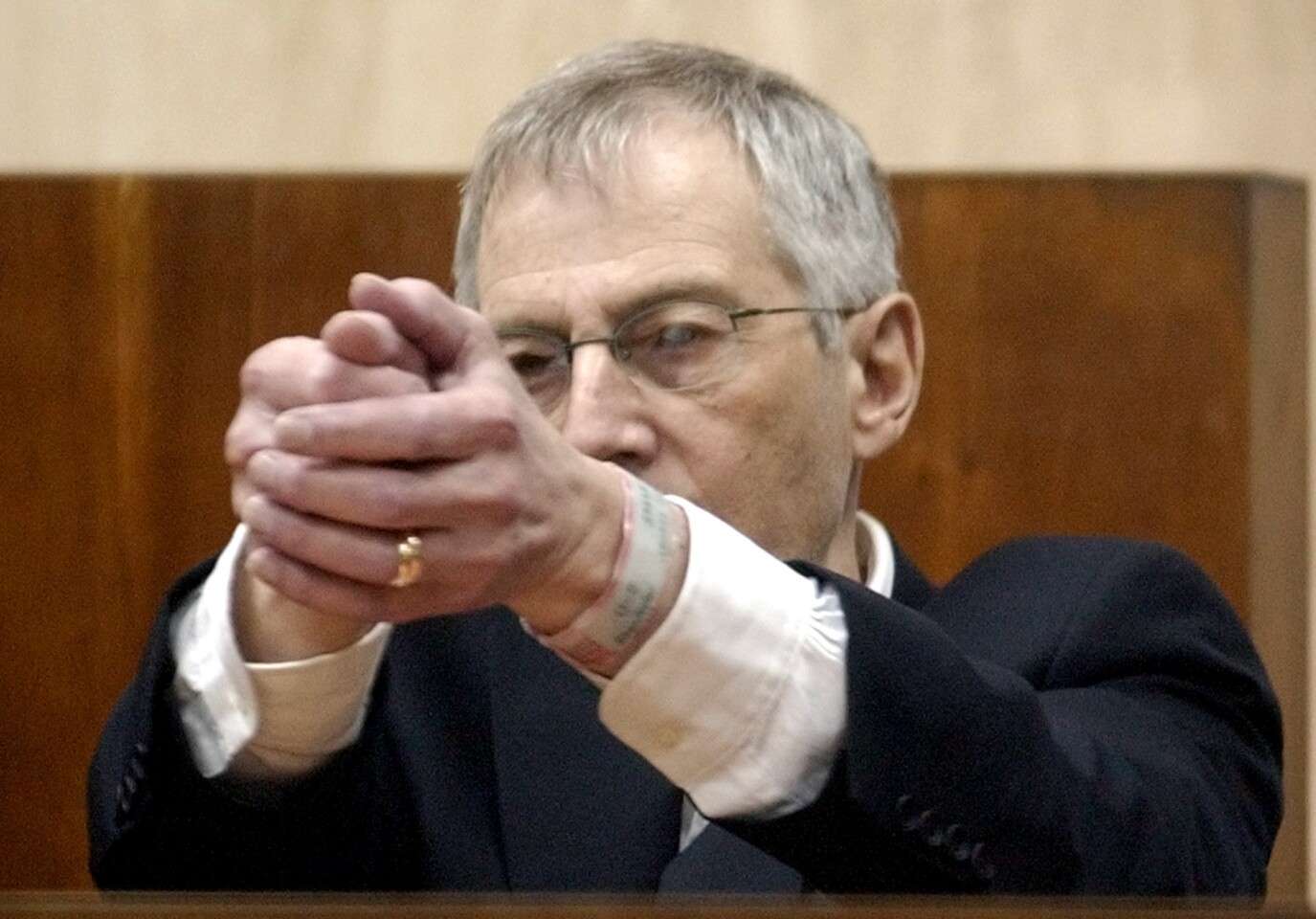 Multi-millionaire murder defendant Robert Durst demonstrates how Morris Black handled a gun during testimony at his trial on Oct. 23, 2003, in Galveston, Texas.
(Pat Sullivan / Associated Press)
In this Aug. 18, 2003, file photo, Robert Durst, left, sits in a courtroom during a pretrial hearing at the Galveston County Courthouse in Galveston, Texas.
(Kevin Bartram / Associated Press)
Robert Durst, center, is escorted by Northampton County deputy sheriffs before a hearing advising Durst of his rights under extradition laws Dec. 3, 2001, in Easton, Pa.
(Robert Fish / Associated Press)
A top Los Angeles Police Department official said revelations about Robert Durst on an HBO series did not play a role in the decision to arrest him in connection with the slaying of L.A. writer Susan Berman in 2000.
Durst was arrested on a murder warrant in New Orleans on Saturday, a day before the dramatic conclusion of HBO's "The Jinx" documentary series.
LAPD Deputy Chief Kirk Albanese rejected the idea that the arrest was somehow tied to the finale.
Timeline: The twists and turns of Robert Durst
"We based our actions based on the investigation and the evidence," Albanese said Monday. "We didn't base anything we did on the HBO series. The arrest was made as a result of the investigative efforts and at a time that we believe it was needed."
Albanese declined to discuss details of the case, other than to say the LAPD had been actively investigating Berman's murder.
"We're constantly looking at cold cases – this being one of them," he said.
In an interview with "Good Morning America" on Monday, director Andrew Jarecki also said his team had no deal with the police about when Durst might be arrested. He said his team has been "in contact" with police for two years.
Jarecki said the filmmaker agonized about when to inform police about the information they were collecting.
"We talked a lot about it with our legal advisors and we said, 'Look, if we go to the authorities now, we're missing the opportunity for us to actually get the real story from him, and it may take years for them to do that because the truth is, as filmmakers, we have the freedom to do things that maybe the law enforcement authorities wouldn't have," he said.
On Christmas Eve 2000, Berman's body, with a single gunshot wound to the head, was found by police in her small home. She lived alone, and police were alerted only after neighbors spotted one of her dogs running loose and her door open. At the time, police said they believed she may have been killed a few days earlier, that nothing appeared to be missing from her home and that the assailant entered without signs of a struggle.
At the time of her death, authorities in New York were trying to talk to the L.A. writer about the disappearance of Durst's wife in 1982.
The documentary provided some new revelations about the Berman case:
--The similarities between an envelope from a 1999 letter Durst sent to Berman, a crime writer, and an anonymous note sent to Beverly Hills police at the time of the December 2000 killing alerting them they would find "a cadaver" in Berman's house. Both were written in distinctive block handwriting. And in both the writer made the same mistake, misspelling the word "Beverley."
--Durst is caught off-camera on microphone muttering to himself, "Killed them all, of course."
It's clear from the documentary that the filmmakers debated what to share with authorities and when.
After the second "Beverley" notation was found, they discussed on camera whether police already had it in their files.
"Is there any chance this letter is already in the cops' files?" one says.
"No chance, no chance," another member of the team replies.
The film then shows them putting the letter in a safe deposit box.
"Nobody is going to know we have this document," one of the filmmakers says. "So what about we interview Bob, we bring it up, we have it on film and now we have something the LAPD really is going to want."
He says this strategy would get Durst's reaction without "800 levels of discovery."
In the interview with "Good Morning America," Jarecki said the interview was taped three years ago but the "Killed them all" line was discovered much more recently when editors went through outtakes.
Law enforcement sources said one reason police arrested Durst on Saturday is that detectives feared he might leave the country.
For more breaking news from California, follow @lacrimes and @katemather.
---
The stories shaping California
Get up to speed with our Essential California newsletter, sent six days a week.
You may occasionally receive promotional content from the Los Angeles Times.