LAPD settlements soar as officials close the books on high-profile lawsuits against police officers
The Los Angeles Police Department paid nearly $81 million in legal settlements last fiscal year, a sharp increase as the city closed the books on several high-profile and costly cases.
The settlement numbers were significantly higher than in previous years and involved cases that had been working their way through the court system for the last few years.
Among them were two wrongful convictions of men for separate murders. The men each spent more than 25 years behind bars, and the department settled their cases for about $24 million.
An additional $15 million went to a boy left paralyzed after an LAPD officer shot him. The city last fiscal year also agreed to settle a case that it fought all the way to the U.S. Supreme Court involving a man who was shot by officers while holding a cellphone they apparently mistook for a gun. The city paid $7 million.
» L.A. community groups say they were excluded from talks leading to LAPD discipline measure
Three cases, $39 million
LAPD's risk manager said that three cases alone accounted for more than $39 million.
"It is a few cases that create the most liability," Cmdr. Michael Hyams said. "It is not hundreds of cases."
Hyams said he expects that number to be lower by June 30, the end of this fiscal year. Payouts are running about $19 million so far this year, mostly driven by a series of large police shooting settlements. That would reverse a five-year upward trend in payouts for legal claims.
Still, the Los Angeles city attorney's office, which represents the LAPD in litigation, said it's looking at altering risk management practices with an eye on how to handle these cases better and reduce liability. Among the changes is trying to settle problem cases more quickly to contain costs.
The surge in LAPD settlements, coupled with other litigation costs across City Hall, sparked the Los Angeles City Council this year to borrow $70 million to avoid dipping into the city's emergency reserve funds.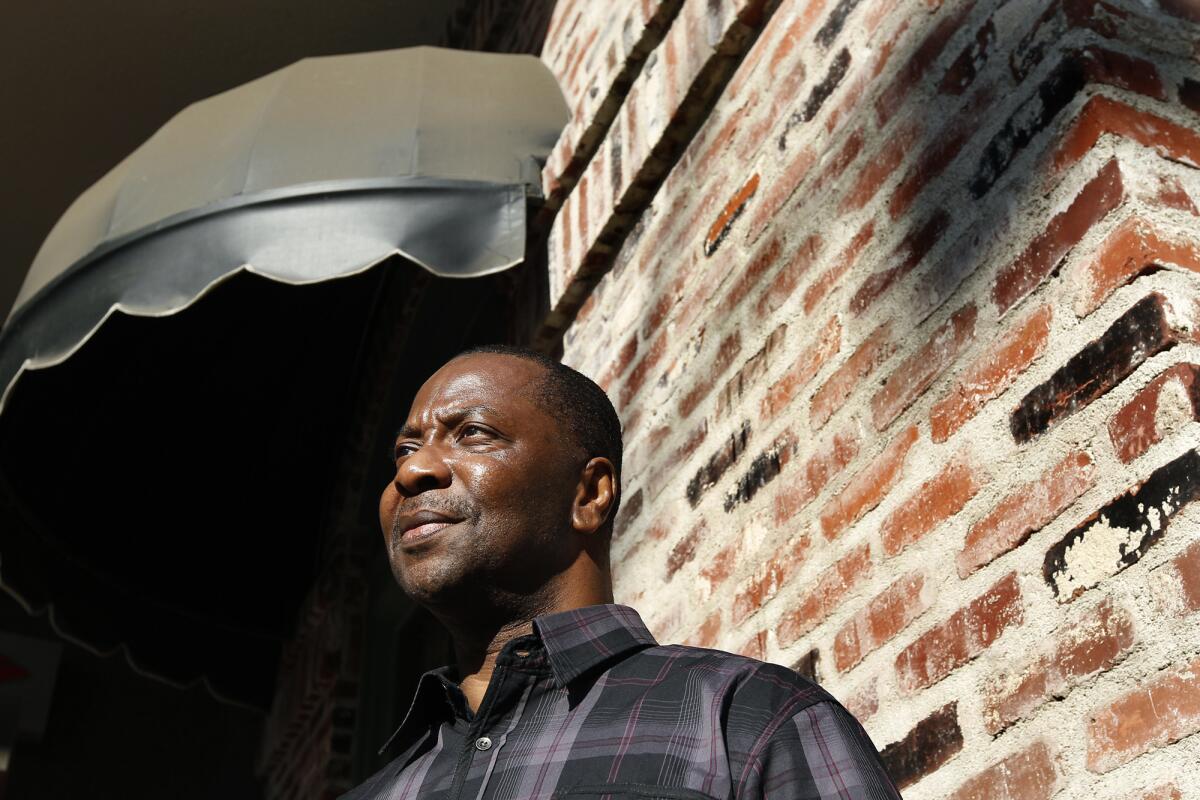 Wrongful convictions, big payouts
The city's largest payout in the last fiscal year was $16.7 million to resolve a lawsuit brought by Kash Delano Register, who alleged he was wrongfully convicted of a 1979 murder because of a flawed LAPD investigation. Register spent more than 34 years in prison after his conviction in the armed robbery and killing of Jack Sasson.
The city also paid Bruce Lisker $7.6 million to settle his claim that he was framed by the LAPD. Lisker, who was released from prison in 2009 after a Times investigation into his conviction for killing his mother, served 26 years in prison.
Lisker's release came after a federal judge ruled that key evidence prosecutors used from LAPD detectives to convict Lisker in his mother's March 1983 slaying was false. That evidence included a bloody shoe print left at the murder scene in the bathroom that investigators had said Lisker left. But an LAPD analyst and FBI expert later testified in a hearing challenging Lisker's conviction that the bloody print was not made by his shoes.
The LAPD was the defendant in Lisker's lawsuit because the law gives immunity to prosecutors from civil laws over how they handle cases.
L.A. city lawyers recommended that the council approve the two deals, saying that taking the cases to trial could cost even more.
"So many of these things were based on eyewitness identifications from years ago. Thirty years ago that is something juries relied on," Hyams said. "We may have some of that in the foreseeable future, but going forward there is going to be a lot less wrongful convictions because of the improvement in the forensic evidence."
Sometimes it can take years after an incident when a payout is finally made because of appeals.
Boy paralyzed by officer's bullet
In 2010, Rohayent G. Eriza, 13, was playing cops and robbers in Glassell Park with a replica 9-millimeter gun. A police officer thought the gun was real and opened fire. The shooting left the boy paralyzed.
The Police Commission found the shooting to be within LAPD policy. LAPD Chief Charlie Beck said the boy failed to follow commands.
In 2012, a jury awarded the boy $24 million. The city appealed but then settled last year.
Greg Smith, an attorney who represents officers in litigation, said the city might be able to save money by taking more cases to juries.
"Jurors understand the dangers officers face and can weigh these split-second decisions," he said.
But sometimes failing to settle can be expensive. In 2012, the City Council rejected a $4.5-million deal in the case of Robert Contreras, who was left nearly quadriplegic after he was shot by an LAPD officer in September 2005 as he held a cellphone officers thought was a gun.
A jury eventually awarded him $5.7 million.
The city took the case all the way to the Supreme Court, arguing it was a justified shooting because Contreras was fleeing from a van linked to a drive-by shooting in South LA. Contreras was convicted in 2009 for his role in the shooting and received nine years in prison. But in March 2016, the council agreed to the nearly $6.9-million settlement, including legal fees and interest.
Over the last five years, the department's overall litigation costs with settlements and judgments are about $215 million, according to the LAPD's litigation costs examined by The Times using data provided by the Los Angeles city attorney's office.
The judgments and settlements include all kinds of legal claims related to on-duty conduct, motor vehicles and employment. The majority of payouts were tied to civil rights issues involving wrongful incarceration and shootings, accounting for $124 million.
Ticket quotas, bias claims
Last year, Hyams said nearly $10 million in payouts involved employment cases. The department, he said, has moved to emphasize to managers the need to reduce tensions in the workplace and that retaliation allegations have fueled many of the lawsuits.
The largest employment settlement — $2.5 million — involved LAPD Foothill Division detectives who alleged they were passed over for positions and overtime because of racial discrimination after complaining about a lieutenant for banning the speaking of Spanish in the detectives' office.
A former Westside motorcycle officer who said the LAPD retaliated against him for not participating in an illegal traffic ticket quota system was given a nearly $1-million settlement. The officer alleged that his then-captain required officers in the division to write a set number of traffic tickets during each shift, establishing a quota system that violated state law.
The ticket quota cases have cost more than $10 million in taxpayer money on payouts and legal fees over the years.
Nearly $3 million in payouts last year involved litigation over how the LAPD policed skid row and handled the homeless.
Hyams said the city trying to resolve cases more quickly, hoping to limit the size of settlements. He pointed to the controversial 2015 shooting of homeless man Brendon Glenn in Venice.
In December, the City Council agreed to pay $4 million to Glenn's family. The settlement came after the Police Commission had found the shooting unjustified and Beck recommended that the district attorney file criminal charges against Officer Clifford Proctor. The district attorney's office is reviewing whether to charge the officer criminally.
Twitter: @lacrimes
ALSO
Sheriff whistleblower who testified in federal obstruction case gets $1.275-million settlement
Palmdale mayor's former consulting job may have sparked investigation, search of City Hall
Huge arsenal seized from high-ranking Pasadena police officer's home, new records show
Sign up for Essential California for news, features and recommendations from the L.A. Times and beyond in your inbox six days a week.
You may occasionally receive promotional content from the Los Angeles Times.