Parents of man fatally shot by LAPD, then run over by a police car, call for criminal charges
The parents of a 20-year-old man who was shot to death by Los Angeles police, then run over by an uncontrolled patrol car, demanded Wednesday that the officers face criminal charges for the killing.
Eric Rivera was fatally shot in Wilmington this summer after, police say, he turned toward officers with a plastic toy gun that they thought was real. On Wednesday, his parents and their attorney challenged that account, saying that Rivera's hands were empty and that he was shot as he tried to avoid the moving vehicle.
"Eric did nothing wrong," his father, Phillip Malik, told reporters at a news conference in Long Beach. "They need to be prosecuted. Something needs to be done."
Their attorney, Arnoldo Casillas, said the family filed a federal lawsuit against the officers, the Los Angeles Police Department and the city, alleging police used excessive force. They will wait to pursue the case, he said, until Dist. Atty. Jackie Lacey decides whether to charge the officers.
"This, at the very least, is a negligent homicide," Casillas said.
The district attorney's office did not respond to a request for comment Wednesday.
In a statement, the LAPD said that its investigation into the shooting was ongoing and that evidence such as witness interviews, forensic tests and video and audio analysis "continues to be collected, analyzed and evaluated" by police.
"We do not know the basis for the video graphic produced by the attorney for Mr. Rivera's family," the statement continued, referencing an animation Casillas showed reporters of how he believes the fatal encounter unfolded. "What we do know is that the video does not take into consideration the substantial evidence collected by [LAPD investigators] as part of [their] exhaustive investigation of the incident."
The events leading up to the June 6 shooting began about 9 p.m., when Officers Arturo Urrutia and Daniel Ramirez went to the 1100 block of North Wilmington Boulevard to check out a report of a man with a gun, the LAPD has said.
When the officers arrived, witnesses pointed them toward a "potential suspect" later identified as Rivera, LAPD Chief Charlie Beck said in the days after the shooting.
Rivera was walking on the sidewalk when officers drove toward him, Beck said at the time. Rivera turned toward them, the chief said, with what the officers thought was a gun in his hand.
The officers bailed out of the patrol car so quickly that they failed to put it in park, Beck said. They shot Rivera, who fell to the ground. The car then rolled over him, "pinning him underneath it," according to an LAPD statement.
Rivera died at the scene. Coroner's officials said he died from multiple gunshot wounds, writing in an autopsy report that he was struck in the head, chest and legs.
One of the officers was injured in the arm and taken to a hospital for treatment.
Witnesses later told investigators they saw Rivera with a gun before the shooting, the LAPD said.
Casillas said his office had tracked down a witness of its own, an off-duty security guard who was walking his dog at the time. The witness said Rivera was walking casually — unarmed — and wasn't posing a threat, Casillas said.
Based on their study of television footage from the scene, Casillas said, his office believes the toy gun was a green plastic squirt gun — "like Buzz Lightyear's ray gun."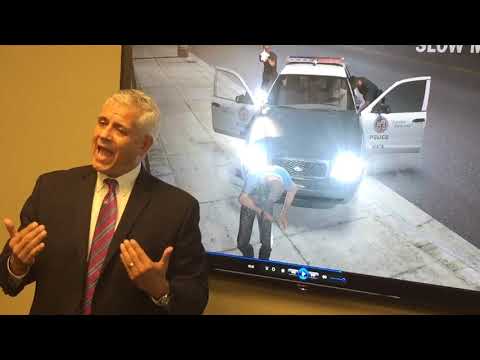 An attorney representing the family of Eric Rivera, who was killed by L.A. police this summer, presents an animated re-creation of how he believes the fatal encounter unfolded in Wilmington. 
As Casillas showed reporters his dramatic animated video re-creation, Rivera's parents stared straight ahead. His mother's eyes were teary. Two wooden boxes holding their son's ashes sat in front of them, one covered with a rosary.
"This is what we have left of our son," Malik said.
Rivera worked with his father, a real estate agent, fixing up and painting properties. He liked to skateboard, ride his bike and play basketball. His brothers were devastated by his death, said Rivera's mother, Valerie.
At the end of the news conference, as television crews filmed the animated reenactment, Valerie Rivera glanced at the screen and grimaced.
---
UPDATES:
8:15 p.m.: This story was updated with a statement from the LAPD.
This story was originally published at 6:40 p.m.
Sign up for Essential California for news, features and recommendations from the L.A. Times and beyond in your inbox six days a week.
You may occasionally receive promotional content from the Los Angeles Times.