Man shot after escaping LAPD custody at USC hospital charged with rape, kidnapping of 15-year-old girl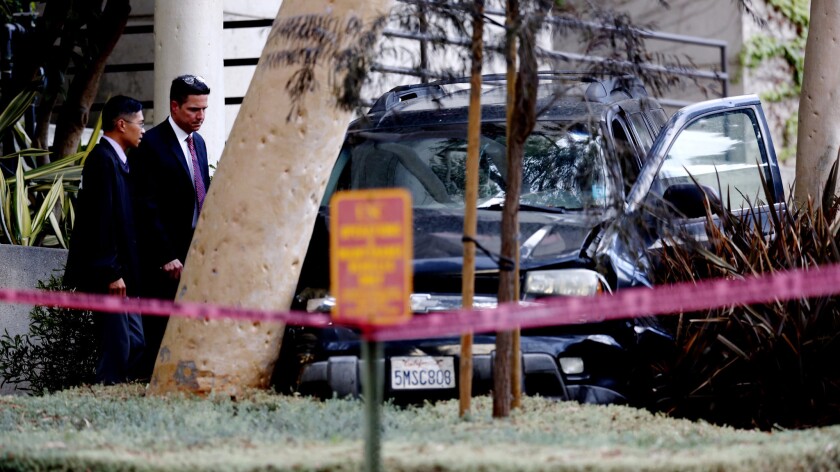 A man shot and wounded by a Los Angeles police officer this week after breaking away from officers during a medical examination has been charged with kidnapping and raping a 15-year-old girl — crimes that led to his initial arrest before the shooting, authorities said Friday.
Prosecutors charged Freddy Bailon with 10 felony counts, including committing lewd acts upon a child and using a knife to hold her hostage and protect himself from an arrest, according to a complaint filed Thursday.
The complaint alleged Bailon, 36, had a "dating relationship" with the 15-year-old. He was scheduled to appear in court Friday, the district attorney's office said.
Bailon was arrested Tuesday evening, after LAPD officers went to an El Sereno apartment to follow up on an investigation, Det. Meghan Aguilar told reporters earlier this week. As the officers approached the Ithaca Avenue apartment, they saw Bailon in the doorway, holding a knife to the teenager's neck.
The girl managed to escape from his grip and officers began negotiating with Bailon, who surrendered later that evening, Aguilar said. He was arrested and booked on suspicion of kidnapping.
The next day, about 3:30 p.m, two officers and a detective took Bailon from jail to USC's sprawling medical campus in Boyle Heights for an examination, Aguilar said. At some point during that exam, she said, he broke free from police and ran from the building.
As officers chased the man, he "commandeered" a black SUV from a woman, Aguilar said.
At some point, an officer shot Bailon. Police have not said what happened in the moments leading up to that shooting.
The SUV smashed into a tree outside the building that houses USC's School of Pharmacy.
Bailon was taken to a hospital for treatment. Neither the woman nor the officers were hurt, Aguilar said.
The man had been handcuffed at one point during the medical exam, Aguilar said, but it was not clear if he was handcuffed when he escaped. Two of the officers had body cameras, which investigators would review to see what, if anything, they captured.
If convicted of the charges, prosecutors said, Bailon faces more than 30 years in prison.
He was the 18th person shot by on-duty LAPD officers this year, according to a Times analysis. Fourteen were killed.
Follow me on Twitter: @katemather
---
Get breaking news, investigations, analysis and more signature journalism from the Los Angeles Times in your inbox.
You may occasionally receive promotional content from the Los Angeles Times.