Should video from LAPD body cameras be released after a police shooting? If so, when? Police Commission wants to know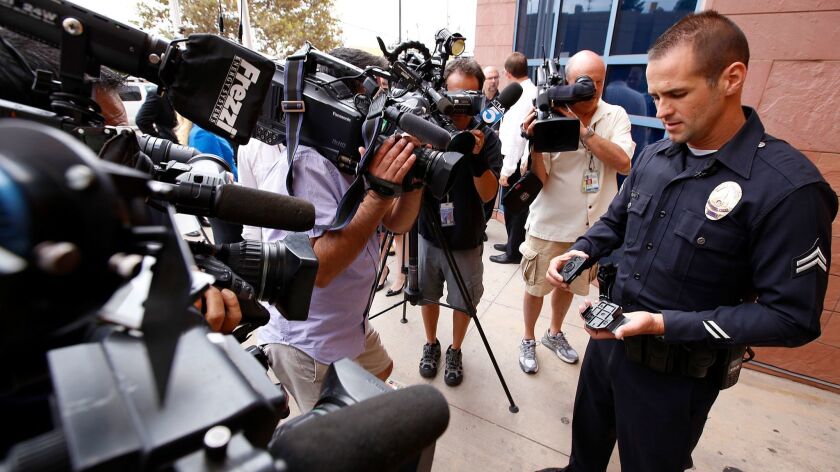 The Los Angeles Police Commission on Thursday launched its latest effort to answer one of the biggest questions facing law enforcement today, one that has increasingly tested the LAPD and other agencies as video consistently inspires fresh scrutiny of policing: When should footage from police body cameras be released?
Beginning Thursday, the civilian board that oversees the LAPD is asking residents for their answers to that question. The Police Commission is starting a roughly six-week effort to collect public feedback its members will consider before adopting a new policy governing when the LAPD will release video after a "critical incident," such as a shooting by police.
Currently, the LAPD generally does not release video — whether it's from officers' body cameras, cameras in their patrol cars or other footage collected during the investigation — unless required in court. In recent months, however, police commissioners have said they believe it's time to revisit that stance.
"This is probably the most significant issue around the use of body cameras," Matt Johnson, the president of the Police Commission, said at a news conference Thursday. "It's our mission to get this policy right."
LAPD Chief Charlie Beck has expressed concerns about releasing the footage, saying he wants to protect victims' privacy and the integrity of criminal or civil cases. But he, like other police chiefs across the country, has been pressured to reconsider, particularly after high-profile shootings by officers.
In a rare move last fall, Beck released surveillance camera footage that showed 18-year-old Carnell Snell Jr. holding a gun moments before he was fatally shot by police in South L.A. The chief said he acted out of concern for public safety and to correct statements by some who knew Snell and insisted the teen wasn't carrying a gun.
"I think that all of our thinking has evolved," Beck said Thursday. "I'm still reluctant to release all video, all the time. I don't think that's in anybody's best interest. But I think in high-profile incidents, we have to recognize that the intense crush of public interest needs an outlet."
But, the chief cautioned, the policy ultimately adopted by the commission would be "very much a balance of competing interests."
"Probably nobody will get exactly what it is they think should be the perfect policy," he said. "Everybody has a different opinion on this."
The commission brought in the Policing Project, a nonprofit based at the New York University School of Law, to help. Barry Friedman, the director of the project, said his group had assisted police in Camden, N.J., and New York with similar efforts related to body cameras.
The project will collect the feedback — from public forums, questionnaires and interviews — and compile it in a report that will be submitted to the commission. Commissioners will use that report to draft a policy, which will then be presented to the public for an additional round of commentary.
In a statement, Mayor Eric Garcetti said he was confident the process would result in "forward-thinking policies that increase transparency and accountability."
Johnson said he hopes to have a final policy approved and in place in the coming months.
Until then, Beck said, he would maintain the department's current position of generally not making video public unless required in court.
"These videos are of people generally on the worst day of their lives — and sometimes, the last day of their lives," he said. "To put those out without a very thoughtful, reasoned policy, I think, would not do service to the public."
The LAPD has drawn criticism for its reluctance to release video, particularly after the city embarked on an ambitious effort to put body cameras on thousands of police officers. Roughly 2,700 cameras have been deployed so far, including some worn by officers during high-profile shootings.
Although cellphone video showing the 2015 killing of Charly "Africa" Keunang on skid row quickly went viral, police and prosecutors refused to share footage from the body cameras worn by the officers who shot him. Officers were also wearing body cameras during last year's fatal shooting of 14-year-old Jesse Romero in Boyle Heights, which prompted protests and calls from the teenager's family to release the video.
But not everyone supports making such videos public. In a statement, the union representing rank-and-file LAPD officers signaled its opposition, saying that releasing body camera footage "will only further inject politics into what should be an independent investigation of any particular incident."
"Video is only one aspect of an investigation and to push for release of that video, prior to the completion of the investigation, will only taint the impartiality of the investigatory findings," the statement continued. "That is not what the Chief should be striving for."
When the Police Commission approved the rules for the body cameras in 2015, some residents and the American Civil Liberties Union faulted the board for not ensuring the public release of footage. Some said commissioners should have collected more public input before voting on the policy.
Johnson said Thursday that the concerns over the public's ability to weigh in on the policy in 2015 influenced the desire this time around for a more robust process of gauging public feedback.
"It really is in the best interest of everybody to get as much input as possible. On the one hand, it would be great if we could just move forward quickly," he said. "But I want to have a policy that we can really live with for a really long time. I would rather take our time and do it right."
At the first in a series of public forums held Thursday night at a recreation center in South L.A., about 45 people gathered in small groups to talk about body cameras. But the conversations steered toward other issues involving the LAPD. One table discussed frayed trust between residents and police. Others suggested the funding for the body cameras instead go toward better training for officers or community programs.
One group weighed the value of having video of police interactions, noting that video exposed the LAPD's 1991 beating of Rodney King. But, they said, they worried that the footage would benefit the police at the expense of the public.
There was, one woman said, "tension between recognizing the utility of footage and also a lot of distrust about how it's going to be used."
Twitter: @katemather
ALSO
2 killed, 1 wounded in shooting near South L.A. liquor store
San Francisco man threatened to shoot Muslim woman in alleged hate crime, police say
Amber Alert issued after toddlers are abducted during car theft in Riverside County
---
UPDATES:
8:10 p.m.: This story was updated with details from the meeting.
3:25 p.m.: This story was updated with additional background information about the LAPD's body cameras, comments from Police Commissioner Matt Johnson, Police Chief Charlie Beck and Mayor Eric Garcetti.
This story was originally published at 12:50 p.m.
---
The stories shaping California
Get up to speed with our Essential California newsletter, sent six days a week.
You may occasionally receive promotional content from the Los Angeles Times.