LAUSD will pursue firing of Miramonte teacher after charges dropped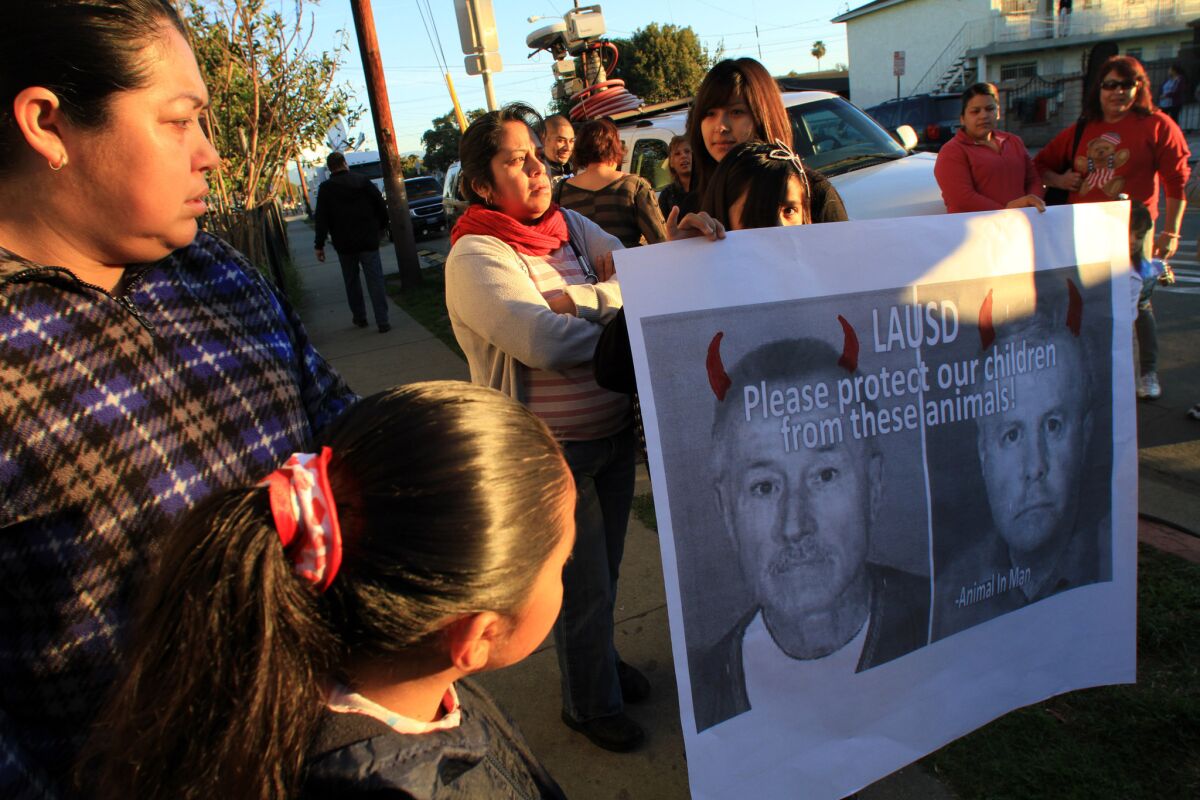 The Los Angeles Unified School District said it would not reverse its decision to fire former Miramonte Elementary teacher Martin Springer after charges against him were dropped Wednesday, officials said.
L.A. County prosecutors canceled Springer's pending trial after the teacher's young accuser decided not to testify. Her family said the 12-year-old was too traumatized, "so we are unable to proceed at this time," said Jane Robison, a spokeswoman for the district attorney's office.
But nothing has changed from the perspective of the nation's second-largest school system, said Supt. John Deasy.
"The dismissal case will continue," Deasy told The Times. The schools chief added he sympathized with the decision of the alleged victim. "I understand the trauma a victim can experience. We will continue to support victims and their families," he said.
Springer, 51, had pleaded not guilty to three felony counts of committing a lewd act. He had faced up to 12 years in prison. His accuser claimed Springer had touched her on the back of the leg on numerous occasions in a manner that made her feel uncomfortable.
In pretrial legal filings, prosecutors described the contact as "minimal" and wrote that there was no evidence Springer had threatened the girl. Nonetheless, they pointed out, "some pedophiles are capable of limiting their behavior as needed" and use "the most minimal touching to achieve sexual gratification."
No other student was alleging personal harm in the criminal case.
There have been civil claims, however, from other former students as well as from the girl who declined to testify. Three settlements, of $470,000 apiece, were paid out based on accusations against Springer alone. Three others involved allegations against both Springer and ex-Miramonte teacher Mark Berndt, who was at the center of what became a sensational abuse case.
Springer, who had been a third-grade teacher at Miramonte, came to the attention of investigators as they questioned students about Berndt. Authorities said they are aware of no evidence the two teachers collaborated in any wrongdoing.
District officials stand by settlements in the Springer case as appropriate.
"We had a very rigorous process for evaluating each of those claims," said district spokesman Sean Rossall.
The current district action against Springer includes an effort to revoke his teaching credential. Springer appealed the dismissal to a state oversight panel. The case has been on hold pending the outcome of criminal proceedings.
The 2012 child-abuse scandal at the Miramonte campus, in the Florence-Firestone area southeast of downtown, became the biggest and costliest yet for Los Angeles Unified. So far, the school system has paid $30 million in Miramonte-related settlements.
The district also replaced all 85 Miramonte teachers for months to assure parents their children were safe.
howard.blume@latimes.com
Twitter: @howardblume
The stories shaping California
Get up to speed with our Essential California newsletter, sent six days a week.
You may occasionally receive promotional content from the Los Angeles Times.