D.A. investigator's lawsuit says he was beaten and unlawfully detained by L.A. County sheriff's deputies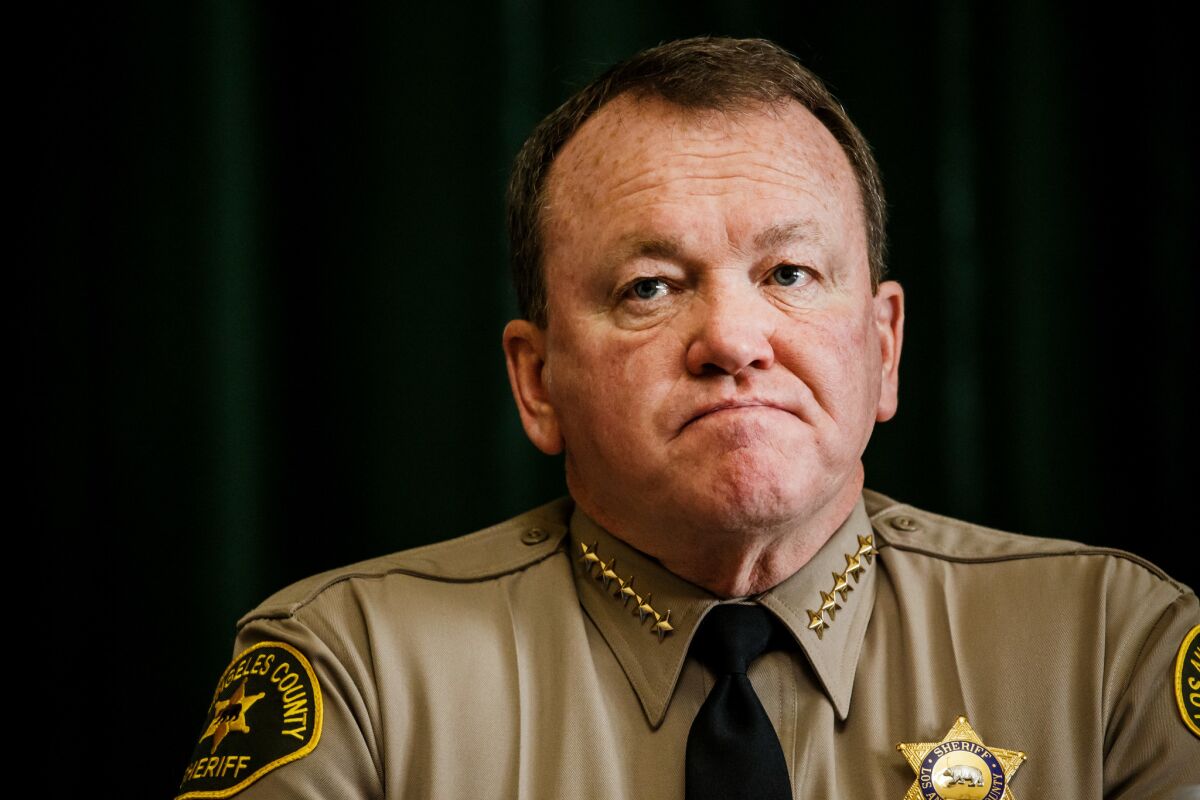 An investigator with the Los Angeles County district attorney's office has filed a federal civil rights lawsuit against Sheriff Jim McDonnell and a group of deputies, alleging he was beaten and unlawfully detained while working last year.
Maurice Lallemand contends in his lawsuit filed Tuesday that he was battered and held by deputies in a patrol car — despite his status as one of about 300 sworn investigators with the district attorney's office.
His complaint in U.S. District Court in the Central District of California calls the experience "an inexcusable, despicable and intolerable episode of government-gone-wild."
The suit is a rare public account of one peace officer alleging he was brutalized and unlawfully apprehended by a group of other officers.
Representatives from the district attorney's office did not immediately respond to requests for comment.
According to the suit, the incident began about 6 a.m. on May 13, 2016, outside a home in Bellflower. Lallemand was in his county-issued police car and trying to serve a robbery victim a subpoena.
Lallemand used his police radio to notify his department command center — which shares the same radio frequency as the Sheriff's Department — that he was at the location. He got out of his car wearing a police badge, a radio and a lanyard with "police" written on his identification card.
At some point, four L.A. County sheriff's deputies arrived and despite Lallemand identifying himself as a sworn peace officer, he was assaulted, battered, detained and searched, according to the suit.
Lallemand says he was retaliated against for his comments to the deputies, including, "You guys are inexperienced and incompetent," according to the suit.
Deputies locked Lallemand in their patrol car with a person who "appeared to be a drug addict"; the lawsuit claims the detention was unnecessary.
Two months later, Lallemand and a colleague tried to submit a complaint against the deputies at the Sheriff's Department's Lakewood Station, but they were rebuffed.
A supervisor allegedly ordered a desk sergeant not to accept the complaint. Lallemand contends the refusal was part of a scheme by the deputies to conceal the alleged wrongdoing.
The lawsuit seeks damages for violations of civil rights, humiliation, and emotional and physical injuries.
The Sheriff's Department said in a statement that its employees were dispatched to a call on that day about a man in civilian clothing who was knocking on doors saying he was a police officer.
"The plaintiff's complaint regarding Sheriff Department personnel was brought to our attention the same day, and the Sheriff's Department arranged a conflict resolution meeting between the parties and their respective supervisors four days after the incident occurred," the department said in the statement sent by agency spokeswoman Nicole Nishida.
Nishida said the department conducted a "thorough inquiry" into Lallemand's allegations but could not comment on the outcome of any probes. Citing peace officer confidentiality laws, Nishida said she could not provide information about whether any deputies were placed on leave or disciplined as a result. She said as of Thursday the department had not received Lallemand's lawsuit.
Lallemand is represented by attorney Olu K. Orange.
Times staff writer Maya Lau contributed to this report.
Twitter: @MattHjourno
MORE LOCAL NEWS
Suspect charged in double killing at Chinatown social club
Tiny hummingbird egg stalls project to upgrade a Bay Area bridge
2 shot to death in 'America's safest big city' Irvine; family member in custody
L.A. elected officials make new push against Measure S
---
UPDATES:
2:30 p.m.: This article was updated with a statement from the Sheriff's Department.
This article was originally published at 5 a.m. on Feb. 1.
---
Life is stressful. Our weekly mental wellness newsletter can help.
You may occasionally receive promotional content from the Los Angeles Times.