L.A. sued over missing records tied to former councilman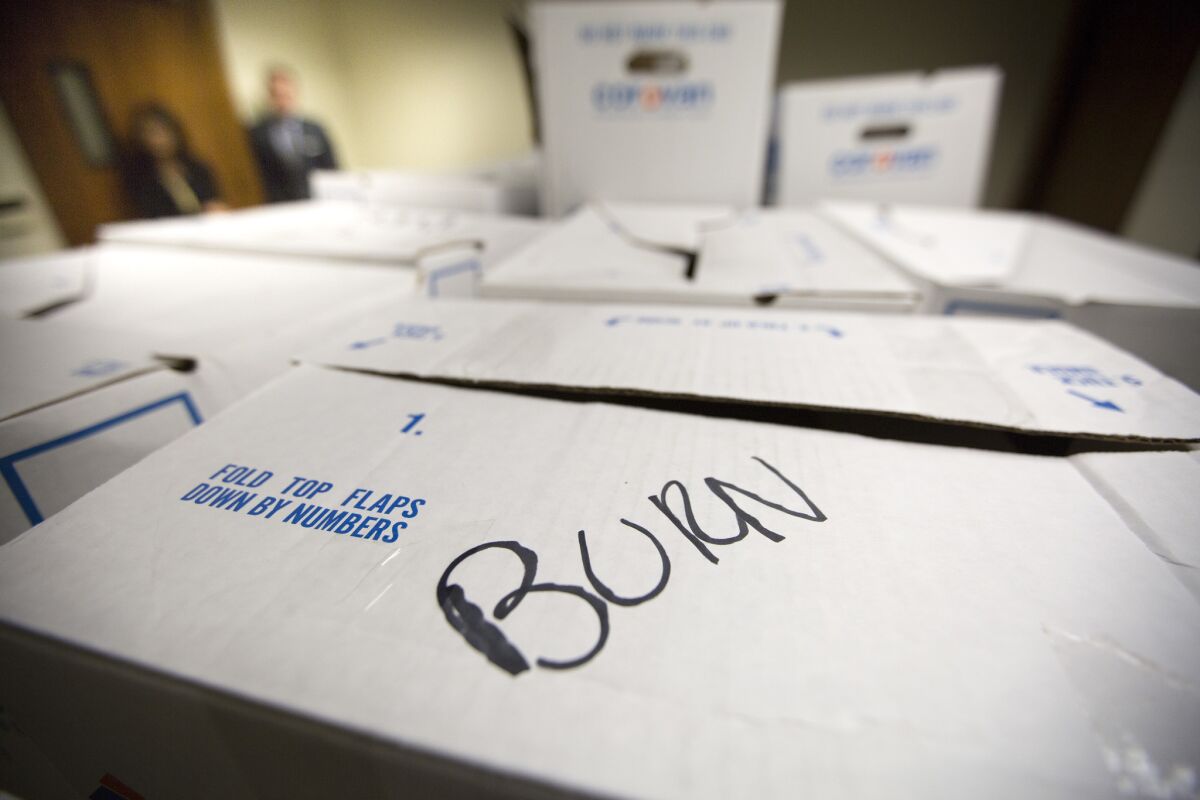 Los Angeles is being sued by a nonprofit that sought records tied to former City Councilman Tom LaBonge, only to be told that there was nothing to turn over.
The First Amendment Coalition, a group that advocates for open government, argues that the records must have existed at some point — and were either wrongfully withheld or illegally destroyed. The lawsuit accuses the city of violating the California Public Records Act and improperly trashing records.
Peter Scheer, executive director of the group, said they wanted to show government personnel that "they can't just toss documents into the wastebasket that, as public records, belong to the public."
The legal battle is the latest turn in a longstanding controversy over the fate of documents kept by LaBonge and his staffers.
City records indicate LaBonge staffers requested that more than 100 boxes be destroyed when he left office last year.
Dozens of those boxes were later recovered and made public earlier this year by his successor, Councilman David Ryu, who allowed reporters and residents to leaf through salvaged documents that included planning files and letters from LaBonge constituents. But many more of the boxes were not found.
The episode raised questions about whether L.A. has been complying with state law, which generally allows city governments to destroy some records if lawmakers and the city attorney approve, but not if the documents are unduplicated and less than 2 years old. Attorneys have also brought up the missing boxes in court cases against the city, arguing that records important to their lawsuits could have been destroyed.
Frank Mateljan, a spokesman for City Atty. Mike Feuer, said Friday that their office was reviewing the legal complaint and declined to comment further.
LaBonge said he was unaware of the First Amendment Coalition suit and denied that any public records had been destroyed. In the past, the former councilman has argued that any important documents would be available in other city departments and said that no one had told him to save anything.
Earlier this year, the First Amendment Coalition sought emails, letters and other communications sent to or from LaBonge in 2014 regarding three topics: the Los Angeles Department of Water and Power, the California Film Commission and a proposed development in Sherman Oaks.
The group sent its records request to City Council President Herb Wesson, whose office responded in March that it had no documents to provide. Wesson spokesman Vanessa Rodriguez, who had not yet seen the lawsuit Thursday, said their office had reached out to the city attorney's office for details.
Follow me on Twitter at @LATimesEmily
---
UPDATES:
Aug. 26, 2 p.m.: This article has been updated with a statement from a city attorney's office spokesman.
This article was originally posted on Aug. 25. at 6:25 p.m.
The stories shaping California
Get up to speed with our Essential California newsletter, sent six days a week.
You may occasionally receive promotional content from the Los Angeles Times.