Prosecutors conclude Long Beach officer acted in self-defense in 2015 fatal shooting of unarmed college student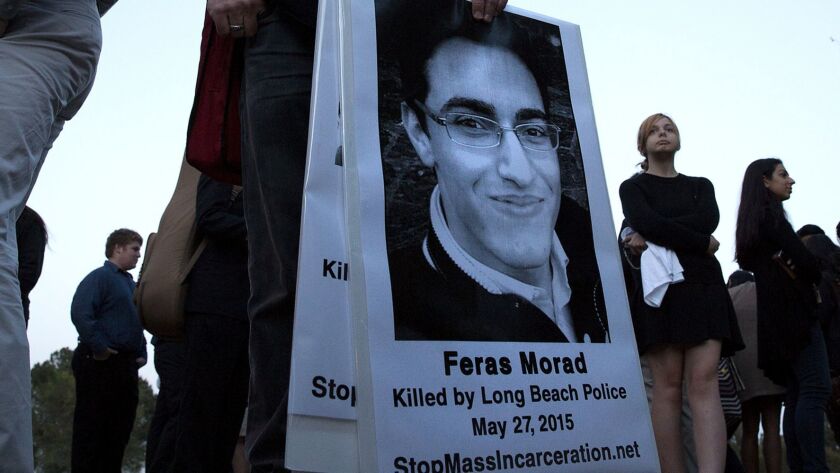 A Long Beach fire captain who witnessed a city police officer fire on an unarmed college student in 2015 told investigators the young man was under the influence of drugs but not acting violently during the fatal encounter in which he and other witnesses shouted for the officer not to shoot the victim.
Fire Capt. Robert Griego said that he was shocked when Officer Matthew Hernandez drew a gun and that he yelled, 'Hey, don't shoot him,' before Feras Morad, 20, was struck and killed. Griego told detectives his fire crew at the scene would have intervened had he felt that Hernandez was in danger. But the officer never acknowledged the fire crew during the May 27, 2015, altercation, Griego said.
Griego's statement was included in a 31-page report released Tuesday by the Los Angeles County district attorney's office, which found insufficientevidence the officer committed a crime and concluded he acted in self-defense.
The report documents a deadly encounter that lasted less than three minutes, with several witnesses, including Griego and two other firefighters, providing a detailed account of the incident.
Griego and others said that Morad appeared to be injured and in an altered state after jumping out of a second-story window and that he was resisting but not behaving violently toward Hernandez, according to the report. Two other witnesses said they also asked the officer not to shoot after he drew his gun.
But other witnesses described the veteran officer as in a fight for his life with a combatant Morad who was "completely enraged." They said Hernandez shot the student after a stun gun, a flashlight and handcuffs failed to subdue him.
Morad was a talented, nationally known debating student slated to begin studies at Cal State Long Beach after attending Moorpark College. His death spurred protests by Black Lives Matter activists and students in the port city. Morad's family filed a $28-million civil lawsuit against Hernandez and the city of Long Beach. Morad's relatives said the young man made a mistake of experimenting with hallucinogenic mushrooms and had a bad reaction before the fateful confrontation. They contend that Hernandez should face criminal charges.
"The fire captain made it clear it was an unlawful killing, and the district attorney should be ashamed at herself for not prosecuting," said Dan Stormer, a civil rights attorney representing the Morad family in the lawsuit.
Hernandez came upon Morad, shirtless and covered in blood with an arm injury, after responding that evening to a 911 call of a possibly violent person who'd fallen from a second-story window in the 4600 block of East 15th Street.
Hernandez told investigators that he fired four times after the student raised his closed fists and aggressively moved toward the officer, yelling, "I am coming to get you."
Griego said the young man was on one knee at the time the officer fired.
But the medical examiner, while noting the shots were fired downward, found the positioning of Morad's arms and elbows showed he was standing when he was shot, according to prosecutors. Another firefighter said Morad only dropped to his knees after the first shot, according to the report.
The report documented the moments leading up to the shooting.
With Morad swinging his arm with closed fists, Hernandez said he ordered the man to stop and put his hands in the air while two of Morad's friends also told the student to put his hands up, according to the report. When Morad got within 10 feet of him, the officer fired a Taser, which only momentarily stopped Morad's advance, the report said.
According to prosecutors, witnesses said Morad repeatedly ignored commands and several times broke free after being subdued. In one of the struggles, Hernandez lost his handcuffs, and another time he tried to use his flashlight to trip Morad.
At one point, the officer dropped a Taser cartridge only to see Morad kick it back in his direction. After two Taser shots failed, prosecutors said Hernandez dropped the stun gun as he attempted to holster it.
That left Hernandez with his .45-caliber handgun as his lone weapon, according to the report. With Morad on the ground, Hernandez said he drew his gun to keep the student at bay until other officers arrived. According to Hernandez, Morad came at him again. When Morad was a few feet away, the officer fired, but the gun failed because he had not released the thumb safety, according to the report.
A few seconds later, the encounter would turn fatal as the officer claimed Morad threatened him and moved toward him again.
Though prosecutors noted that witnesses, including Griego and another firefighter, described Morad as not aggressive, only Griego claimed the student was on one knee when the shot was fired, the report said.
Given the coroner's view that Morad was standing, prosecutors said Griego's statement on the position "cannot be given much weight."
"The evidence supports the conclusion that Hernandez actually and honestly believed he was in imminent danger of death or great bodily injury at the time he fired his weapon."
Long Beach Police Sgt. Brad Johnson said Hernandez remains assigned to the patrol bureau. Because of the ongoing litigation, Johnson said the department would not comment on specific findings in the report.
Twitter: @lacrimes
ALSO
Does the LAPD treat celebrity burglaries differently from the average home break-in?
L.A. settles with hundreds of victims of LAPD officer who snooped for celebrity private eye Anthony Pellicano
California Supreme Court decision could end secrecy over police capture of license plate images
---
For reporting and exclusive analysis from bureau chief John Myers, get our California Politics newsletter.
You may occasionally receive promotional content from the Los Angeles Times.