L.A. officials pledge to help raise funds for immigration relief efforts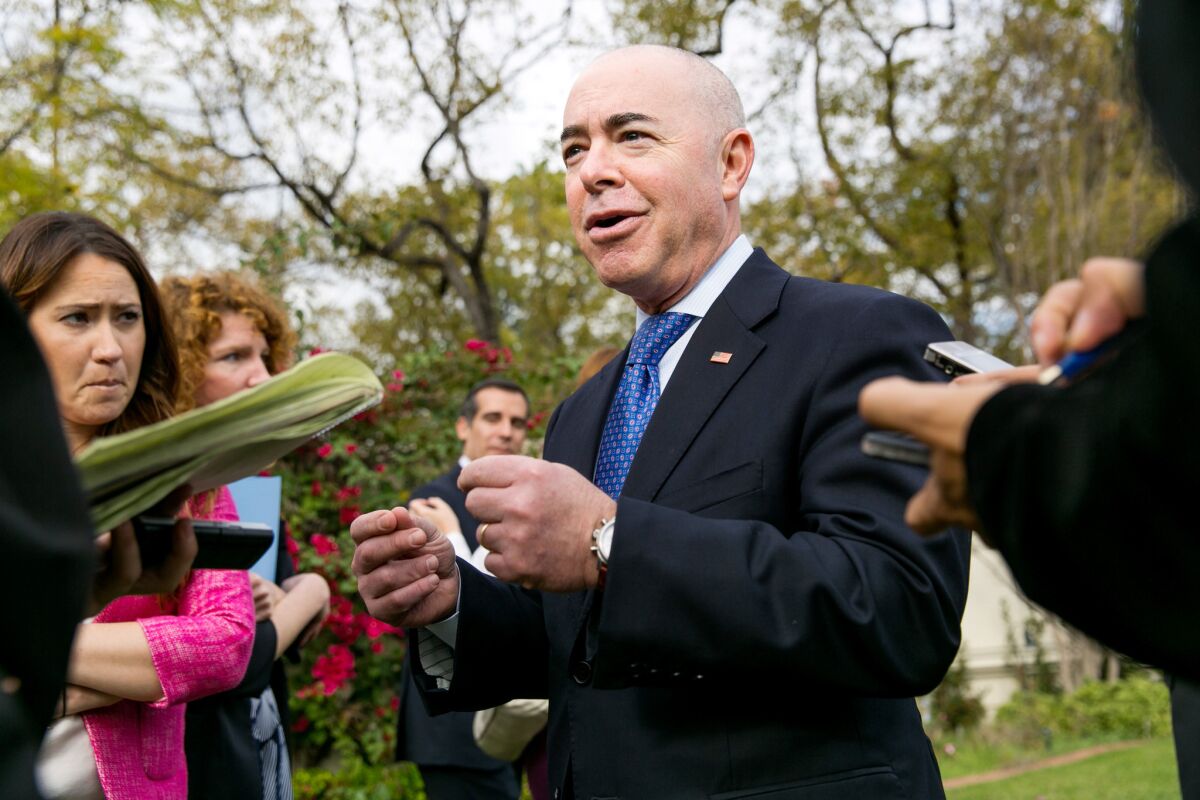 Los Angeles leaders said Friday they hope to raise $10 million to help immigrants in the country illegally apply for President Obama's deferred action programs, which would offer some protection from deportation.
Mayor Eric Garcetti said it's important that the nearly half a million people eligible for immigration relief in the Los Angeles area apply for the programs. The mayor announced the plan during an event at his home with immigrant advocates and a top immigration enforcement official.
"It will make our communities and our streets safer," said Garcetti, who added that the goal is to help at least 100,000 immigrants apply.
The plan is a joint effort between the city of Los Angeles and the California Community Foundation, a philanthropy group that often works on immigration issues. The group's director, Antonia Hernandez, said her organization has already raised $5 million from organizations including the Weingart Foundation and the California Endowment. Much of the money will be distributed to area nonprofits that work with immigrants, Hernandez said.
Immigrant advocates say the assistance is sorely needed.
"This is an exciting moment, but a daunting one," said Daniel Sharp, director of legal services at the Central American Resource Center. He estimated that half of those eligible for relief will need help from a lawyer when applying for the new deferred action programs because of the complexity of the applications, which will likely include questions about prior arrests and stays in immigration detention.
His nonprofit is hiring new attorneys and opening a satellite office in anticipation of a crush of new customers. "This is something so big and so imminent," he said.
Obama's actions on immigration last November expanded the eligibility requirements for a program that provides temporary work permits and deferrals of deportation to some young people who were brought to the country as children. He also created a similar program that will offer the same protections to some parents of children who are U.S. citizens.
The first day applicants can apply for the expanded Deferred Action for Childhood Arrivals program is Feb. 18, federal officials announced Friday. The program for parents is expected to begin sometime this spring.
The rollout of the programs is a huge undertaking for the government, which has hired thousands of additional workers to process the applications. Federal officials are also working to implement other aspects of Obama's immigration changes, including the elimination of the controversial Secure Communities program and new guidelines about which immigrants should be priorities for deportation.
Alejandro Mayorkas, deputy secretary of the Department of Homeland Security, which oversees the Immigrations and Customs Enforcement agency, is in Los Angeles this week to discuss the changes with local authorities and was at Friday's event with Garcetti.
In an interview, Mayorkas said several hundred immigrants who were facing deportation have been released from immigrant detention since Obama's new enforcement priorities went into effect Jan. 6. Under the new guidelines, immigration agents are instructed not to deport people who were convicted before 2014 of low-level immigration violations. Instead, they are instructed to prioritize the removal of suspected terrorists and those convicted of gang crimes or other serious felonies.
Mayorkas also discussed the rollout of a new program that will replace Secure Communities, which currently provides immigration agents with fingerprint records collected at local jails and allows agents to ask jail authorities to hold inmates believed to be in the country illegally beyond the length of their jail terms so that they may be transferred to federal custody.
Those who favor stricter immigration enforcement supported Secure Communities, but many immigrant advocates complained it led to racial profiling and other rights abuses.
Some have questioned whether the new program, known as the Priority Enforcement Program, will be any different. Like Secure Communities, the new program will allow fingerprint sharing. But immigration agents will only be able to ask local authorities to notify them when a detainee who fits the new deportation priorities is scheduled to be released.
Mayorkas, who is meeting this week with Los Angeles Police Chief Charlie Beck and Los Angeles County Sheriff Jim McDonnell, acknowledged that the new program will rely heavily on the discretion of immigration agents, which has been a concern of immigrant advocates. He said his agency has established a new office to monitor the program and flag any practices that do not follow "the intent, the letter and spirit," of Obama's new program.
He asked immigrant advocates to give the new program a chance.
"We're talking about two very different things: the past and the present," Mayorkas said.
The stories shaping California
Get up to speed with our Essential California newsletter, sent six days a week.
You may occasionally receive promotional content from the Los Angeles Times.