Mackenzie Lueck's body has been found, police say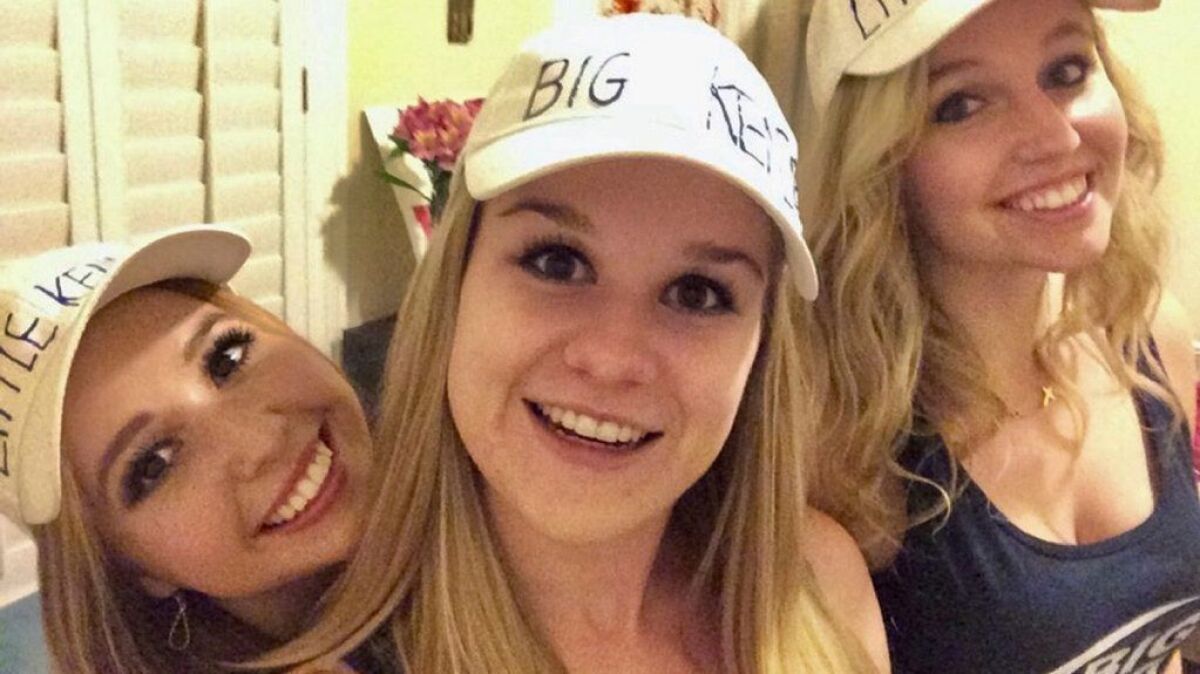 Investigators have discovered the body of Mackenzie Lueck, the 23-year-old El Segundo woman who was presumed dead after she was reported missing in Salt Lake City last month.
Authorities had initially believed that the man arrested in connection with Lueck's death, 31-year-old Ayoola Ajayi, had burned her body in the backyard of his suburban Salt Lake City home. Ajayi was taken into custody June 28 and has not yet been formally charged in connection with the crime.
At a news conference Friday afternoon, Salt Lake City Police Chief Mike Brown said that investigators recovered Lueck's body Wednesday in Logan Canyon, about 85 miles north of Salt Lake City. Forensic tests confirmed her identity, he said.
Brown did not say what led investigators to the location.
He said he informed Lueck's parents of the discovery Friday morning.
"It was another devastating call," Brown said. "Despite their grief, we hope this will help them find some closure and justice for Mackenzie."
Lueck, a pre-nursing student at the University of Utah, went missing June 17 after arriving at the Salt Lake City airport following her grandmother's funeral in Los Angeles.
Investigators believe she took a Lyft to a park in North Salt Lake, where she met with Ajayi. Records show that he was the last person she communicated with using her cellphone, though he denied having any contact with her, authorities said.
That day and the next, neighbors reported seeing Ajayi burning something using gasoline in his backyard, police said.
Investigators then searched his home and found a freshly dug area along with human tissue belonging to Lueck and some of her personal items that had been charred, police said.
Ajayi was booked into jail on suspicion of aggravated murder, kidnapping, obstruction of justice and desecration of a body. He's being held without bail.
Salt Lake County Dist. Atty. Sim Gill said Friday that his office was working to review charges against Ajayi, and that they were expected to be formally filed early next week.
Typically, charges are filed against a defendant in a criminal case within 72 hours of an arrest. But earlier in the week, on Tuesday, a court granted a request from Gill's office to extend Ajayi's jail hold to give prosecutors more time to review evidence.
Gill said the extension was necessary due to the "complex and active" nature of the investigation. He stressed again Friday that the investigation remains ongoing.
"It is not uncommon for investigative efforts to continue as a case progresses, to meet our obligation to the discovery of truth and the ongoing responsibility to collect all available evidence," he said.
It's still not known how Lueck was killed, and police have not provided a possible motive for the slaying.
A disturbing portrait of Ajayi has emerged in the days since his arrest. Former acquaintances have described a man with a mercurial temper who would become irate over minor disagreements.
Ajayi was suspected of raping a co-worker in 2014, but the investigation was dropped after the woman decided not to press charges, according to records provided by the North Park Police Department.
More recently, a Utah contractor said that Ajayi approached him with a request to build a soundproof room hidden beneath his porch, according to the Deseret News. The room was to have large hooks mounted high on the concrete walls.
"As a parent myself, this is a circumstance beyond belief," Salt Lake City Mayor Jackie Biskupski said Friday. "It's a scenario you can't even imagine happening in real life."
alexandra.wigglesworth@latimes.com Twitter:@phila_lex
Times staff writer Hannah Fry contributed to this report.
---
The stories shaping California
Get up to speed with our Essential California newsletter, sent six days a week.
You may occasionally receive promotional content from the Los Angeles Times.