L.A. backs measures to roll back 'mansionization' in single-family neighborhoods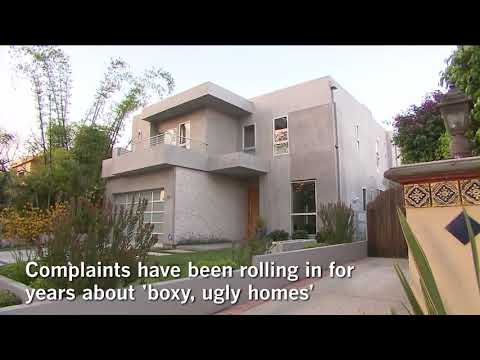 On a 13-0 vote, lawmakers asked City Atty. Mike Feuer to rewrite sections of two city ordinances that regulate the size of new homes
Spurred by years of complaints from neighborhood groups, the Los Angeles City Council voted Wednesday to seek new restrictions on "mansionization" — the practice of constructing houses that are far larger than those nearby.
On a 13-0 vote, lawmakers asked City Atty. Mike Feuer to rewrite sections of two city ordinances that regulate the size of new homes in single-family neighborhoods and in hillside areas.
The changes were spearheaded by Councilman Paul Koretz, who represents neighborhoods stretching from the Westside north to Encino. Koretz, who began pushing for the changes in May 2014, said he has received more complaints about mansionization than about all of the other issues in his district combined.
Koretz said constituents have bombarded his office with complaints about "very boxy, ugly homes" that loom over their neighbors. The homes are being built by developers who "just want to put in as many bedrooms in as possible so they can make a huge profit," he said.
"That's in the interest of speculators. But it's not in the interest of homeowners in the district, and we're trying to help them," Koretz added.
Neighborhood activists had worried in recent days that council members would water down some of the home-size restrictions recommended last summer by the City Planning Commission, a panel made up of mayoral appointees. But Koretz, working with Councilmen Herb Wesson, David Ryu and Jose Huizar, preserved the commission's proposals.
One mansionization measure backed by the council would reduce the square footage allowed for houses in R-1 zones — areas where only single-family homes are permitted — to 45% of the overall lot size, down from 50%.
The council also moved to eliminate provisions that have allowed homebuilders to obtain additional square footage for their projects. For example, developers have had the right to go 20% bigger when they showed they followed environmentally friendly design standards. That would disappear under the council's plan.
City lawmakers first approved a package of mansionization rules in 2008. At the time, they said it would help preserve the look and character of existing neighborhoods — particularly those developed between the 1910s and the 1940s. But critics quickly concluded that the ordinance was riddled with loopholes. They voiced dismay that some portions of a house, such as an attached garage or a covered porch, did not count toward its overall size.
Every time a house goes up for sale, we're terrified.
— Deni Mosser, resident near South Robertson Boulevard
With the real estate market surging in recent years, residents in older neighborhoods watched with alarm as scores of older homes — Spanish Colonial Revival, Tudor Revival and other styles — were torn down and replaced with much bigger houses.
"Every time a house goes up for sale, we're terrified," said Deni Mosser, a web designer who lives near South Robertson Boulevard.
Opponents of the mansionization measure say there is a demand for bigger homes — and not just by speculators. Families frequently don't want their kids sharing bedrooms, and they entertain more at home than they did decades ago, said Daniel Bibawi, who works in a West Los Angeles architecture firm.
"To cram four or five people into an 1,100-square-foot house, one of these old bungalows, it's a joke really," he said.
City officials expect the council to cast a vote on new ordinance language early next year. Bibawi said many of his clients are trying to get their home construction projects approved before those changes take effect. "They're worried they're not going to get to build what they want," he said.
Still, others argued that the mansionization measure does not go far enough. Some who attended Wednesday's council meeting said the city should no longer exclude garage space, or a portion of a garage, from the overall calculation of a new home's square footage.
Miki Jackson, a consultant with the Coalition to Preserve L.A., told city lawmakers they should also focus on protecting older apartment buildings, particularly those covered by the city's law limiting rent increases. Jackson's group is pushing a March 7 ballot measure to crack down on some large-scale development projects.
"We have a historic, unique, L.A. type of housing — duplexes, courtyards, triplexes — that are being destroyed for mansions all over the city," she said. "We're losing this important resource, and I think it should be very, very hard to destroy rent-stabilized housing of any kind."
Twitter: @DavidZahniser
ALSO
L.A. plans crackdown on unsafe warehouses in wake of Oakland tragedy
Steve Lopez: L.A. should act quickly to close loopholes in mansionization ordinance
'The laws must be followed': City issues warning to L.A. school districts considering digital billboards
Sign up for Essential California for news, features and recommendations from the L.A. Times and beyond in your inbox six days a week.
You may occasionally receive promotional content from the Los Angeles Times.