Caitlyn Jenner could face manslaughter charge in deadly PCH crash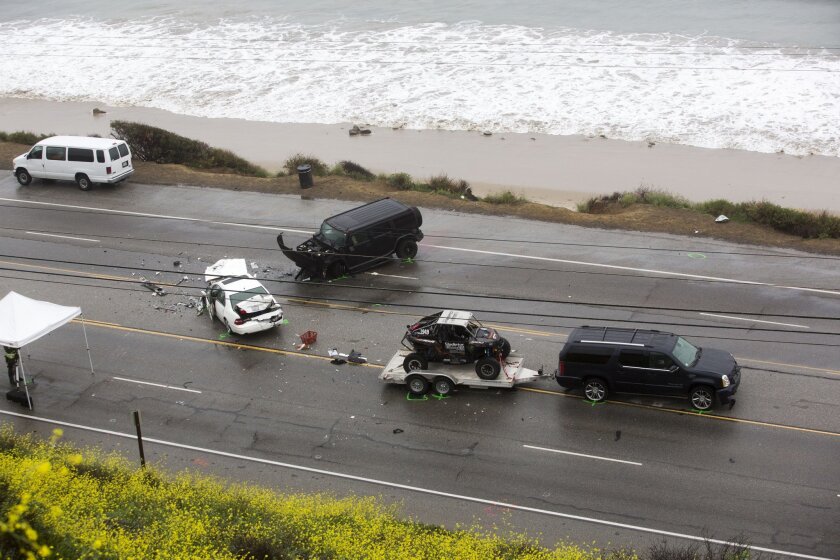 Los Angeles County sheriff's detectives will present evidence next week to prosecutors that could lead to a misdemeanor manslaughter charge against Caitlyn Jenner, who was involved in a deadly chain-reaction crash on Pacific Coast Highway in February.
Sheriff's Det. Richard Curry said Thursday that Jenner was driving at an unsafe speed Feb. 7 when her Cadillac Escalade rear-ended Kim Howe's Lexus, sending it into oncoming traffic, ultimately leading to the 69-year-old driver's death.
Jenner was pulling an off-road vehicle on a trailer and had to suddenly slow as vehicles in front stopped. Curry said Jenner was complying with the speed limit but moving too fast for the road conditions that day. Howe died at the scene after Jenner's SUV hit her car and sent it into the path of a Hummer coming in the opposite direction.
The Los Angeles County district attorney's office will review the investigators' report and decide whether to charge Jenner. Typically, a single misdemeanor manslaughter charge could carry a sentence of a year in jail, though legal experts say a jail term would be unlikely.
Blair Berk, Jenner's attorney, declined to comment on the presentation of the evidence.
The deadly crash near Corral Canyon Road came before Jenner announced her gender transition. At the time, she was Bruce Jenner, best known as the father figure of the Kardashian family and 1976 Olympic decathlon gold medal winner.
Jenner has called the crash a "devastating tragedy," saying, "I cannot pretend to imagine what this family is going through at this time. I am praying for them."
Legal experts describe the charge Jenner could face as low-level. "Basically, anyone can get into this situation behind the wheel like Ms. Jenner. There is no drugs or alcohol involved. This is just unsafe driving," said attorney Dmitry Gorin, a former Los Angeles County prosecutor. "I remember a law professor getting charged.... If you commit a road infraction that results in a death, that becomes a traffic misdemeanor manslaughter."
Although the word "manslaughter" is used, Gorin said the driver in such cases had no intent to commit a crime. Gorin said the most anyone usually faces for the misdemeanor offense is a year in jail, fines and driver privilege restrictions.
"It sounds serious, but as a practical course, these cases are resolved without jail time. These are the type of cases in which the D.A. needs to exercise discretion."
Stanley Goldman, a Loyola Law School professor and a former deputy public defender, said it is rare for a criminal charge to be based on ordinary negligence. "Handling a vehicle is dangerous," he said.
During the six-month investigation, detectives with the help of the California Highway Patrol reviewed video footage from an MTA bus and photographs from paparazzi, who cooperated with authorities. They interviewed those involved, obtained the vehicles' computers and checked driving and cellphone records. None of the drivers were on the phone at the time of the crash, and investigators have no have no evidence that Jenner was distracted, Curry said.
Evidence will also be presented that Jessica Steindorff, who was driving a Toyota Prius, had a suspended license at the time of the crash — and she could be charged for that, he said.
Initially, investigators said Howe rear-ended Steindorff's Prius and then Jenner hit Howe's Lexus. But Steindorff's attorney, Robert Simon, has said the crash unfolded differently. After hitting the Lexus, Jenner's SUV continued traveling and slammed into Steindorff's car, Simon said.
A law enforcement source, not authorized to discuss the investigation, said the evidence supports that version of events.
Steindorff and Howe's family are separately suing Jenner, alleging that she was negligent.
Daniel W. Vomhof, an accident reconstruction expert in La Mesa, said the discussion of a misdemeanor means investigators don't believe Jenner was "exceedingly culpable" but did conclude she was going too fast to stop before hitting Howe's car. Experts say the additional weight of the trailer Jenner was hauling added to the SUV's stopping distance.
Vomhof said Jenner's celebrity probably ensures that that the presentation detectives will make to prosecutors next week will be based on rock-solid evidence and an exhaustive investigation.
For breaking news in California, follow @VeronicaRochaLA and @lacrimes on Twitter.

ALSO:
With accidents aplenty on PCH, Malibu greenlights safety improvements
Caitlyn Jenner faces new lawsuit in deadly PCH crash
---
The stories shaping California
Get up to speed with our Essential California newsletter, sent six days a week.
You may occasionally receive promotional content from the Los Angeles Times.