Developers join the campaign for a quarter-cent sales tax to fund homeless services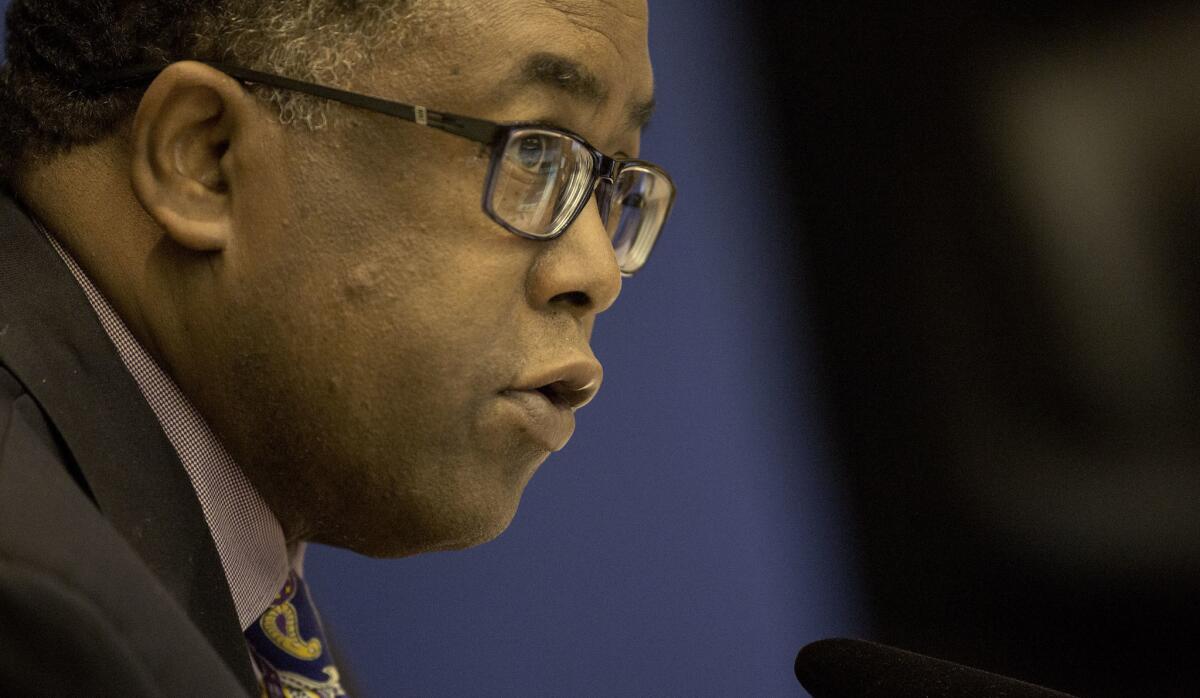 The campaign for a measure to levy a quarter-cent countywide sales tax for homeless services has gathered more than $1 million in early contributions, including hundreds of thousands of dollars from large development, real estate and construction firms, county records show.
If successful, Measure H on the March 7 ballot would generate about $350 million annually to be used for homelessness prevention and housing. It would also provide services for thousands of units of homeless housing that will be financed by Proposition HHH, the $1.2-billion bond measure approved by Los Angeles city residents in November.
Supervisor Mark Ridley-Thomas donated $250,000 from his personal campaign fund, the Mark Ridley-Thomas Committee for a Better L.A. NextGen CA, the liberal political action organization founded by billionaire Tom Steyer, matched that amount.
NextGen has donated extensively to local affordable housing measures across California and to statewide propositions to end the death penalty and raise the cigarette tax.
"Nearly one in five people in Los Angeles County live below the poverty line, and more families continue to experience homelessness," Steyer said. "Measure H is a comprehensive plan that will give thousands of people access to the programs they need to build a better life."
The combined donations of two companies affiliated with former Dodgers owner Frank McCourt totaled $200,000. Chavez Ravine Land Co. contributed $150,000 and McCourt Global Services gave $50,000.
McCourt sold the Dodgers in 2011 but retained half interest in the 130-acre stadium parking lot amid speculation that he hoped to profit from future development of the land.
McCourt and his business partner, current Dodgers controlling owner Mark Walter, said in a statement that they "have seen firsthand the impact of homelessness on Los Angeles and on all its residents and strongly encourage corporate leaders and the entire business community to support the ballot measure."
Continental Development Co., an El Segundo commercial real estate and management company owned by philanthropist Richard C. Lundquist, contributed $100,000.
According to the Chronicle of Philanthropy, Lundquist and his wife, Melanie, gave $50 million to Torrance Memorial Medical Center to build a new main patient tower and $350,000 to the El Segundo Educational Foundation.
The California Community Foundation, which donated $350,000 to the Proposition HHH campaign, has added $100,000 to Measure H.
The political action committee of the California Assn. of Hospitals and Health Systems also donated $100,000.
Other development and construction companies making contributions were: Walsh/Shea Corridor Constructors, $50,000; Tutor Perini Corp., $50,000; Stelee Industries Inc., $40,000; and Thomas Safran & Associates Development Inc., $10,000.
Austin Beutner, a former publisher of the Los Angeles Times and former deputy mayor of Los Angeles, donated $25,000.
Trade and labor groups that contributed tens of thousands of dollars to the Proposition HHH campaign last year were so far missing from the H campaign, but those groups were among numerous contributors to the Ridley-Thomas committee.
Twitter: @LATDoug
MORE ON THE HOMELESS
Who are L.A. County's homeless?
As extreme cold moves into Portland, the homeless die
More than 1,200 homeless veterans living on Los Angeles streets still need housing
Sign up for Essential California for news, features and recommendations from the L.A. Times and beyond in your inbox six days a week.
You may occasionally receive promotional content from the Los Angeles Times.