Medi-Cal patients may not have adequate access to doctors, audit finds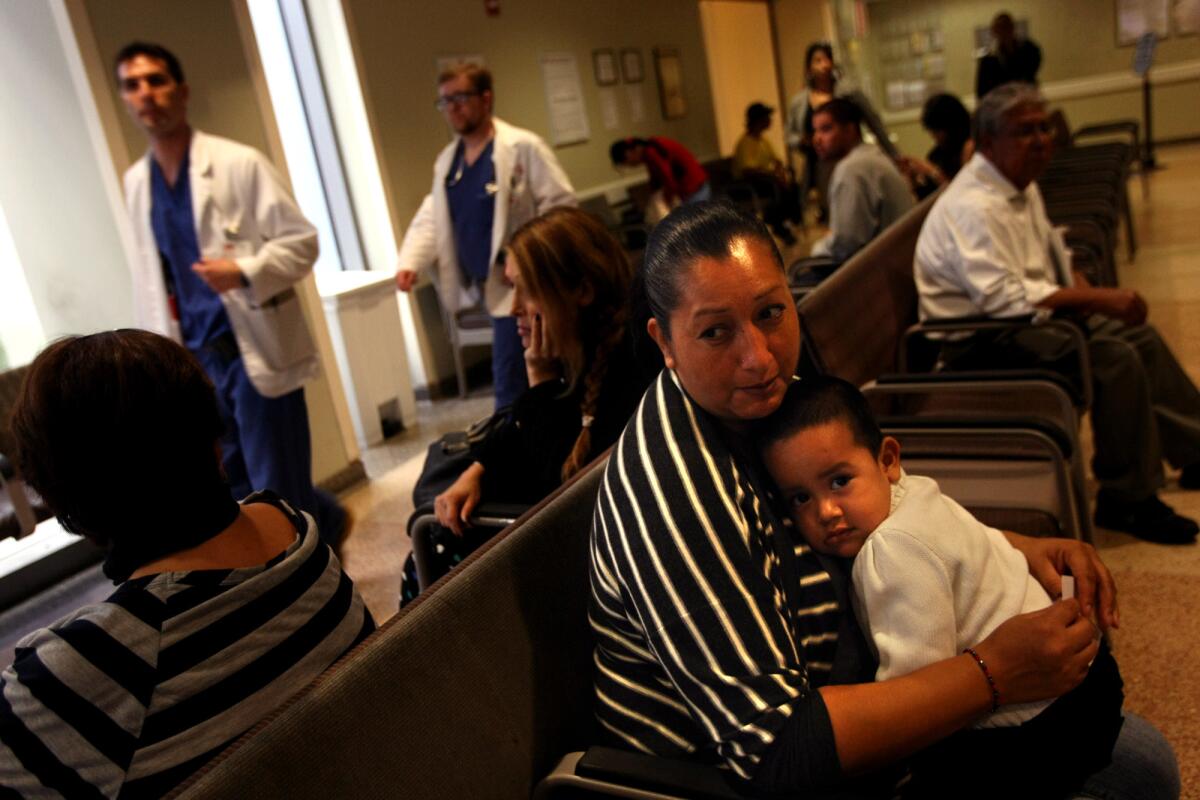 Since signing up for Medi-Cal more than a year ago, Kevin Hill hasn't been able to find a doctor. He said he called at least 15 physicians near his home in Long Beach who were listed in his health plan's provider directory.
But either the phone numbers didn't work or the doctors weren't accepting new patients, he said. He's given up.
"Now I just go to an emergency center to pay cash even though I can barely afford it," the 58-year-old said.
Prompted by complaints like Hill's, the California state auditor last year began evaluating how the state oversees much of its health program for low-income residents. The resulting audit released Tuesday found that provider directories were riddled with errors and that the state Department of Health Care Services hadn't properly regulated plans to guarantee patients adequate access to doctors.
"The audit confirmed our long-standing concerns about access for Medi-Cal patients," said Anthony Wright, executive director of the advocacy group Health Access California. "The findings of the audit cry out for more oversight."
Since eligibility was expanded under the Affordable Care Act last year, Medi-Cal enrollment has ballooned, with more than 3.5 million people signing up for the first time. Nearly one in three Californians — a total of 12.3 million people — now receive coverage through the program.
Requested by state Sen. Ricardo Lara (D-Bell Gardens), the audit examined Medi-Cal managed-care programs, which are health plans that contract with the state to coordinate and provide care, and cover 78% of Medi-Cal patients.
Auditors analyzed the provider directories of three plans — Anthem Blue Cross in Fresno County, Partnership HealthPlan of California in Solano County and Health Net in Los Angeles County — and found that they contained inaccurate information for 3% to 23% of providers.
The state is required to certify that health plan networks offer enough doctors, and that patients don't have to drive too far to get care. But the audit found the state couldn't be certain the plans were meeting patients' needs, because the Department of Healthcare Services wasn't verifying the data that plans submitted to the state.
For instance, although the department had not found "any inaccuracies in the three provider directories," auditors said they discovered wrong telephone numbers and listings for doctors who were no longer in the programs.
Department director Jennifer Kent said Tuesday that her staff works diligently to ensure health plans are meeting their requirements, and that the audit only looked at a portion of the agency's monitoring efforts.
"We appreciate today's report from the California state auditor that underscores the need for continuous improvement and enhancement of the state's oversight of Medi-Cal managed care, some of which the Department of Healthcare Services was well underway in addressing," she said. The audit recommends that the department improve its process for verifying plan data and establish a clear process for doing so by September of this year.
"While disappointing, the results of this audit are not surprising," said State Sen. Ed Hernandez (D-West Covina).
Hernandez has already introduced legislation that tackles some of the problems confirmed by the audit. SB 964, signed into law by Gov. Jerry Brown last year, requires the state to make sure Medi-Cal managed-care plans offer sufficient doctor networks. And SB 137, which has been passed by the state Senate but not the Assembly, would require plans to post provider directories online and update them weekly.
Officials say many people have benefited from being able to sign up for Medi-Cal, which is free for patients.
Glendale resident Lori Margaret, who has endometriosis, signed up at the beginning of 2014. She had been unable to get health insurance through work.
Last year, the 45-year-old began hemorrhaging and had to have a hysterectomy, which she couldn't have paid for on her own.
"Everything was covered," she said. "I'm so grateful every day because I had that."
With thousands of people added to Medi-Cal, the Department of Healthcare Services' ombudsman, which resolves complaints from beneficiaries, has been overwhelmed with calls. According to department data obtained by The Times, the average monthly number of calls and emails to the office jumped from 14,000 in 2013 to 24,000 in 2014 to 32,000 in the first five months of this year.
That volume has been more than the office's telephone system can handle, the audit found. Between 7,000 and 45,000 calls were rejected each month between February 2014 and January 2015, and inadequate staffing has meant that only between 30% and 50% of the calls the telephone system accepted were actually answered — meaning an additional 12,500 unanswered calls each month during that time period.
Department officials say they have ordered a new phone system.
Many advocates said the access issues reported in the audit are partly due to low payment rates for Medi-Cal doctors. Those rates, which were lowered by state lawmakers during the recession, discourage doctors from taking on more patients, they say. The rates only apply to the roughly one-quarter of patients who are not enrolled in managed-care plans, and for whom the state is billed for each doctor visit and medical procedure individually.
"Medi-Cal needs to be fully funded or we will continue to have a two-tiered healthcare system in our state: a dysfunctional, inadequate system for Medi-Cal patients ... and a much higher-functioning system for people with private health insurance," said Dave Regan, president of Service Employees International Union-United Healthcare Workers West, in a statement.
The rates have been a recurring issue during spending negotiations in the Capitol. A final budget deal announced on Tuesday includes some money to restore cuts in dental care, but not a broader increase in rates for all doctors.
The governor, who wants to revise and extend a tax on managed-care plans, said he would call a special legislative session this year to address issues involving Medi-Cal funding.
soumya.karlamangla@latimes.com
Follow @skarlamangla on Twitter for more California health news.
ALSO:
FDA bans hydrogenated oils from American food supply
Quality-of-life care may help cancer patients live longer, feel better
Majority in U.S. wants Congress to ensure Obamacare subsidies, poll finds
Sign up for Essential California for news, features and recommendations from the L.A. Times and beyond in your inbox six days a week.
You may occasionally receive promotional content from the Los Angeles Times.