Goodbye, upholstery. Hello, vinyl: L.A. Metro is phasing out some of its infamous fabric seats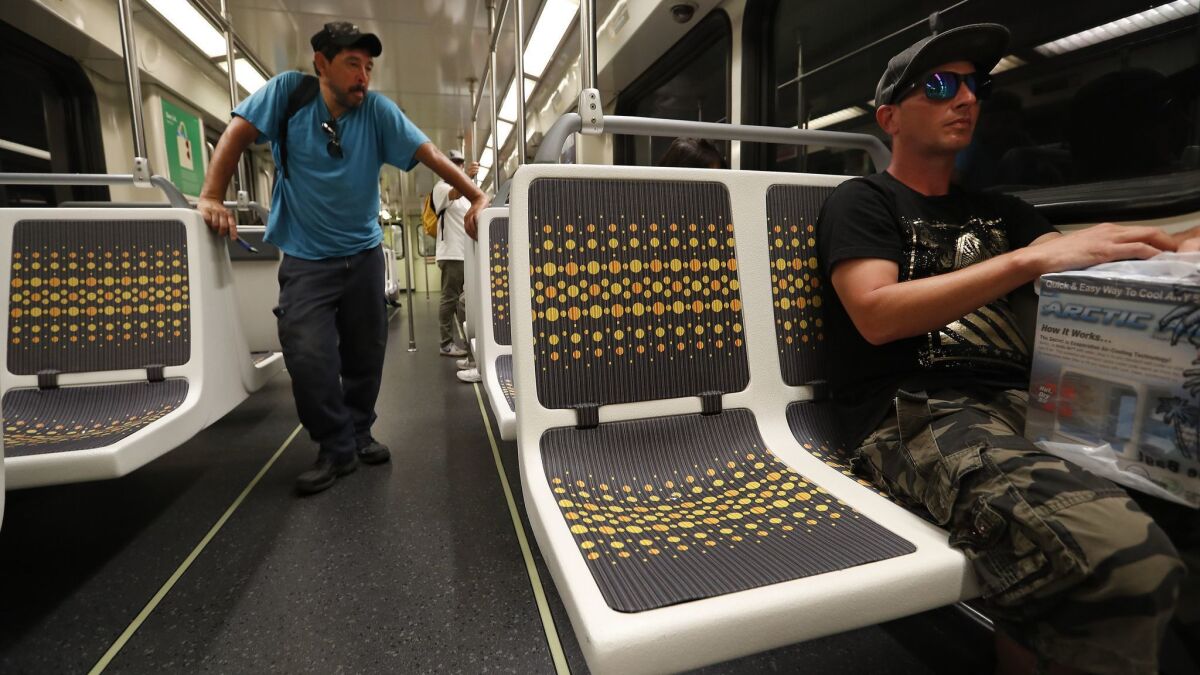 When a bedbug crawled off the Metro subway seat and onto his shorts, Chris Rusak realized that the brightly patterned fabric could camouflage a lot more than dirt.
With a shiver of horror, Rusak flicked the bug off and jumped to his feet in the subway car. After blurting several unprintable epithets, he vowed to never sit down on the Metro again.
"And I haven't," said Rusak, 39, a perfume designer and visual artist who lives near MacArthur Park. "Sometimes you're tired, or you don't feel good, and you just want to sit down. But you know what? It isn't worth it."
For decades, Metro's fuzzy fabric seats — rare among major U.S. transit systems — have drawn fascination and disgust from bus and train riders. Novice passengers learn quickly, and often the hard way, to check seats for liquids before sitting down, and to avoid the one unoccupied seat in a crowded car.
But not for much longer. Propelled by years of complaints and a sizable dry-cleaning bill, the Metropolitan Transportation Authority is preparing to swap out the wool and nylon seats on the subway for sleek, patterned vinyl with a drainage hole to prevent liquids from pooling.
"Fabric is like a housing development for germs," said Bob Spadafora, the Metro senior executive officer overseeing the new seat initiative. "It allows them to fester and breed."
The change will occur on the Red and Purple lines, which represent a fraction of the Metro system's vehicles. The agency has no immediate plans to discard the upholstery on its 2,438 buses or four light-rail lines. But if the subway seats are a hit, the Gold Line could be next, Spadafora said.
The seat change is one of many strategies Metro is pursuing to improve the experience of riding transit in Los Angeles County and win back riders. Trips taken on the sprawling bus and rail system have dropped 17% over the last five years.
The vast majority of riders who stopped taking transit have told Metro in surveys and complaints that buses and trains feel too slow, infrequent, dangerous or inconvenient. But for a handful of riders, the seats were the last straw.
Metro's seats are cleaned daily. But on a system that carries more than 1.2 million trips per day, unwitting passengers sit in a vast array of substances, including urine, feces, blood, lice, ants, soda, melted ice cream, secretions from leaking grocery bags and dribbles from burritos eaten on the go.
One rider said she stopped taking transit after lice spread from a seat to her waist-length hair ("a special treat," she wrote). Another said on Metro's blog that she sat in mustard, painstakingly squirted to mimic the yellow blotches on the upholstery.
"There's a reason the bench at the local park isn't made out of fabric," Spadafora said. "Vinyl doesn't have crevasses that harbor organisms. There's nothing for the germs to be stuck to. It's like concrete. You wash it down, it's gone."
The roll-out of vinyl on the Red and Purple lines will take about six years, as part of a planned overhaul of dozens of subway cars that have been in use for two decades. The vehicles will also get new paint, flooring and lighting.
"It makes sense to make this transition now," Metro spokesman Dave Sotero said.
Metro's patterned upholstery is designed to discourage graffiti, comfort aching legs and hide stains. Each seat has two fabric inserts that can be popped in and out of the plastic frame.
The seats are sprayed daily and wiped down to eliminate odors and stains. Cleaning crews roam the system, performing spot checks. The inserts are periodically shipped off for deep cleans, and are discarded when the fabric is soiled, worn or faded, Sotero said.
In May, Metro spent more than $126,000 to replace 4,855 fabric seat inserts on buses and trains, Sotero said. In the last year, Metro replaced more than 90,000 upholstered inserts on buses, at a cost of more than $2 million.
A test run that began eight months ago suggests that the $486,000 needed to install the subway's vinyl seats will be offset by cost savings on parts, labor and deep cleaning, officials said.
Metro installed vinyl on half the seats in one subway car, and left the upholstery intact on the other. The fabric side has been deep-cleaned three times and replaced once, Spadafora said. All the vinyl has required is a wipe-down at the end of the day.
Still unclear, he said, is why Metro pursued fabric in the first place. With a few notable exceptions, including Chicago's El trains, fabric is rare on public transit.
But Southern California set the precedent decades ago. In 1940, decades before the creation of Metro, the magazine for the Pacific Electric streetcar announced the arrival of two dozen buses with "mohair covered seats, the last word in comfort."
As is often the case with transit, the problems appeared later.
"Thumbs down on the fellow from Pico who pulls his knees up under his chin and rests his heels on the upholstery," wrote M.J. Creamer, in the magazine's "Motor Transit Notes" column the following year. "Bet he doesn't do that at home on his own davenport — he'd probably be run out of the house."
When the Bay Area opened a heavy rail system in 1972, and Los Angeles was beginning to contemplate its own, officials believed passenger trains could be "the living room of the future," complete with carpeted floors and cushy seats.
At the time, Spadafora said, fabric was something new, offering agencies a chance to add some color and visual interest to sometimes grim interiors of buses and trains. And, he said, "the hygiene question didn't come up. In a perfect world, you don't expect that."
Though L.A.'s bus and train seats have never been subject to scrutiny, the sanitation woes of other fabric seats are famous in certain corners of the internet.
One YouTube video shows a disembodied hand striking a bus seat with a mallet, creating a mushroom cloud of dust. And in 2011, BART's "living room of the future" famously went under the microscope.
A now-defunct news organization, the Bay Citizen, hired a lab supervisor to swab the system's wool seats. The investigation yielded strains of drug-resistant bacilli, several types of invasive mold, and the memorable headline, "On BART Trains, the Seats Are Taken (by Bacteria)."
On the Expo Line one day, Ry Amidon, 32, of West Adams watched a Metro employee in a black fleece jacket step onto the train, unzip his backpack, pull out a single paper towel, and drape it over the seat.
"Clearly, the seats are suspect enough that they know they need to roll in there with some protection," he said.
For more transportation news, follow @laura_nelson on Twitter.
The stories shaping California
Get up to speed with our Essential California newsletter, sent six days a week.
You may occasionally receive promotional content from the Los Angeles Times.