L.A. reworks another 'road diet,' restoring car lanes in Playa del Rey
Faced with an ongoing furor over traffic congestion and so-called "road diets," Los Angeles officials announced they will restore car lanes removed from two Playa del Rey boulevards earlier this year.
Traffic crews will add back a single westbound vehicle lane to Jefferson and Culver boulevards, the latest reversal in a coastal district represented by Councilman Mike Bonin.
In a Facebook message posted Monday night, Bonin said the change along the 1.1-mile stretch is an interim step recommended by a community task force looking at street safety and complaints about traffic congestion from residents and business owners. That panel is expected to present final recommendations next month.
"It's my hope that this first agreement ... will lead to greater cooperation on all sides," he wrote.
Opponents of the lane reductions, who are planning a recall of the councilman over the issue, contend the changes happened only because Bonin is facing heat from his constituents.
"Bonin's latest flip-flop has less to do with a 'community task force' and more to do with the fact that our efforts to recall him from office are moving forward and gaining broad support," said Alexis Edelstein, chairman of Recall Bonin.
Bonin set up the 20-member task force in July after fielding angry complaints over additional traffic that resulted from a series of road diets, or reductions in car lanes.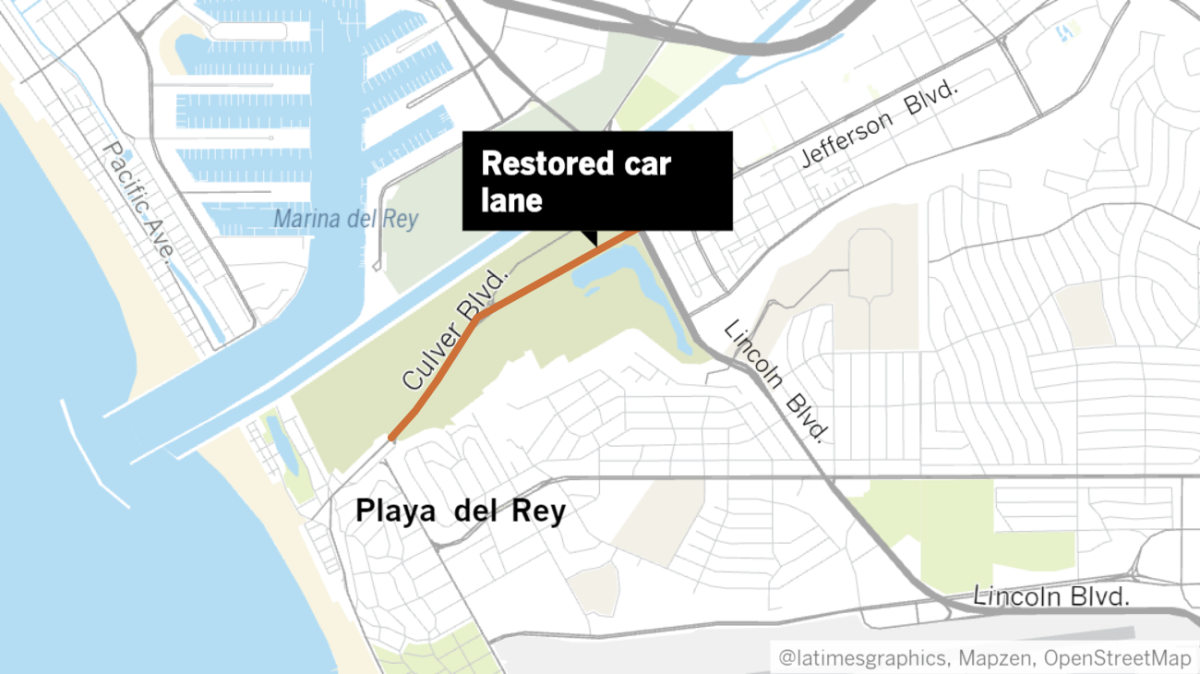 Campaign consultant Steve Barkan, a spokesman for Bonin, said the latest changes were the result of a collaborative process by local residents and business owners. He argued that recall proponents are "not interested in solutions" to the issue of congestion and traffic fatalities.
"They ignore the facts," he said. "And they are basically disrespecting the work of all the neighborhood folks who volunteered their time to work with the councilman's office on traffic reduction and making the neighborhood safer."
Bonin has been a major backer of the effort to cut the number of traffic fatalities, which rose nearly 43% in 2016.
The tussle over traffic and road restriping blew open in May, when Bonin, working with the city's Department of Transportation, implemented a new initiative aimed at slowing vehicle speeds, improving traffic safety and offering greater transportation options in Playa del Rey. The effort was billed as a pilot program whose elements would change if problems arose.
As part of the pilot, city officials reduced car lanes and added "protected" bike lanes, which feature plastic dividers or other physical barriers to separate bikes from cars. Bicycle lanes were added to a stretch of Pershing Drive, taking the street from two vehicle lanes in each direction to one.
Traffic crews also restriped sections of Jefferson and Culver, installing protected bike lanes and reducing both streets from two vehicle lanes in each direction to one.
At roughly the same time, city officials reduced one traffic lane from each direction of a 2.1-mile stretch of Vista del Mar, a major roadway along the beach that connects the South Bay with the Westside. Traffic crews relocated public parking on that street to keep beachgoers from jaywalking into dangerous traffic — an issue that the city's lawyers view as a costly liability.
The array of changes drew an outcry from drivers in L.A. and adjacent cities, such as El Segundo and Manhattan Beach. Foes of the changes began demanding their old lanes back, with Edelstein and others saying commute times through the area had doubled or even tripled. While some began pursuing a recall, city officials started to redesign its streets.
In July, city officials added back an eastbound car lane to Culver. Weeks later, Bonin announced that two vehicle lanes would also be restored on Vista del Mar, acknowledging in a YouTube video that the changes were "outright hated."
The latest change will require the removal of the two bike lanes on Culver and Jefferson, which will be replaced by a single protected shoulder that can be used in both directions by bicycles and pedestrians, said David Graham-Caso, a spokesman for Bonin.
Graham-Caso said the changes could soon be replaced as community volunteers develop a more permanent solution. He also said the city's preliminary data do not show the amount of traffic congestion that has been claimed by foes of the lane reductions.
Edelstein, for his part, said he and his allies will press ahead with a recall, despite the most recent changes. A former marketing executive with Red Bull, Edelstein said his organization has already collected $70,000 for the recall effort.
"This only shows us we're being effective," he said.
Twitter: @DavidZahniser
---
The stories shaping California
Get up to speed with our Essential California newsletter, sent six days a week.
You may occasionally receive promotional content from the Los Angeles Times.