North fire is 45% contained as unusual summer storm moves through area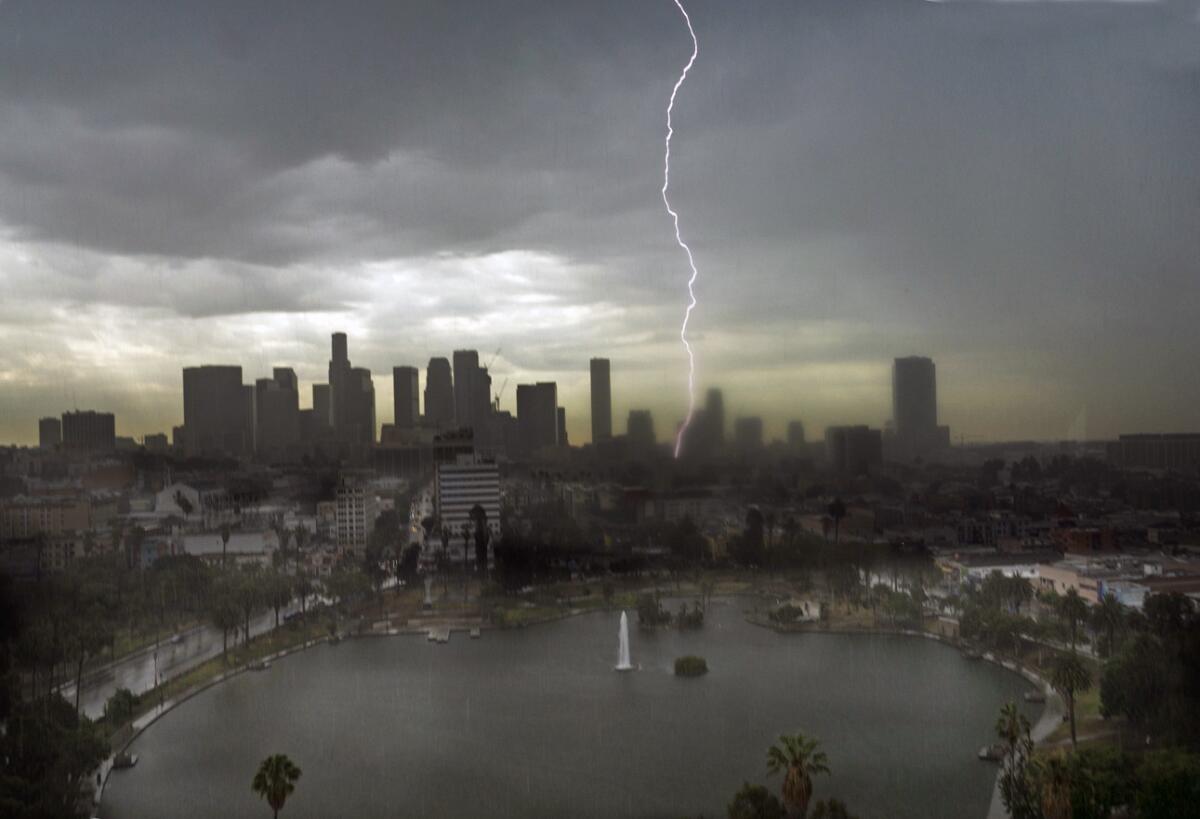 Scattered thunderstorms and showers Saturday knocked out power for thousands, closed Los Angeles County beaches and put a damper on the North fire in the Cajon Pass.
By Saturday afternoon, the 3,500-acre wildfire that had shut down Interstate 15 on Friday and sent motorists fleeing on foot had been stopped in its tracks by moisture streaming north from a tropical storm off Baja California. The fire is 45% contained.
"It's just creeping around now," said U.S. Forest Service spokeswoman Carol Underhill. "It definitely stopped its big movement."
Burning in chaparral and grass and fanned by high winds, the blaze jumped into the southbound lanes of the busy freeway Friday afternoon. Panicked travelers abandoned their vehicles and ran into the hills.
Twenty vehicles, including two big rigs, were destroyed. But miraculously, authorities said no injuries were reported. All lanes of the 15, the major route between Southern California and Las Vegas, were reopened by Saturday afternoon.
The unusual summer storm system spread a dramatic display of thunder and lightning across the region, prompting lifeguards to close all Los Angeles County beaches, once in the morning and again in the afternoon.
A quarter of an inch of rain fell in downtown Los Angeles, setting a new daily and monthly record, according to the National Weather Service. The old record of 0.24 inch dates from 1886.
About 10,000 Los Angeles-area residents were left without power from Lincoln Heights to South Los Angeles, as well as in the Vermont-Slauson, West Lake and University Park neighborhoods.
The L.A. Department of Water and Power was unsure of when electricity would be restored. "I can't put guys on the poles if there's lightning going through them," said DWP spokeswoman Kim Hughes.
An Alaska Airlines jet bound for Washington, D.C., returned to Los Angeles International Airport shortly after a 1:08 p.m. takeoff when the pilot suspected the aircraft had been struck by lightning.
The Boeing 737 landed safely and taxied to the gate, and the 159 passengers and six crew members safely disembarked.
"The pilot noticed that it was likely struck by lightning, and out of an abundance of caution [decided] to turn around and land," Alaska Airlines spokeswoman Bobbie Egan said.
"We have maintenance technicians who are currently inspecting the aircraft to determine if we're going to pull it from service or cancel the flight," she said. "Lightning strikes do happen; when they do, the plane is designed to withstand a lightning strike."
The rainy weather also helped firefighters reach 35% containment of the 200-acre Pines fire, which erupted in the Angeles National Forest on Friday evening. "It was a game-changer for sure," Forest Service spokesman Nathan Judy said of the storm's arrival.
The blaze, burning in timber, closed a stretch of the 2 Freeway from Wrightwood to Big Pines. Several campgrounds and a Girl Scout camp were evacuated.
About 10 p.m. Friday, officials woke up campers, who grabbed as many belongings as they could and filed onto buses and into sheriff's vehicles that transported them to a local high school, said Forest Service spokeswoman L'Tanga Watson.
The cause of both blazes remains under investigation.
The North fire charred brush lands in the San Bernardino National Forest and also burned private holdings in Baldy Mesa. There, three homes, eight outbuildings, and 44 vehicles — a number of them apparently junked — were destroyed.
A half-dozen air tankers, including a DC-10, three helicopters and 1,000 firefighters battled the blaze as news helicopters recorded the war-like scene of burning cars.
Authorities halted air attacks for about 25 minutes when a drone flew near the fire. It was the third time in a matter of weeks that drones have interfered with aerial attacks on Southern California wildfires.
On Saturday morning, Phelan resident Andrew Eblen surveyed the piles of burned wood and metal that had been his childhood home.
Eblen, 21, said he and his fiancé, Britany Carpenter, spent $5,000 renovating the place and planned on living there with their 7-month-old son, Eli.
"There's nothing left," he said.
Eblen's parents, who still lived in the house, were out of town when the fire roared through. "Yesterday was complete panic. Now, it's what do we do next?" he said.
Terry Ledoux saw smoke coming up over the Cajon Pass as she headed to Target on Friday afternoon.
She went back inside her home. A short time later, a firefighter gave her and her husband, Scott, 10 minutes to leave; the winds were approaching 50 mph.
The Baldy Mesa couple started gathering their documents and dogs. Scott Ledoux opened their garage door. "Alls I saw was orange," he recalled.
He carried his mother-in-law, who lives with them, to the swimming pool. Terry Ledoux grabbed the dogs.
They stood in the pool for about 10 minutes as the fire swept over their house and surrounded them. When the flames died down they made a break for their truck and sped out of their neighborhood, soaking wet and covered in soot.
They spent the night at the prison where Scott Ledoux works as a corrections officer. They returned Saturday morning to find their home still intact.
"I'm so grateful," Terry Ledoux said, wiping away tears. "When we turned the corner, we weren't sure."
Javier.Panzar@latimes.com
sarah.parvini@latimes.com
bettina.boxall@latimes.com
Times staff writer Amina Khan contributed to this report
Sign up for Essential California for news, features and recommendations from the L.A. Times and beyond in your inbox six days a week.
You may occasionally receive promotional content from the Los Angeles Times.