Early morning raids end in arrests of nearly two dozen MS-13 gang suspects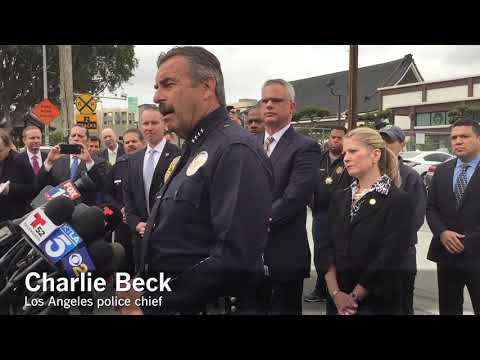 Early morning raids end in arrests of nearly two dozen MS-13 gang suspects. (Irfan Khan / Los Angeles Times)
Twenty-one people accused of being part of the notoriously violent MS-13 gang were arrested Wednesday as federal and local investigators forced their way into homes and businesses across Los Angeles County in a pre-dawn sweep that came as a result of a more than two-year racketeering investigation.
At least two dozen locations were raided by investigators with the federal Bureau of Alcohol, Tobacco, Firearms and Explosives, the FBI and officers with the Los Angeles Police Department.
The detainees were among 44 gang suspects facing federal charges — including murder and racketeering — listed in a 41-count federal indictment unsealed Wednesday, officials said. Twenty suspects were already in custody, and three are considered fugitives.
Acting U.S. Atty. Sandra Brown said the operation against MS-13 was the largest ever conducted in Los Angeles and is expected to "deal a critical blow to its leadership."
A significant number of those named in the indictment are in the U.S. illegally, Brown said.
Los Angeles Police Chief Charlie Beck said MS-13, also known as Mara Salvatrucha, preys on immigrants without legal status.
"They extort them. They rob them. They rape them. They murder them. Without their cooperation as witnesses, none of this would be possible," Beck said, noting that LAPD officers do not check immigration statuses before talking to witnesses.
Shortly after 4 a.m. Wednesday, heavily-armed ATF agents — wearing helmets and bulletproof gear and carrying rifles — forced their way into a storefront and a back building near Exposition Boulevard and Western Avenue in Exposition Park. Agents approached in an armored vehicle down a narrow alleyway behind the small business.
Once inside, federal agents and police detectives found what they described as gang members involved in human trafficking, as well as possible victims. The storefront, which appeared to be locked from the outside, was full of garbage.
A few of the people detained were handcuffed and lined up facing a metal fence in the alleyway next to the armored vehicle.
The sweep was based on sealed federal indictments orchestrated before President Trump — who has cast MS-13 as a deadly domestic scourge that his administration will wipe out — took office.
Federal prosecutors have repeatedly used charges of racketeering and conspiracy to undercut the growth of MS-13. This week, authorities used the charges to target the suspects, who officials say traded drugs and weapons across Southern California.
The indictment names the former leader of the gang and a dozen people who acted as a joint council of leaders, Brown said.
The lead defendant in the indictment is 43-year-old Jose Balmore Romero, known as "Porky." Romero called the shots for the gang in Los Angeles in 2013 and 2014 and oversaw the gang's drug-trafficking activities and coordinated the collection of extortion money, some of which was distributed to the Mexican Mafia, according to the U.S. attorney's office in Los Angeles. Romero has been in custody since 2015, charged with ordering a gang-related slaying.
Three men were charged with murder in connection with the gang's activities, authorities said.
Carlos Alfredo Cardoza Lopez, 23, known as "Little Boy," faces a violent crime in aid of racketeering murder charge in the fatal shooting of a innocent bystander inside the gang-controlled Little San Salvador Nightclub and Restaurant on Western Avenue, federal prosecutors said in a statement. A friend of the victim also was stabbed.
Two others accused of being in the gang also are facing federal murder charges. Alexander Paredes Rivas, 39, known as "Blacky," is accused of killing a man in August 2015 at a strip mall in Pacoima. Joffri Molina, 24, known as "Espia," is accused of killing a man in September 2015 on a North Hollywood street, officials said.
Lopez, Rivas and Molina are eligible for the death penalty if they are convicted, officials said. Prosecutors will decide at a later date whether to seek the death penalty.
Last month, Trump administration officials blamed what they called lax immigration enforcement for the rise of MS-13 and promised a stronger federal response.
Trump tweeted, erroneously, that the Obama administration "allowed" MS-13 to form in America.
"The weak illegal immigration policies of the Obama Admin. allowed bad MS-13 gangs to form in cities across U.S. We are removing them fast!" the president tweeted.
MS-13 was started in Los Angeles in the mid-1980s by Salvadoran immigrants — many of them young ex-soldiers — fleeing their country's civil war. Salvadorans congregated in large numbers in the Pico-Union neighborhood and the area near MacArthur Park.
Beck said he arrested his first MS-13 gang member more than 35 years ago.
"Since that time, I have seen MS evolve from a small-time group from El Salvador that banded together after fleeing the civil war to protect themselves from other street gangs into a transnational organization that has tentacles that have spread all over North America," he said.
MS-13 was the first street gang to be designated a transnational criminal organization. That designation, which came in 2012, gave the U.S. Treasury Department the power to freeze any financial assets from the gang or its members and to prohibit financial institutions from engaging in any transactions with members of the group.
The gang has developed a reputation for ruthlessness. Tales of torture, cutting off body parts and killing innocent relatives have made it a feared entity as it has spread across the nation.
In Los Angeles, MS-13 members have been convicted of a long list of crimes including assault, murder, conspiracy, racketeering, extortion, kidnapping, human smuggling, robbery and drug trafficking.
The gang vaulted to national notoriety in 2004 when members used a machete to hack off the hand of a 16-year-old rival gang member. In the run-up to that incident, the gang had been linked to at least five killings in the Washington, D.C., suburbs.
A Times investigation in 2007 found that the push to send gang members back to El Salvador had unintended consequences. Deporting MS-13 members to El Salvador allowed the gang to expand its foothold there. Meanwhile, newly organized cells in El Salvador established beachheads in the United States.
The gang's grip on immigrant neighborhoods of Los Angeles has loosened in recent years amid a drop in crime and a crackdown by the LAPD and other law enforcement agencies.
The LAPD chief said seven joint task force operations by law enforcement in L.A County since 2007 have weakened the gang's grip in the city, sending about 200 of its members to prison, many of them to remote federal prisons. The gang's ranks have decreased to about 800 members, down from more than 1,200 at one point, Beck said.
Twitter: @lacrimes @haileybranson
---
UPDATES:
12:05 p.m.: This article was updated with additional comments from LAPD Chief Charlie Beck.
9:35 a.m.: This article was updated with additional information about the charges.
7:20 a.m.: This article was updated with additional details about the raid.
This article was originally published at 6:55 a.m.
Sign up for Essential California for news, features and recommendations from the L.A. Times and beyond in your inbox six days a week.
You may occasionally receive promotional content from the Los Angeles Times.