Mud flows are a looming threat for residents following the Woolsey fire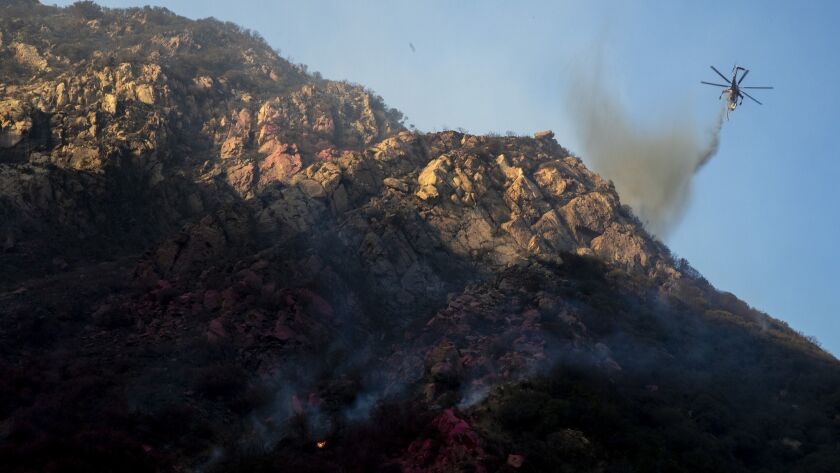 Some residents returning to their homes after evacuating from the Woolsey fire are being warned to prepare for potential mud flows, a deadly threat that will continue to loom over the region as the rainy season approaches.
Authorities told Malibu residents during a town hall meeting Tuesday that the California Department of Forestry and Fire Protection's watershed emergency response team will try to determine what areas of the city are most at risk for mud flows in the event of a strong storm.
Officials pointed to the devastating debris flow that hit Montecito after the Thomas fire burned the Los Padres National Forest last year as a warning.
"I don't want you to think we can stop floods if it rains. Floods will occur," Cal Fire Chief Thom Porter said. "Much like Montecito, the orders will be 'evacuate,' and you need to evacuate if you get that. What the team is going to do is ID the areas that are most vulnerable and the areas we can do some work."
The soil in recently burned areas cannot absorb rainwater. Enough rain can lead to fast-moving flows containing mud, debris and even trees and boulders that can be several feet deep and deadly for those in their path.
Extended weather forecasts indicate that rain could arrive in the Los Angeles area late next week, but National Weather Service forecasters say it's too early to confirm anything definite, including how much rainfall a storm could bring.
"The models are hinting at something, but it's pretty low confidence at this time," said Jayme Laber, a National Weather Service hydrologist in Oxnard.
A light drizzle likely wouldn't cause problems, but several inches of rain in the span of a few hours could be devastating, according to forecasters.
Porter said hydrologists, geologists and other scientists will scour the hillsides and use aerial images to identify areas at high risk this week.
Los Angeles County Public Works staffer Sterling Klippel said this fire's burn area presents the danger of very unpredictable debris flows.
"It's very dangerous, and with this very short time between now and the potential for rain, it's very limited what we can do as far as going out there and evaluating the potential for these mud flows," Klippel said. "We are taking this as a No. 1 priority."
Residents in nearby communities whose homes were spared in the fire are concerned they might not be as fortunate if a mud flow comes through.
Shoshi Oringer, who lives on the end of Country Glen Road in Agoura Hills, said she's glad her family home of 20 years is still standing, but knows her community isn't out of the woods yet.
"There is a lot of rock up [there], but all this hillside will be mud," she said. "This is a no-win situation."
Los Angeles Times staff writers Richard Winton and Benjamin Oreskes contributed to this report.
Twitter: @Hannahnfry
---
The perils of parenting through a pandemic
What's going on with school? What do kids need? Get 8 to 3, a newsletter dedicated to the questions that keep California families up at night.
You may occasionally receive promotional content from the Los Angeles Times.