Anti-Semitic fliers posted at school following backlash over Nazi salute at party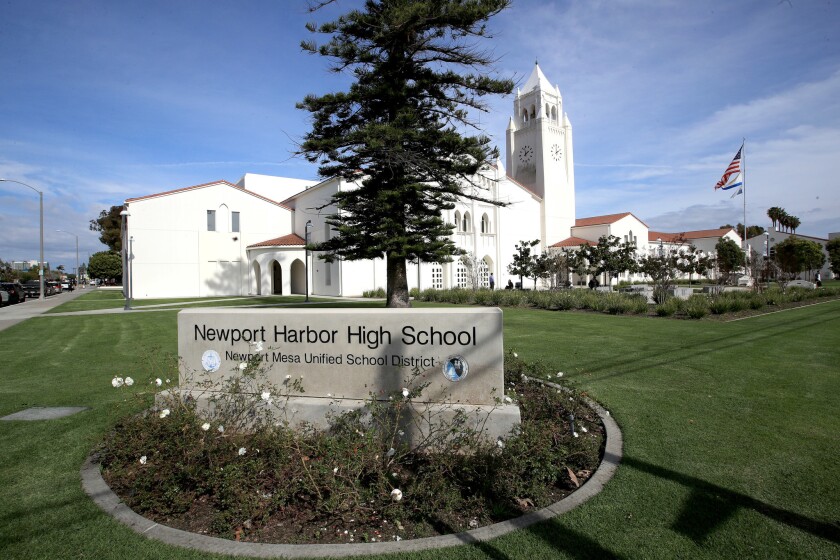 Anti-Semitic fliers with Nazi symbols were posted around Newport Harbor High School over the weekend, roughly a week after a viral photo showed students posed in a Nazi salute while gathered around a swastika formed by red cups during a house party.
Police received a call from school officials Sunday reporting that at least 10 fliers, each 8 by 11 inches — some bearing swastikas — had been put up around the Newport Beach campus. Authorities think the fliers were plastered around the campus late Saturday or early Sunday. Police are investigating.
Principal Sean Boulton wrote in a statement to parents that the posters were immediately removed when school officials found them Sunday morning.
"Again, we condemn all acts of anti-Semitism and hate in all their forms," he wrote. "We will continue to be vigilant with our stance, and the care of our students and staff."
The incident comes on the heels of backlash over the photo posted to Snapchat that was taken during a house party in Costa Mesa in which students from Newport Harbor, Estancia and Costa Mesa high schools were playing a drinking game with red Solo cups and pingpong balls. At some point, the plastic cups ended up in the shape of a swastika.
It's not clear how many people helped form the symbol, but a parent of one student who was at the party said that, as more cups were added and moved around, someone noted that it was starting to look like a swastika and completed the image. When it was done, a dozen or so teenagers crowded around the display and posed for photos, their arms raised in a Nazi salute.
"German rage cage," one partygoer captioned a photo, presumably referencing the popular drinking game Rage Cage.
The photograph sparked outrage in the community and made headlines across the nation. The school district hosted two town hall meetings to discuss the incident. Holocaust diarist Anne Frank's childhood friend and stepsister Eva Schloss also spoke to some of the teens who attended the party in a private meeting at the high school last week.
Schloss said the students apologized for their actions and said they didn't mean any harm.
"I hope the school and students have got the message and things will be different," she said.
Twitter: @Hannahnfry
---
The stories shaping California
Get up to speed with our Essential California newsletter, sent six days a week.
You may occasionally receive promotional content from the Los Angeles Times.