CHP seeks charges against 106 people in state Capitol clash between neo-Nazis and protesters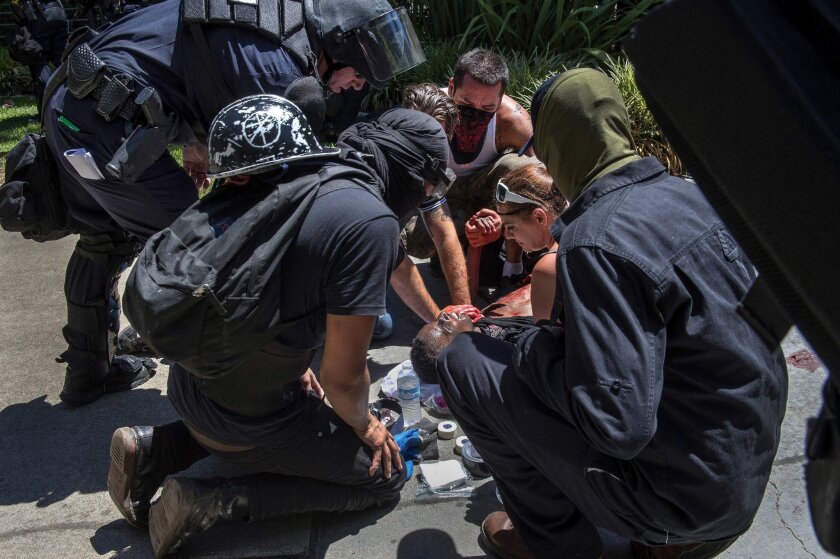 The California Highway Patrol asked prosecutors Wednesday to charge 106 people in connection with violent clashes last summer between neo-Nazis and counter-protesters at the state Capitol that left seven people stabbed.
The CHP presented a 2,000-page investigative report to the Sacramento County district attorney's office in connection with the fighting during a permitted white nationalist group's rally that left 14 people injured and resulted in thousands of dollars in property damage.
Investigators provided prosecutors with many hours of video that captured the violent confrontation as several hundred anti-Nazi protesters attempted to block the rally by the Traditionalist Worker Party that was permitted for the Capitol grounds last June. CHP investigators are asking prosecutors to consider charging the 106 individuals with 514 misdemeanors and 68 felonies.
"As a result of our investigation, which included conducting hundreds of interviews and reviewing many hours of video evidence, we are asking the Sacramento County district attorney to bring charges ranging from unlawful assembly to assault with a deadly weapon," said CHP Capt. Daniel Lamm, who oversees the agency's Capitol Protection Section. "Our role is to protect free speech, but not when that speech involves violence."
According to investigators, one of the underlying problems they faced in the months-long probe was that many of those in the violent clashes obscured their faces.
"Our investigators had to deal with people disguising themselves with bandannas and masks," said CHP spokeswoman Fran Clader. "They went through videos, social media and hours of news footage to identify the perpetrators."
In the wake of the brawl, CHP commanders placed the blame for the violence on counter-protesters, including members of the anti-fascist organization Antifa Sacramento, which had promoted a "Shut Down Nazi Rally" event on its website.
A similar melee broke out in Anaheim earlier in 2016 when members of the Ku Klux Klan announced they were holding a rally at a park. Counter-protesters showed up early and waited. When the first klansmen arrived, they were set upon by the group. Three people were stabbed at the Anaheim rally.
More than 100 CHP and Sacramento police officers were at the park to keep the peace, but the ground spans five city blocks and violence broke out intermittently. Sacramento police found a loaded gun, but the CHP didn't recover any knives or other weapons.
All the injuries were sustained by either white nationalists or counter-protesters, but specific totals weren't available, officials said.
The Traditionalist Worker Party said on its website that it had planned a Sunday rally in conjunction with the Golden State Skinheads "to make a statement about the precarious situation our race is in" after "brutal assaults" at Donald Trump campaign events in California.
The violence erupted around 11:45 a.m., when word spread that roughly 30 people had shown up. Counter-protesters swarmed them and a fight immediately broke out, according to the CHP.
As hand-to-hand fighting raged on the grounds, the historic domed Capitol was locked down, with staffers and tourists inside.
After the melee, the Traditionalist Worker Party's vice chairman, Matt Parrott, blamed "leftist radicals" for instigating the violence. Counter-protesters charged that the neo-Nazis had provoked the violence.
Twitter: @lacrimes
---
The stories shaping California
Get up to speed with our Essential California newsletter, sent six days a week.
You may occasionally receive promotional content from the Los Angeles Times.