A 'hidden' community of Nepalese migrants fights to remain in U.S.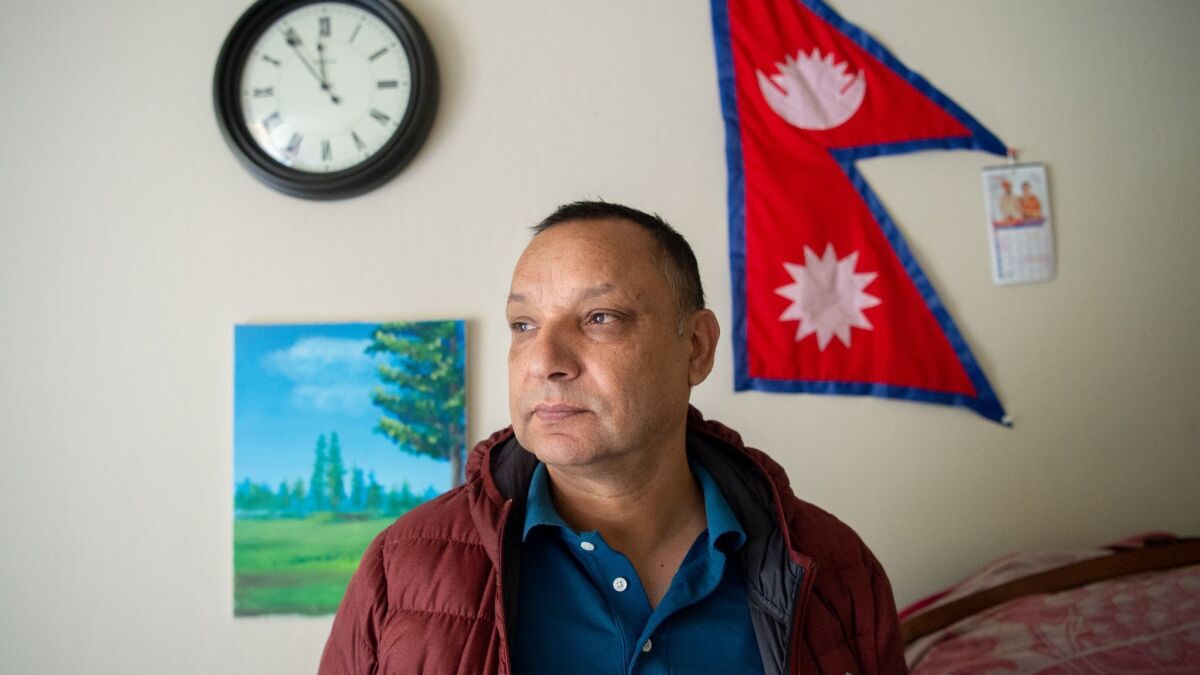 In an earlier life in Kathmandu, Keshav Bhattarai owned a two-bedroom home where his large extended family gathered to share stories and celebrate Dashain, a festival honoring the victory of Hindu gods over evil demons. Day to day, he managed an office supply store in Nepal's capital.
Then came the moment in 2015 "when the skies crashed." On April 25, a magnitude 7.8 earthquake struck, killing nearly 9,000 people, injuring more than 20,000 and wrecking over 750,000 homes, including his own. Within hours, he and his family were among the millions who were displaced.
A humanitarian U.S. government program called temporary protected status (TPS), allowed Bhattarai, 56, to find refuge in America. Under the program, people from countries shattered by war or natural disasters who can't return home safely may live and work in the United States. Initially, officials granted TPS to about 9,000 Nepalese immigrants, enabling Bhattarai to resettle in Sunnyvale in Northern California, find work as a gas station cashier and save money to send to relatives.
Last year, Bhattarai's new life was jolted by the Trump administration's decision to end protected status for Nepalese and Hondurans this June. That prompted him and others to join a class-action lawsuit filed in February against the Department of Homeland Security seeking to stop what it calls the unlawful termination of TPS for more than 100,000 people.
It was a dramatic pushback by the Nepalese community, which has kept a low profile amid the continuing court battles over Trump's immigration policies.
"They are very, very fearful of being deported," Sachchi Mainali, a resident editor for eNepalese.com, an online community. "There is huge panic, but it does not show in the open."
Last month, the plaintiffs got a break when the government temporarily stopped revoking TPS for people from Nepal and Honduras. The administration has agreed to wait until a final decision in a separate lawsuit challenging Homeland Security's order to terminate TPS for recipients from El Salvador, Haiti, Nicaragua and Sudan.
Mainali and others say that the Nepalese have drawn far less media and political attention to their struggles than other nationalities, such as Salvadorans and Haitians.
"We are quiet. We are hidden, unlike the dominant Asian groups," said civil engineer Ishwor Gurung, a Cerritos resident whose cousin is in limbo with threatened protected status. "For everyone's security, you have to realize that if you don't speak up, you lose a chance for someone to take up your issue or to help you."
Gurung, a founder of the Gurung Society of Southern California, a group focused on maintaining cultural ties to the homeland, said that Nepalese believe that "members of the current administration have a goal to get rid of foreigners in the U.S." Temporary protected status, he said, "is necessary for many people to stay safe and provide for their families."
More than 200,000 Nepalese live in the United States, with the largest populations in Texas, followed by New York and California, which is home to nearly 10,000 individuals from Nepal, according to community organizers.
Homeland Security has been aggressive in terminating TPS for hundreds of thousands of immigrants, many of whom have lived in the United States for two decades or more and whose countries of origin remain in dire straits.
The lawsuit has bought Bhattarai a bit more time to rebuild his life outside Nepal, one of the world's poorest nations, which is still struggling to recover from the devastating temblor.
"I dream of going back, but not now," he said.
He wishes to extend his stay to see his grandchildren grow up and to age in a "safe manner," he said, speaking through a translator, adding that the U.S. "has always been a country where, metaphorically, you can knock on the door and ask for help."
He questions why the administration would want to target such a tiny community as his. "We're just a few TPS holders," he said.
Initially, in 2018, former Homeland Security Secretary Kirstjen Nielsen said that official review of TPS had concluded that "the disruption of living conditions in Nepal from the April 2015 earthquake and subsequent aftershocks … have decreased to a degree that they should no longer be regarded as substantial, and Nepal can now adequately manage the return of its nationals."
But Lisa Parisio, an attorney for the Catholic Legal Immigration Network Inc., said that Nepalese have an "extremely compelling situation," with catastrophic flooding in the summer of 2017 "magnifying the problems caused by the earthquake, washing away more housing and leaving the entire southern region of the country devastated."
Ruined public infrastructure, compounded by civil unrest, continues to limit access to basic needs and services, among them education, food and water, according to a report from the network.
Congress created TPS in 1990 to provide a haven for those fleeing danger or disaster, Parisio said. "Now isn't the time to return people to countries where their lives or their freedoms will be at risk," she said.
Prarthana Gurung, campaigns and communications manager for Adhikaar, a nonprofit helping to boost Nepalese voices in the social justice movement, said that part of the challenge in extending TPS is Nepal's relative lack of visibility. "A lot of people don't even know Nepal is a country," she said.
The New York-based group has hosted legal clinics and launched outreach nationwide to educate TPS holders about their rights, while pushing for legislation to allow them to establish permanent residency. Its staff also offers training for immigrants on how to distinguish between police officers and Immigration and Customs Enforcement agents. Adhikaar was part of a team that helped find candidates like Bhattarai to be plaintiffs in the current lawsuit against the government.
"TPS holders are valuable members of our communities," said Minju Cho, staff attorney at Asian Americans Advancing Justice-Los Angeles, a civil rights group backing the case. "They are parents to tens and thousands of U.S. citizen children. TPS is vital to people's ability to work and provide for their families."
Bhattari said he understands that TPS wasn't meant to be a permanent solution for displaced people.
"I just hope for justice," he said, "and a little more time."
Twitter: @newsterrier
---
The stories shaping California
Get up to speed with our Essential California newsletter, sent six days a week.
You may occasionally receive promotional content from the Los Angeles Times.