Neither cold nor wind can keep campers away from 2019 Rose Parade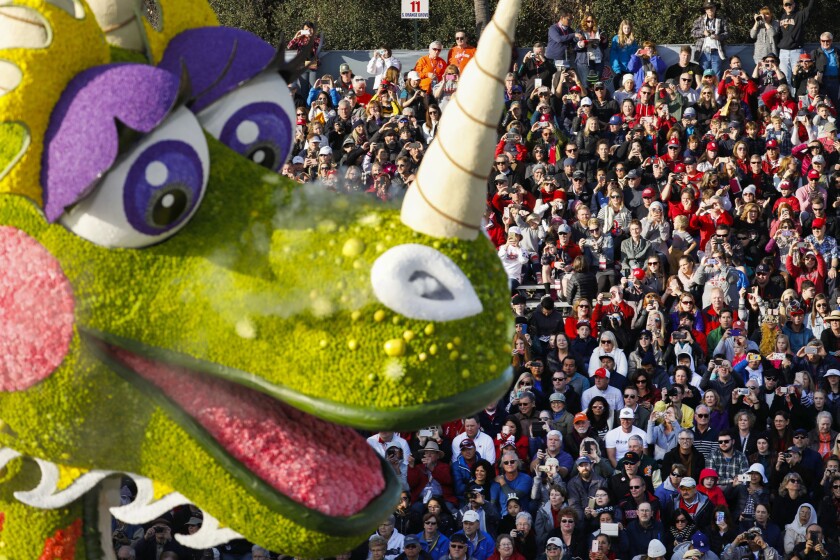 Tamya Roberts prepared for frigid weather when she packed to camp out overnight for the Rose Parade with her husband and two children.
Her family brought a picnic table, a grill, four camping cots, two heat lamps, games and shiny, silver New Year's decorations to liven up their strip of sidewalk. They packed chicken soup and carne asada burritos for New Year's Eve dinner, and hash browns, eggs and sausage for breakfast on New Year's Day.
Photos: 130th Rose Parade and overnight on the parade route »
She and dozens of other campers began staking out spots along the parade's 5.5-mile route about noon Monday, bracing for overnight temperatures that forecasters said would be in the 30s and winds of 25 to 45 mph, with gusts up to 65 mph. The high temperature in Pasadena will be about 60 degrees on New Year's Day.
The weather has officials on alert for hazards, such as pop-up tents that could blow away and cooking fires.
"People will bring old washing machine bins and throw firewood in," said Lisa Derderian, a spokeswoman for the city of Pasadena. "That creates a lot of embers … that can cause injuries or fires to nearby structures."
Any outbreak of fire could be especially dangerous because of high winds and low humidity, which prompted the National Weather Service to issue a fire weather watch through Wednesday for the mountains in L.A. and Ventura counties.
The parade will begin at 8 a.m. Tuesday, with a theme of "The Melody of Life" and an opening number that includes Chaka Khan, this year's parade grand marshal.
The parade route begins at Green Street and Orange Grove Boulevard, and floats will travel north on Orange Grove before turning east onto Colorado Boulevard. Near the end of the route, the parade will turn north onto Sierra Madre Boulevard and conclude at Villa Street.
Street closures along the Rose Parade route will take effect beginning at 10 p.m. Monday and continue through 2 p.m. Tuesday, officials said.
Many families are braving the chilly weather to keep longtime traditions alive. Roberts grew up watching the parade with her grandmother and started bringing her own children 15 years ago.
"They can't go to the club, and I'm too old to go to the club," she said, laughing. "So this is just a good family atmosphere.… Hopefully my kids will grow up and bring their kids."
Aaron Rodriguez started watching the parade in the 1970s, when all the kids in his family would pile into his grandparents' camper to admire the floats. He remembers 2000, when there were fireworks to celebrate the new millennium. And 2007 — his favorite year — when "Star Wars" creator George Lucas was the Grand Marshal.
"I've been to other parades around the country, but this one is the most spectacular," Rodriguez said. "Here, we have elaborate floats. In other parades, they just have celebrities driving cars and it fades out. It's not the same."
Erica Rede and her 14-year-old son, Aidan Howard-Rede, are celebrating their fifth year attending the Rose Parade. But this year marked the first time they actually worked on a float. The South Pasadena residents tucked four crates' worth of roses into small beakers to decorate their city's float.
"We wanted go and get it done," Rede said. "I love South Pas. It's amazing to be part of our small-town float."
Others, including Heather Wipfli of La Cañada Flintridge, were first-timers.
Wipfli stopped by her family's spot near Orange Grove Boulevard on Monday afternoon to set up their mattresses, blankets and space heaters.
Showing off her white, puffy winter coat, she joked that she's ready for the Arctic.
"I'm worried about the cold, but I keep getting assured it's not a problem," Wipfli said. "I'm excited. The parade is something I've always wanted to participate in and have never had the opportunity."
Wipfli was invited by Jaime Herrera, her son's coach at the Rose Bowl Aquatics Center, who has camped out the night before the event for more than 18 years. Wipfli admits she almost chickened out because of the weather, but Herrera persuaded her to stay.
"The parade is something you need to try once in your life when you're from the area," she said.
Times staff writer Alene Tchekmedyian contributed to this report.
alejandra.reyesvelarde@latimes.com
Twitter: @r_valejandra
---
The stories shaping California
Get up to speed with our Essential California newsletter, sent six days a week.
You may occasionally receive promotional content from the Los Angeles Times.