Atmospheric river brings impressive rain, risk of flooded rivers and test of Oroville Dam's spillway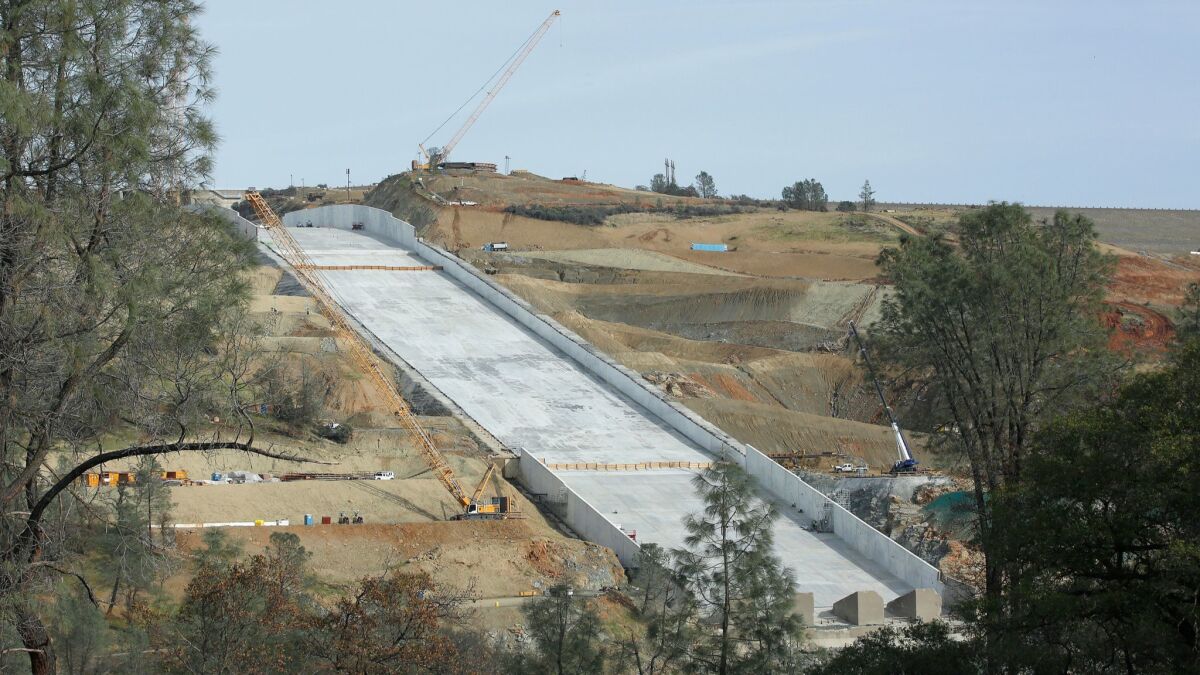 The creeks, streams and rivers leading snowmelt out of the Sierra Nevada will likely flood this weekend as a powerful storm moves over Northern California and dumps inches of rain from the coast to the Nevada border.
The "atmospheric river" storm — a long plume of water vapor pouring over from the Pacific Ocean — is loaded with warm tropical moisture that will accelerate snowmelt at some of the highest elevations along the northern and central Sierra Nevada, likely lifting waters in the Merced and Truckee rivers, among others, beyond their banks.
By Friday evening, the storm was producing some impressive rainfall.
Minor flooding was occurring near Truckee, with river waters creeping into yards and basements of low-lying property along the river, the National Weather Service said.
San Francisco by 7 p.m. had recorded 1.63 inches of rain since the previous night, exceeding the average rainfall for all of April (1.46 inches). Sacramento and Oroville broke daily records for rainfall Friday. Santa Rosa saw 2.69 inches of rain in a single day, lifting its rain year total from 63% of normal to 71% of normal. The storm forced a rare postponement of a game at San Francisco's AT&T Park, where the Giants had been set to host the Dodgers.
Yosemite Valley was closed by the National Park Service on Friday afternoon due to anticipated flooding, with the Merced River, which runs through the park, forecast to peak 5 feet above flood stage on Saturday. All overnight reservations were canceled through Saturday night. Officials said they would reassess the situation on Sunday.
The Merced River flooded last spring amid warm weather.
The storm is expected to bring 3.5 to 4 inches of rain to Yosemite Valley through Saturday, with the heaviest rain coming late Friday and into the early morning hours, said Jim Bagnall, a meteorologist with the National Weather Service in Hanford.
Forecasters said the Merced River at Pohono Bridge, currently running about 4 feet, is expected to rise close to 15 feet. Flooding occurs at about 10 feet, Bagnall said.
"That's one of the reasons that they're closing the campgrounds, getting the people out of there," Bagnall said. "With all that rain there's a possibility of flooding, mudslides and rock slides, rivers and creeks rising out of their banks."
The flooding risks also extend to the coast, the National Weather Service said. The Navarro River in Mendocino County is expected to wash out Highway 128, according to the California Nevada River Forecast Center.
Farther south, residents in the burn areas of October's wine country fires are being told to monitor the storm.
"Extreme rainfall rates over burn scars could potentially trigger flash flooding or mudslide/debris flows," Sonoma County officials cautioned residents on social media.
Up to 4 inches of rain could fall on some of the burn scars by Saturday.
Officials with the California Department of Water Resources, meanwhile, said they would be closely monitoring how much water the storm sends into Lake Oroville, where a patched-up dam spillway may be used for the first time since last year.
"Right now we're basing it on the most extreme versions of our forecast," DWR spokeswoman Erin Mellon said. "We do anticipate it will be able to handle the flows."
The spillway is the reservoir's primary tool for flushing out massive amounts of water in a quick, controlled way. It crumbled last year, triggering a massive evacuation downstream, and has been only partially rebuilt, with engineers patching up the rest earlier this year. The rest of the spillway will be torn down and rebuilt after the current rainy season has passed.
Water resource managers have kept the lake well below its usual levels for the last year to avoid using the spillway amid repairs. But a string of late-season storms in March pushed the lake's level higher.
The lake spills over at 901 feet. If the lake rises to 830 feet, DWR officials said they will open the spillway gates, releasing water in a more controlled manner. It sat at about 792 feet Friday morning.
The atmospheric river wasn't expected to bring much rain to Ventura County or Los Angeles on Saturday, with any that does appear likely to show up as "very light spits and sprays," the National Weather Service said. There could be possibly dangerous winds in the mountains, including the Grapevine stretch of Interstate 5.
Southern California appears poised to record one of the driest years on record, climatologist Bill Patzert said. Downtown Los Angeles since July 1 has received only about 4.68 inches of rain, about 34% of what is seen on average by this time of year.
Unless significant rain comes soon, L.A. could record its third-driest rain year since record-keeping began about 140 years ago, Patzert said. "Time to dust off those water conservation signs and ads."
Times staff writer Rong-Gong Lin II contributed to this report.
For breaking California news, follow @JosephSerna on Twitter.
---
UPDATES:
8 p.m.: This article was updated with information on minor flooding in Truckee, rainfall amounts in Northern California, the closure of Yosemite Valley and the weather forecast for the Los Angeles area.
This article was originally posted at 12:45 p.m.
---
The stories shaping California
Get up to speed with our Essential California newsletter, sent six days a week.
You may occasionally receive promotional content from the Los Angeles Times.