'I think it's arson': Developer suspects political motives as officials probe latest Bay Area fire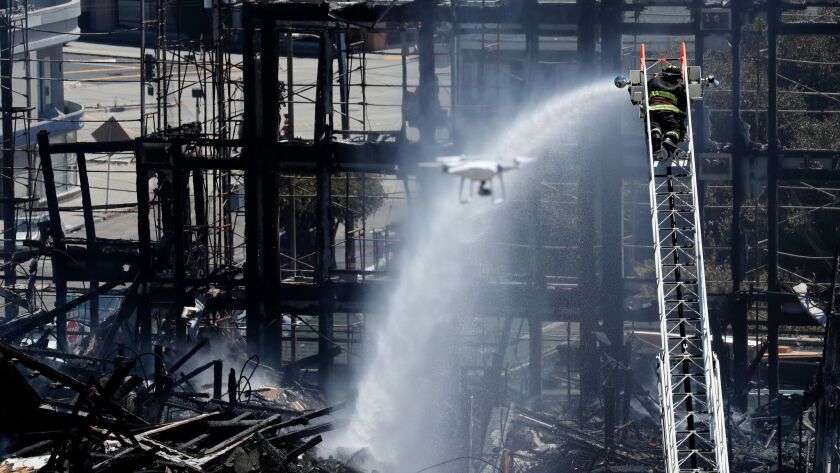 The suspected arsonist, wearing a backpack, black pants and a black hoodie, climbs the scaffolding of an apartment complex under construction near Oakland.
Later, the surveillance video shows, the person walks away around the time the building goes up in flames.
The five-alarm fire on May 13 marked the second time in a year that Rick Holliday's construction site in Emeryville, where he's building a 105-unit apartment complex, was set ablaze. Last October, another arson fire gutted another massive residential project just months from opening in Oakland.
So when the developer heard that another Oakland construction site of a mixed-use building was torched on Friday, his gut feeling was that they were all connected — and politically motivated.
"If you look at the photo of the person, they're dressed like much like people involved in these political rallies that are very, very angry about stuff," Holliday said. "The military fatigues, boots — if you look at a lot of the political riots that have occurred in Oakland, there are people that look very, very much like that."
The fire has gotten much attention in the Bay Area, where gentrification and new development are divisive political topics. Holliday noted that the investigation is still in its early stages but said the circumstance seem suspicious.
The Bureau of Alcohol, Tobacco, Firearms and Explosives said it's too early to tell whether Friday's four-alarm fire was arson or whether the other three are related to each other. On Monday, 22 members of its National Response Team arrived at the scene to help investigate.
"Our focus is to provide our expertise on fire scene analysis to the Oakland Fire Department for their investigation," the team said in a statement. "ATF approaches these scenes without any preconceptions about what may have happened, and we allow the evidence to guide us to a conclusion."
The fast-moving fire on Friday tore through the seven-story building — which was set to include 196 apartments and 31,500 square feet of retail space — and seared neighboring structures, prompting evacuations of neighboring homes.
Friday's blaze started near the center of the building, as did one of the Emeryville fires. Last week's fire started about 4:30 a.m., the October fire about 5 a.m.
"I think it's arson," Holliday said Monday. "In my opinion, the means and method that were used on my fires seem identical to this fire. It seems to me that it's the same people."
The ATF is offering up to $110,000 for information leading to the arrest and conviction of the person or people responsible for the three earlier arsons.
At the time of both Emeryville fires, Holliday said his development was two thirds of the way complete. Now, after pouring $50 million into the project, he's left to rebuild for a third time.
"It doesn't do anything for a housing problem to burn housing down...There's not a lot of rationality to some of the behavior I see out there," he said. "Millions and millions of dollars in damage has been done...It's really destructive."
On Friday, Oakland Mayor Libby Schaaf said at a news conference that she was concerned about the fires.
"Oakland is in the middle of a housing crisis, and the loss of these valuable units only exacerbates it," she said.
alene.tchekmedyian@latimes.com
Twitter: @alenetchek
Twitter: @JosephSerna
---
UPDATES:
8 p.m.: This article was updated to include an interview with a developer.
This article was originally published at 4:10 p.m.
---
The stories shaping California
Get up to speed with our Essential California newsletter, sent six days a week.
You may occasionally receive promotional content from the Los Angeles Times.