USC study cites political risk to GOP for opposing immigration plan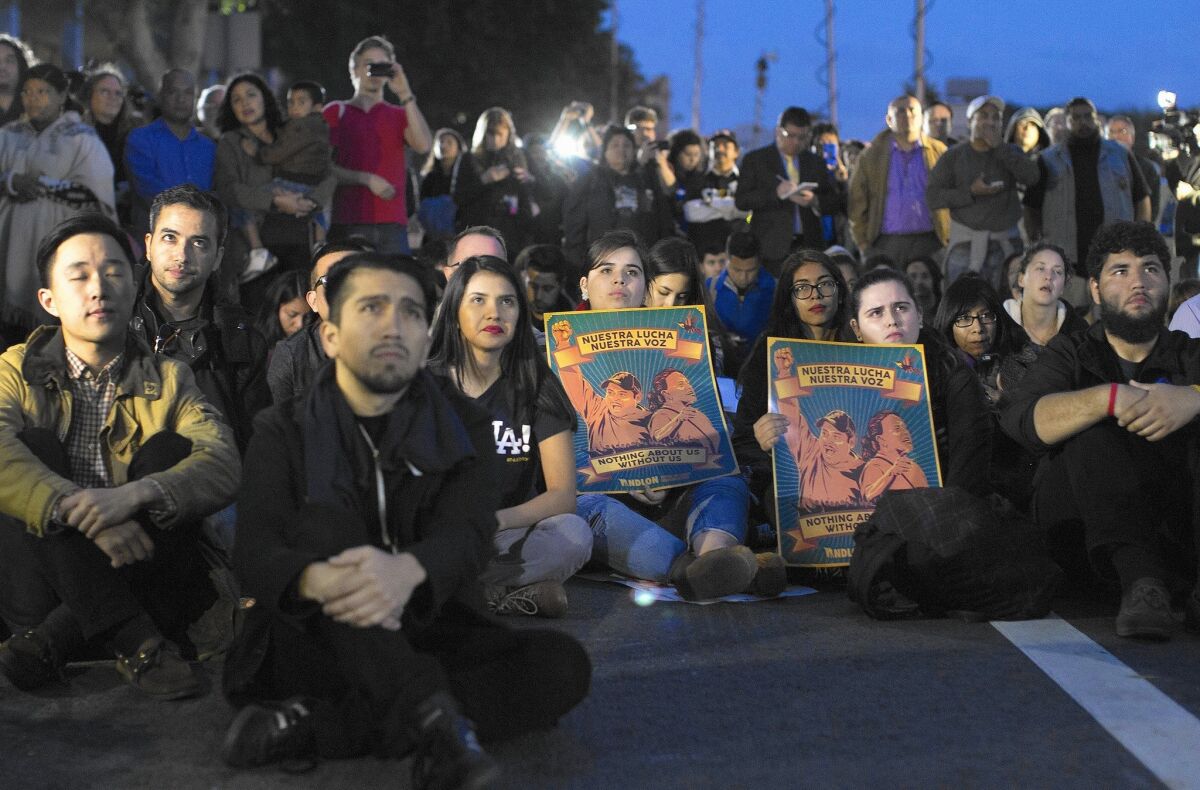 A new USC report warns of possible political blowback if Republicans continue to try to block the expansion of President Obama's deportation relief program.
The report, released Wednesday by the USC Center for the Study of Immigrant Integration, looked at the demographics of children whose parents would benefit from Obama's Deferred Action for Parents of Americans program, which was put on hold last month by a Texas judge.
The report found that 5.5 million U.S. citizens live in a household with a mother or father who would be eligible for work permits and a temporary stay of deportation under Obama's program.
Nearly 600,000 of them currently have the right to vote, the report found, and 1.7 million will be eligible to vote in 2020.
The report's authors, who are outspoken advocates for Obama's signature immigration initiative, said those voters may be turned off by recent efforts by Republican leaders to stop the expansion of deferred action.
"People remember," said Manuel Pastor, the director of the USC center and a co-author of the report. "I think the heated debate over the last couple of years will probably have long-lasting political impacts."
He and his co-authors warn in the report: "For those bent on reversing the president's actions, it is important to remember that by 2020, these children will make up 1.7 million voters in the nation who will have memories of how particular political leaders treated their loved ones in a critical moment of transition in our immigration policy."
A Pew Research Center poll from December found the public is divided over Obama's plans to expand the deferred action program. It found that 50% of Americans disapprove of the expansion while 46% approve of it. Whether people support the program depends largely on their political party, the poll found, with eight in 10 Republicans disapproving of it and seven in 10 Democrats in favor of it.
Dozens of states sued to stop the planned rollout of DAPA, which would offer protection for up to 3.7 million parents of U.S.-born citizens or legal permanent residents, as well as the expansion of a similar program for immigrants who were brought to the U.S. as children.
The states, led by Texas, accused Obama of presidential overreach. They complained that they would be stuck footing the bill for services such as driver's licenses for those who take advantage of the program.
A federal judge ordered a temporary halt to the expansion of the program last month.
The Republican-controlled Congress also attempted to block the expansion by refusing to fund the programs, although that plan backfired.
While Republican leaders say the expansion will result in high costs for states, supporters of Obama's action on immigration say protecting millions of people from deportation will have the opposite effect.
The report said participants in the Deferred Action for Childhood Arrivals program saw wage increases as they moved from the informal to the formal labor market. It said DAPA families in California could see their total earnings increase by around $1.6 billion within the first couple of years of its implementation.
It found that 17% of all minor children in California have at least one parent who could qualify for DAPA. It found that 93% of those children are U.S. citizens.
Twitter: @katelinthicum
The stories shaping California
Get up to speed with our Essential California newsletter, sent six days a week.
You may occasionally receive promotional content from the Los Angeles Times.