Irvine mayor widens lead and inches toward victory in O.C. supervisor race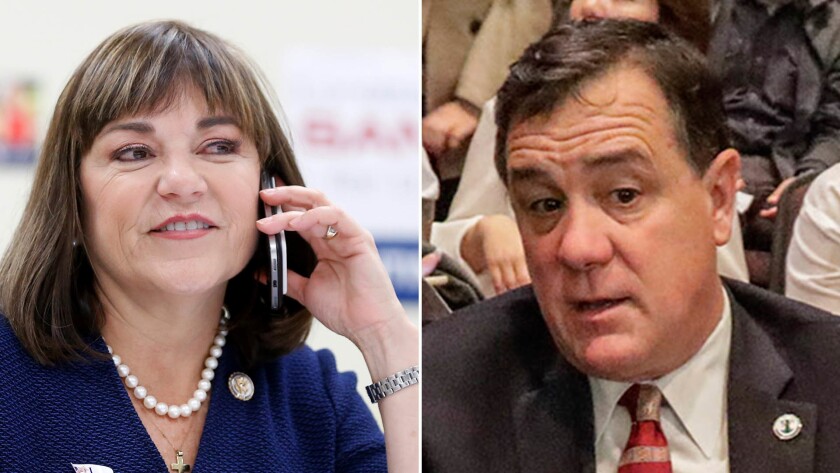 In a hotly contested race for a seat on the Orange County Board of Supervisors, Irvine Mayor Don Wagner widened his lead Wednesday and appeared headed toward victory over former U.S. Rep. Loretta Sanchez following this week's special election.
Wagner, a Republican who served six years in the state Assembly, represents the largest city in the district. Sanchez, who has two decades of experience on Capitol Hill, was the only Democrat in a field of seven candidates.
Analysts had predicted the race would narrow between the two. Wagner's supporters worried that the overwhelming number of Republicans on the ballot would mean a split vote, hurting his chances. But results released by the Orange County Registrar of Voters on Wednesday evening showed him ahead by 3,413 votes — more than the 2,698 provisional and mail ballots that still need to be counted, along with other mail ballots sent on election day.
Should Wagner, endorsed by the Republican Party of Orange County, be certified as the winner, he would boost the GOP majority on the influential five-member board that controls a $6-billion budget. No Democrat had secured a supervisor's seat for a dozen years until last fall, when Doug Chaffee claimed victory in the north county district once represented by Republican Shawn Nelson.
"It's exciting to watch democracy in action. We have worked so hard every week, every weekend. A lot of people didn't even know there was a special election, which is why we devoted so much time to get the message out," said Jannelle Welker, who has spent 90 hours canvassing the district for Sanchez in the 10 weeks leading up to election day.
"At first, I was surprised to hear about the race, but then I asked my friends about the two candidates so I would know who's really working for the residents and who we should support," said Dan Liu, an Irvine resident whose family favored Wagner.
During the campaign, Wagner highlighted his experience developing the Orange County Great Park, emphasizing his deep knowledge of the district that spans Anaheim Hills, Irvine, Orange, Tustin, Villa Park, Yorba Linda and a wide swath of the canyons.
He also listed public safety among his top priorities, promising to find housing and other solutions to the homeless crisis ravaging neighborhoods and businesses across the county.
Sanchez, who lives in Orange, has said she chose to run for local government because the county is "my home." She pledged to help Orange County become more affordable for residents, and to provide more housing and social services to the homeless, especially women — whom she called the "most vulnerable" of the street population. She also intended to tap her diverse network to gain state and federal funding for local projects.
The winner will replace Todd Spitzer, the new Orange County district attorney, finishing what's left of his term until he or she faces another election next March.
Twitter: @newsterrier
---
The stories shaping California
Get up to speed with our Essential California newsletter, sent six days a week.
You may occasionally receive promotional content from the Los Angeles Times.