Toastmasters is moving to Denver because O.C. is too expensive
Getting onstage and trying to unleash a great, persuasive speech in front of an audience is a staple of the annual Toastmasters International convention.
But last month when the group's more than 800 delegates prepared to vote on whether to move its headquarters from its birthplace in Orange County to Colorado, no one in the crowd stepped up to rally opposition.
About 96% of the delegates gathered at a Marriott hotel in Washington, D.C., decided to move the Toastmasters base to metropolitan Denver.
"Eight to 10 people usually speak on motions," said Toastmasters Chief Executive Daniel Rex. "Yet this time there was not a single voice against. I don't think I've ever witnessed a proposal like that."
The nonprofit group, which helps people improve their public speaking skills, has more than 345,000 members in nearly 16,000 clubs spanning 142 countries. Since 1990, it has been based in Rancho Santa Margarita and is now expected to move in 2018. Toastmasters was founded in 1924 in Santa Ana by businessman Ralph Smedley.
Its payroll includes about 180 employees and its highest growth has been outside of North America, according to a new report, with expansion to Cameroon, the Dominican Republic, Gambia, Malta and Tanzania.
Toastmasters is an Orange County native, joining other brands like Broadcom, Oakley and Wahoo's, the fish taco restaurant chain.
Why did Toastmasters International decide to leave California? Rex said the costs of operating here was a major consideration.
"When you look at the availability of workers, when you look at the cost of commerce and real estate, this is something that makes sense," he said. "I raised my kids in O.C. and it's not that I want to go, but it's not about how I feel. I need to look at the greater good."
Wing Lam, co-founder of Santa Ana-based Wahoo's, said he could relate.
"Our ongoing joke is if we didn't surf, we'd be in Vegas — or Texas," he said. "Seriously, it's just crazy right now. If you were coming to O.C. to launch something, it would be impossible. The labor costs, the rents, on top of everything else — how could you afford it?"
Still, Lam said "if you become a success here, you've passed a big test and you could create a legacy." He and his brothers chose to replicate their Baja-inspired restaurant with outposts in other states like Colorado, Hawaii and Nebraska, but California remains No. 1 for the chain with more than 30 locations.
Toastmasters officials plan to sell the 147,000-square-foot headquarters and will likely buy property in Colorado, according to Rex, who calls the move "deeply emotional." Still, "our expansion is global," he added. "We're extending our brand, our mission, our values. We're working to unite people simply through speech."
Jason Brady of Garden Grove joined Toastmasters in 2010. The information technology specialist said he wanted to build up his confidence and gain some skills to grow in his job. A friend invited him to an initial meeting and soon he was asked to deliver a speech meant as an icebreaker. He was hooked.
"As a native Californian, I'm disappointed they've chosen to move, but I have to trust that they're doing the right thing," Brady said. "But it's quite a loss — there's something to the idea of being made in O.C. — California draws everyone, after all. But what choice is there?"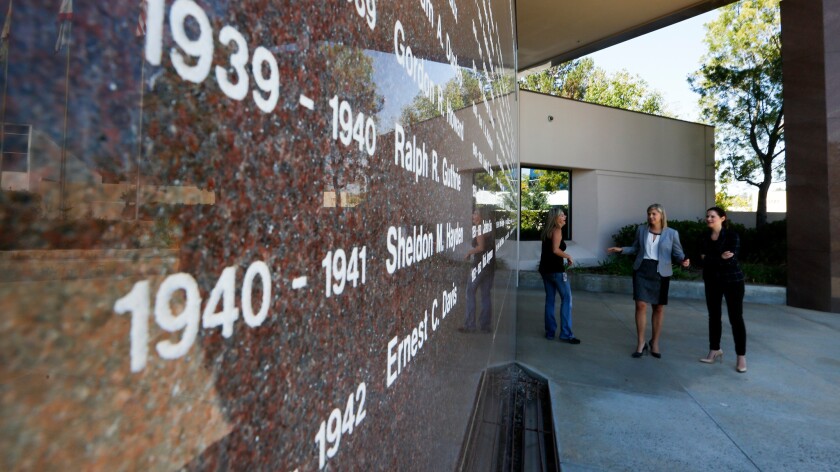 ---
The stories shaping California
Get up to speed with our Essential California newsletter, sent six days a week.
You may occasionally receive promotional content from the Los Angeles Times.