Sheriff's deputy is killed and two CHP officers are wounded in shooting in Sacramento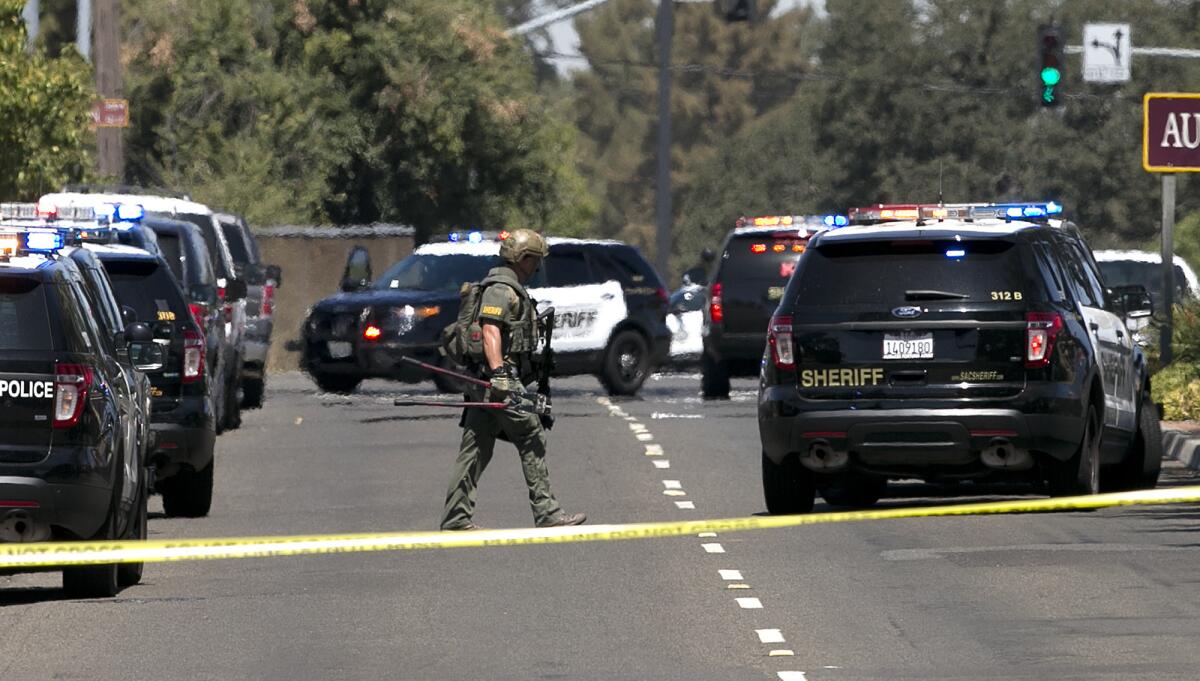 A sheriff's deputy was killed and two California Highway Patrol officers wounded Wednesday during a stolen vehicle investigation in Sacramento County, authorities said.
Robert "Bob" French, a 21-year veteran with the Sacramento County Sheriff's Department, suffered a gunshot wound and died on the way to the hospital, Sheriff Scott Jones told reporters at the scene.
French was a "well-known, well-respected training officer," the sheriff said. He is survived by his girlfriend, children, grandchildren and sister.
"The entire community and all agencies lost a brother officer and that's just something you don't come back from," Jones said. "We'll survive as a community. We've been through it before. It's painful and it will take a period of grieving, but we'll get through it."
The investigation began Wednesday morning when members of the Sacramento County Auto Theft Task Force spotted a stolen vehicle in the parking lot of a Ramada Inn on Auburn Boulevard, sheriff's spokesman Sgt. Tony Turnbull said.
They saw two women enter the vehicle and drive off, he said. The women led authorities on a brief pursuit that ended in Elk Grove, about 16 miles south of Sacramento.
During the investigation, Turnbull said, authorities discovered the women were staying at the hotel, so the CHP officers went to their room to conduct a probation search.
As the officers announced themselves, a man began firing through the hotel room door and walls, striking the two CHP officers, Turnbull said.
Meanwhile, he said, sheriff's deputies surrounded the outside of the hotel when they saw the man, armed with a high-powered rifle, go to a balcony.
There was an exchange of gunfire, and French was struck, authorities said. Jones said French was shot in the side and the bullet entered his chest cavity.
The man climbed off the balcony, hopped into a vehicle and led police on a pursuit, Turnbull said.
After driving through several neighborhoods, he crashed the vehicle near Watt Avenue and another exchange of gunfire with deputies ensued, the sergeant said.
The man was shot, taken into custody and later hospitalized, Turnbull said.
The officers were also hospitalized and were in "stable condition," Jones said.
"I thank God that the CHP officers are OK and it wasn't worse," he said.
Authorities were searching the area for any additional suspects, according to Officer Chad Hertzell, spokesman for the CHP's North Sacramento office.
Times staff writers James Queally and Joseph Serna contributed to this report.
Follow @JamesQueallyLAT for crime and police news in California.
ALSO
Bakersfield teen, mistaken for male suspect, files excessive force claim against police
Growing wildfire east of Lake Oroville destroys 10 homes; 1,500 people told to flee
7 hurt after SUV collides with Metro bus, sending it crashing into a building in downtown Los Angeles
---
UPDATES:
5:25 p.m. This article was updated with additional details about the stolen vehicle investigation and comments from Sheriff Scott Jones.
4:25 p.m. This article was updated with the death of a deputy.
3:10 p.m.: This article was updated with additional details about the shooting and investigation.
This article was originally published at 1:55 p.m.
Sign up for Essential California for news, features and recommendations from the L.A. Times and beyond in your inbox six days a week.
You may occasionally receive promotional content from the Los Angeles Times.