Knife find is 'a joke,' says the man who demolished O.J. Simpson's former home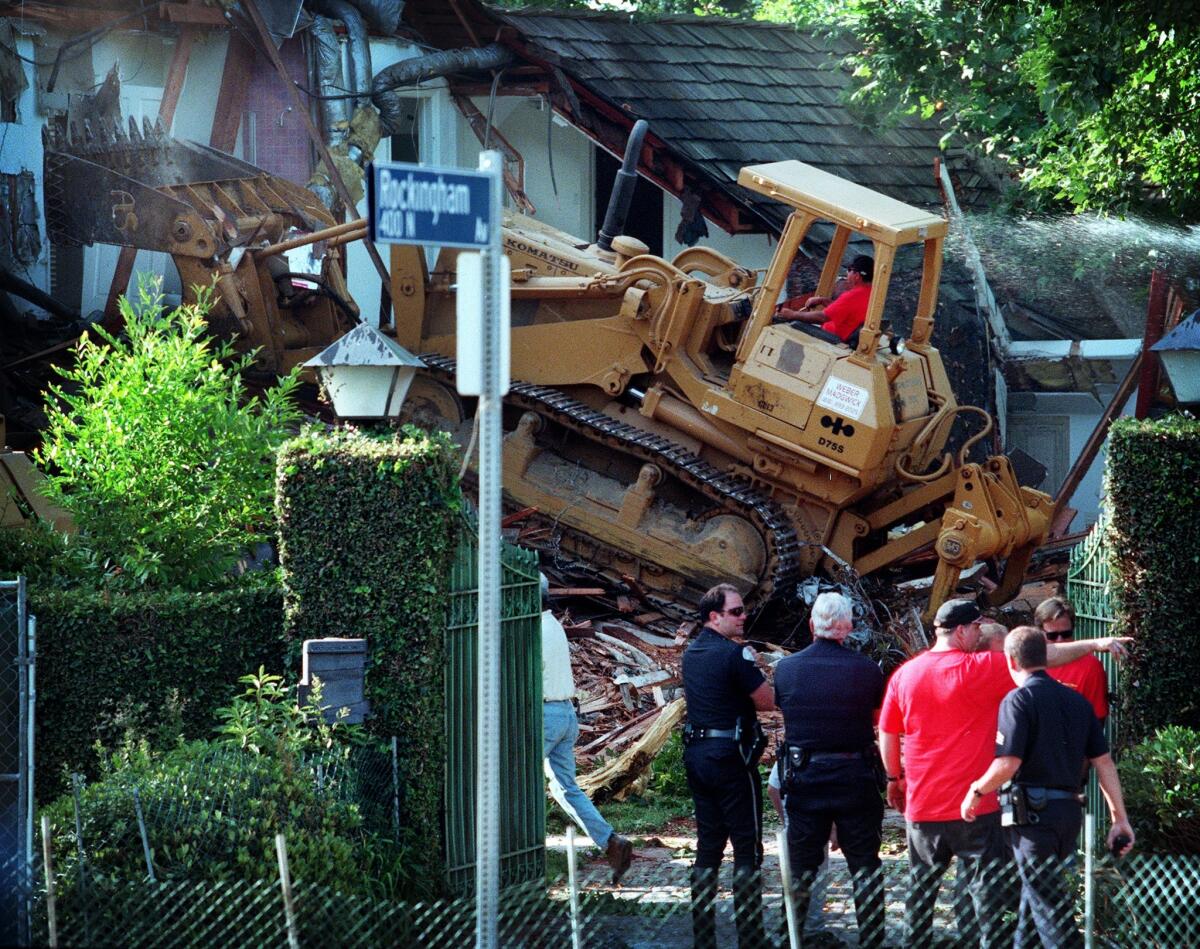 Everyone wanted a piece of the O.J. Simpson story back in the 1990s, Mike Weber remembers.
"He evoked a lot of emotion in a lot of people. He's definitely a figure in history -- not a good one," said Weber, owner of Weber-Madgwick Inc., the construction company that razed Simpson's old home in 1998.
On Friday, police breathed new life into the 1994 case of Nicole Brown Simpson and Ronald Goldman when the LAPD announced that a retired officer recently turned over a knife that he said was buried on the Simpson property.
The knife was reportedly found by a demolition crew worker who helped raze Simpson's Brentwood mansion, authorities said.
NEWSLETTER: Get essential California headlines delivered daily >>
On Friday, Weber said he was having none of this knife talk.
"I think it's a joke. I think it's just filler … no one on my crew found anything" said Weber, 70. "I had instructed my people, 'If you find anything, don't keep it. Tell me, we'll take the appropriate action.'"
Weber's crew was at the site for six weeks tearing down the home and reworking the ground, but jobs were being done at the property for at least two years as a new home was built, he said.
"Hundreds and hundreds of people were there after me," he said.
But when he was there, Weber said the scene around the North Rockingham Avenue home was a bit of a circus.
"When I was going to work I had my two children. I wanted them to be a little part of history. There was enormous attention -- I was being interviewed by [radio station] KNX while I was driving to work," Weber said. "A lot of people wanted me to sell them a piece of the home. I wouldn't personally allow it. That's blood money."
Even the new homeowner wanted to get in on the event, he recalled. The owner asked to be the first to drive a tractor into the home to begin demolition, but Weber refused.
"I'm first," Weber recalled saying. "Everybody wanted to take a punch on O.J. So if I could sit in the seat and do something to his house, so much the better."
Ever since the knife news broke Friday morning, Weber said he's been getting emails from friends with links to online stories, some with one-liners recalling how he told the media back in 1998 he would look for the weapon.
"Jokingly, I said I was looking for the knife. And that's not just being flippant. We never found it."
For breaking California news, follow @JosephSerna.
MORE ON O.J. SIMPSON
O.J. Simpson's legal 'dream team' slams investigation of knife
Even if discovered knife is really murder weapon, O.J. Simpson could not be retried, experts say
Opinion: Officer who didn't turn in possible O.J. Simpson knife did something worse than commit a crime
Sign up for Essential California for news, features and recommendations from the L.A. Times and beyond in your inbox six days a week.
You may occasionally receive promotional content from the Los Angeles Times.